"Developed with novelty and originality . . . may be heartily commenced" —N.Y. Tribune
Burton Egbert Stevenson (1872–1962) was an author, anthologist, and librarian. While attending Princeton University, Stevenson was a correspondent for United Press and for the New York Tribune. Stevenson became director of the Chillicothe Public Library in 1899 and held that position for nearly 60 years.
During World War I, Stevenson was instrumental in efforts to connect soldiers to periodicals from their hometowns, and in establishing a library at Camp Sherman. He was the director of the American Library in Paris from 1918-1920 and 1925-1930. An Ohio native, Stevenson created an endowment scholarship to serve under-privileged children of Ross County, Ohio. As well as being a librarian, Stevenson wrote novels, edited others' works, and created anthologies of verse.
Skyboat Media is proud to partner with

Blackstone Publishing to produce and publish top-quality audiobooks of classic or little-known texts, ensuring these stories remain accessible to broad audiences.
"Conan Doyle and Anna Katharine Green have a worthy rival in Burton E. Stevenson." —Chicago Record-Herald
We are fans of Sir Arthur Conan Doyle. In fact, we are even fans OF fans of Conan Doyle. Skyboat produced the multi-voice audiobook of IN LEAGUE WITH SHERLOCK HOLMES: STORIES INSPIRED BY THE SHERLOCK HOLMES CANON edited by Laurie R. King  and Leslie S. Klinger and published by Blackstone. We also have THREE audiobooks by Anna Katharine Green included in Skyboat's Classic Mystery Library, so you can rest assured that Stevenson is in very good company.
Speaking of good company, Stefan Rudnicki returns to the narrator booth, with Claire Bloom in the director's chair, to bring Stevenson's absorbing tale to audio. Called "unusually clever" by the Springfield Republican and "of rare interest and intricacy" by Buffalo Commercial, THE HOLLADAY CASE contains a minimum of horror and a maximum of ingenuity. Looking for a New York mystery? Look no further.
Click here to listen to an audiobook sample on Skyboat's SoundCloud page.
"He says that Miss Holladay entered her father's office late yesterday afternoon, stayed there 10 minutes, and then came out hurriedly. A few minutes later Rogers went into the office and found his employer dead. That's the whole case, but it'll be a hard one to break."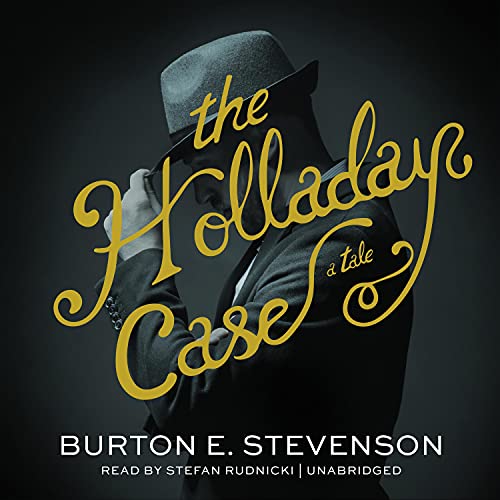 THE HOLLADAY CASE: A Tale by Burton E. Stevenson
Read by Stefan Rudnicki
Lester is a lawyer for a prestigious law firm in New York that represents some of New York City's most wealthy citizens, including Hiram W. Holladay, a Wall Street tycoon. When Mr. Holladay is found dead at his desk from a knife wound to the neck, all evidence points to his daughter, Miss Frances Holladay, as the perpetrator.
Courtroom drama, a kidnapping, and a fraught pursuit overseas follow this shocking crime in an ingenious detective story sure to delight mystery fans.
Purchase your copy of THE HOLLADAY CASE today!