"Terry Jastrow's new novel is a riveting review of a controversial and sad period in American political affairs… the war in Iraq. Jastrow's method of competing arguments reminds the reader of Socrates. The book is an engrossing drama well worth contemplating. Bravo!" –Tom Dine, foreign policy expert on European & Middle East affairs, President, Radio Free Europe
In this riveting political novel, author Terry Jastrow delivers former U.S. President George W. Bush to The Hague's International Criminal Court to be tried for war crimes. Jastrow brings together testimony from sources including a former Secretary of State, the Commander of the U.S. Central Command that oversaw military operations, an American counter-terrorism expert, and a female Iraqi blogger in a compelling exploration of the criminality of the Iraq War.
Terry Jastrow received his bachelor's degree in communications from the University of Houston. Upon graduation, he worked for ABC Sports where he became the youngest network producer/director in history. His credits include six Olympic games, one Super Bowl, sixty-two major golf championships, and the opening and closing ceremonies of the 1984 Los Angeles Olympics, which was watched by an estimated one billion people around the world. As a television producer/director, he has won seven Emmy awards. Terry Jastrow is also a published novelist, successful screenwriter, and noted playwright. He and his wife, Anne Archer, currently live in Los Angeles, California.
"With echoes of Nuremberg, Jastrow's masterpiece of realistic fiction will inspire some, anger others, and is sure to provoke water cooler conversation across our divided nation. Whatever your position on the legitimacy of the war in Iraq, this is a book you're going to want to read." –Michael Scharf, Dean of Case Western Reserve University School of Law, Author of "Enemy of the State: The Trial and Execution of Saddam Hussein"
Skyboat Media, together with our distributor Blackstone Publishing, is thrilled to bring Terry Jastrow's THE TRIAL OF GEORGE W. BUSH to a wider audience on audio. Terry's novel features a range of characters and explosive moments, and we knew just the talented narrator for this dynamic project: Jim Meskimen.
Jim Meskimen is a stage, film, and television actor who has appeared in many well-known movies and television shows. He acted in Apollo 13 and Frost/Nixon, both of which were nominated for Best Picture Oscars. He is the winner of an AudioFile Earphones Award and lives in Los Angeles with his wife, actress Tamra Meskimen. Visit Jim's website to explore his wide-ranging talent — you can even get a custom "Jimpression"! — and be sure to join his mailing list to stay up-to-date on his many projects!
Listen to an audiobook sample on Skyboat's SoundCloud!
"Mr. George W. Bush, I am Lawrence Archer, deputy prosecutor of the International Criminal Court. I hereby serve you with this arrest warrant and place you under arrest for immediate conveyance to the ICC in The Hague to stand trial for crimes against humanity and war crimes of which you are accused. Upon arrival at the ICC you will have ample opportunity to communicate with your country's government and with legal counsel of your choice. You will not be harmed if you do not resist."

–Excerpt from THE TRIAL OF GEORGE W. BUSH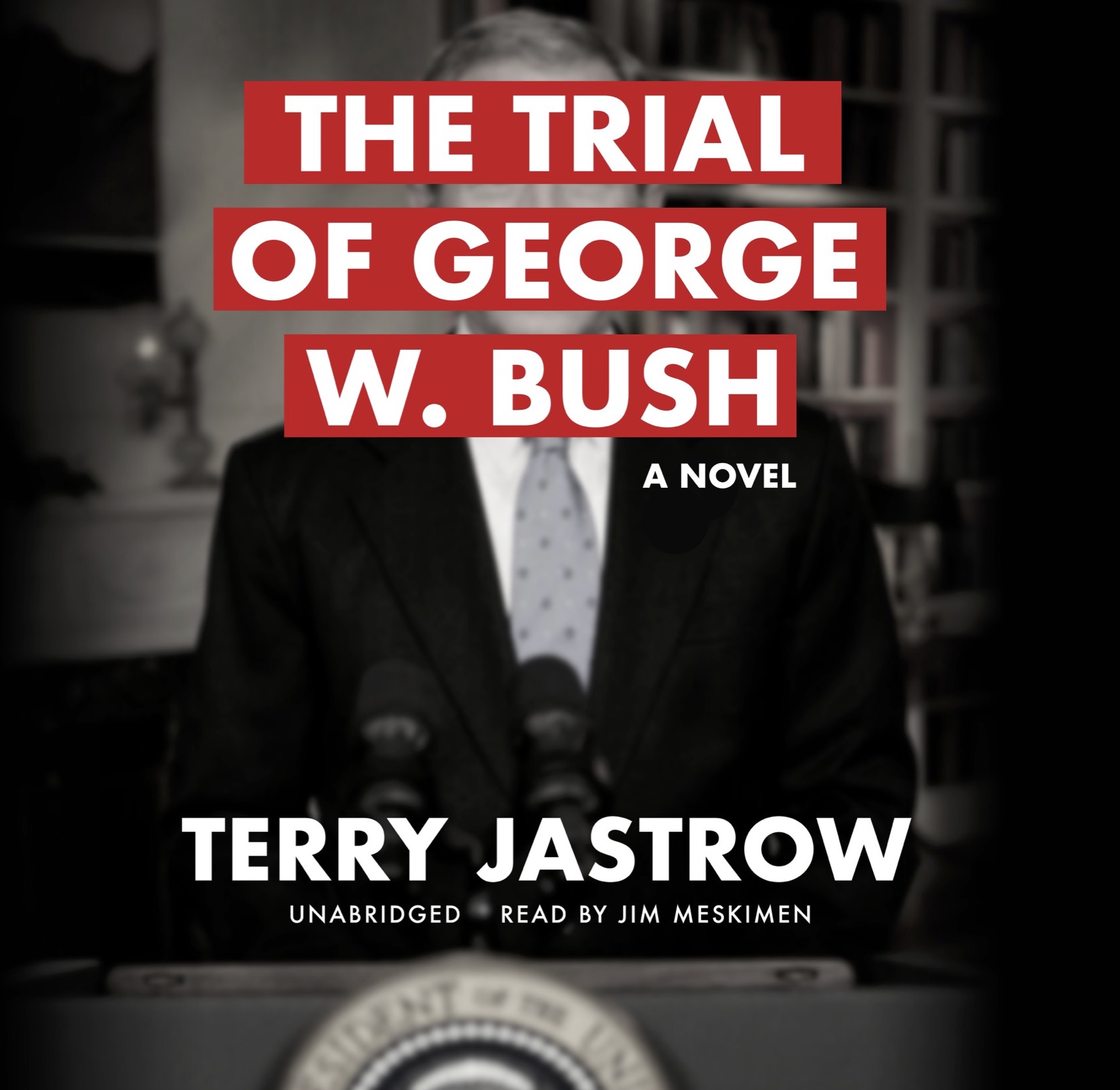 THE TRIAL OF GEORGE W. BUSH by Terry Jastrow
Read by Jim Meskimen
Following the worst terrorist attacks in American history on September 11, 2001, President George W. Bush pledged to bring those responsible to justice, especially the mastermind, Osama bin Laden. After failing to capture Bin Laden in Afghanistan, George W. Bush shifted his attention and that of his country to Saddam Hussein and Iraq, neither of which had anything to do with the 9/11 attacks (as history has proven). Bush, Jr. wanted a war in Iraq, and with the help of others in his administration, he succeeded in waging one regardless of the cost of human lives or his country's treasury. George W. Bush's Iraq War lasted eight and a half years, killed tens of thousands of people, and cost the United States trillions of dollars.
In Terry Jastrow's new novel, The Trial of George W. Bush, past evil deeds are exposed and reckoned with in a most unexpected way. At a time when America's political leadership has alienated itself from the rest of the world, the scales of justice respond in a trial at the International Criminal Court in which former president Bush is accused of War Crimes and Crimes Against Humanity. This fascinating trial brings together eyewitness testimony from a former Secretary of State, the Commander of the U.S. Central Command that oversaw military operations, an American counter-terrorism expert, and a female Iraqi blogger who read from the blogs she wrote while Bush's war was destroying her country. After the trial filled with contentious testimony and covered by an overzealous media, a captive worldwide public awaited the determination of Bush's fate. Will he be found guilty or not? The surprising verdict is revealed in this fascinating — and politically resonant — new novel.
"Terry Jastrow's brilliant, biting novel is a must-read for anyone who cares about international peace, war crimes past and future, and how justice can be delivered in unexpected ways. If you think you know how this story ends, start listening now!" –Sarah Lovett, co-author of New York Times bestseller, Blowback, with Valerie Plame
We couldn't have said it better ourselves. Purchase your copy today!