"Striking…Intriguing reading for anyone interested in the history of crime fiction."

—WEEKLY STANDARD
Andrew Forrester is the pseudonym of James Redding Ware (1832–c. 1909). During his early career he wrote a number of detective stories, including Secret Service, or, Recollections of a City Detective and Revelations of the Private Detective. He is credited with inventing the world's first female detective, the "literary ancestor to Miss Marple, Lisbeth Salander, and Nancy Drew." (The Guardian, London)
Skyboat Media is proud to partner with

Blackstone Publishing

to produce and publish top-quality audiobooks of classic or little-known texts, ensuring these stories remain accessible to broad audiences.
"His heroine, Mrs Gladden, solves mysteries in the way we have come to expect: by visiting crime scenes, talking to witnesses and adopting subterfuge to hunt down murderers. It's likely that Ware drew on the real-life murder cases that captured the imaginations of Victorian readers, so the novel has the stamp of veracity." —Christopher Fowler in The Independent
Skyboat's Gabrielle de Cuir slipped into the recording booth and into the character of the resourceful Miss Gladden to narrate the the bulk of the audiobook, with Stefan Rudnicki voicing a portion of the story entitled "A Child Found Dead: Murder or No Murder."
Click here to listen to an audiobook sample on Skyboat's "Classic Mystery Library" SoundCloud playlist.
"It often happens to us detectives – and when I say us detectives, of course, I mean both men and women operatives – that we are the first movers in matters of great ultimate importance to individuals in particular, and the public at large." —opening line of "Tenant for Life" in THE FEMALE DETECTIVE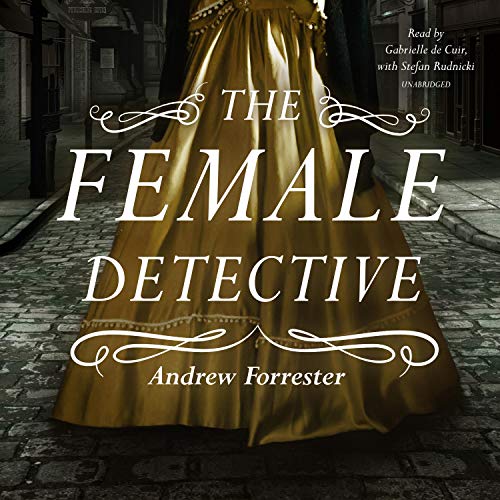 THE FEMALE DETECTIVE by Andrew Forrester
Read by Gabrielle de Cuir, with Stefan Rudnicki 
First published in 1864, decades before there were official female detectives or female police officers in Britain, The Female Detective features the original lady detective: the determined and resourceful Miss Gladden, known as "G". She examines crime scenes incognito, tracks down killers, and solves mysteries employing all manner of skill, subterfuge, and charm to achieve her ends while attempting to conceal her own identity from others.
Miss Gladden's deductive methods and energetic approach anticipate those of Arthur Conan Doyle's Sherlock Holmes, and she can be seen as beginning a powerful tradition of female detectives in these seven short stories. The Female Detective is sure to enchant a new generation of crime fiction fans.