"She packs a baby Browning semi-automatic and uses her tool belt's hammer and wrench not just for defense work, but for self-defense. And taking out a bad guy – and not in the dating sense – does not give her a moment of pause." —Max Allan Collins on his character Fancy Anders
As we're sure you know by now, we at Skyboat are huge Max Allan Collins fans. In fact, Skyboat's Stefan Rudnicki has had the privilege of lending his voice to not one, not two, but three thrilling series! That's right. The QUARRY series, the MIKE HAMMER series and the NOLAN novels are all available on audio — and be sure to stay tuned for more QUARRY and NOLAN novels headed your way in 2022!
So when we learned that Max Allan Collins teamed up with NeoText to publish a series of interconnected novellas featuring the headstrong Fancy Anders, we were intrigued. Fancy Anders is a young woman who takes over her father's successful private investigation agency when he goes off to fight in the Second World War. As you might expect from this ever-creative author, things get interesting quickly.
The suspicious "accidental" death of a riveter selected for the Rosie the Riveter publicity campaign has sent Fancy undercover in a dangerous and unfamiliar environment. The pampered rich girl must fit in with working-class "gals" from every social strata of Los Angeles. As Max explains, "For my purposes, Los Angeles provided the perfect noir period with the Second World War a time when females were stepping into male roles."
"Fancy Anders is a great new character and building her into this novella form is a real treat. It's a tight, lean story and serves well to not only set up Fancy as a well-rounded character but also provides an interesting detective yarn in a cool historical setting. As always, Collins' proves adept at interweaving a good plot with historical figures including, in this case, no less than FDR." –Excerpt from The Chimney Sweep Reader Review
We were sold. Skyboat, in partnership with Blackstone Publishing, decided to bring this pulse-pounding L.A. historical noir to audio. And we knew just the narrator for the job. Max cautions, "One last tip: don't underestimate her." He is referring to Fancy Anders, but we think the same applies to Skyboat's Gabrielle de Cuir. An Audie and Earphones Award–winning narrator, Gabrielle has narrated over three hundred titles. She was thrilled to voice a Max Allan Collins title of her own (finally!) and apply her unique skill set to this one-of-a-kind audiobook production, complete with ambient sound effects and period music.
And Max was just as excited for Gabrielle's star turn in the booth, sharing on his blog:
"I've been blessed by having mostly really good readers of my books on audio. The head honcho at Skyboat, Stefan Rudnicki, has been doing both Quarry and Mike Hammer and knocking the ball out of the park; recently he's embarked on Nolan, in his usual stellar manner. When we submitted Fancy Anders to Stefan, however, I requested that he use a female narrator, specifically Gabrielle de Cuir. He and she came through for me, and how.

If you haven't read Fancy Anders Goes to War yet, this is an excellent way to do so. If you have read it, it's still well worth the ride (and the price of admission), because Skyboat has done a fantastic job. They've used music and sound effects to really create Fancy's world. Gabrielle does a lovely job, superbly differentiating the characters and (unlike some male narrators with female characters) nails the men, as well." –Max Allan Collins
Listen to an audiobook sample on Skyboat's SoundCloud! 
"Fancy Anders Goes to War is fun, fast-paced and entertaining; there is never a dull moment from the time Fancy hits the streets running in her private eye debut." —COMICS BEAT
---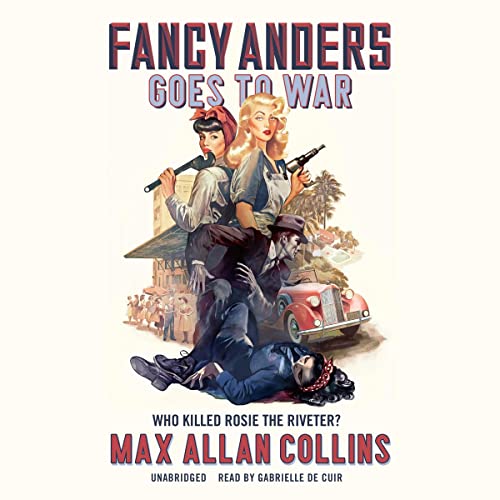 FANCY ANDERS GOES TO WAR: WHO KILLED ROSIE THE RIVETER? (The Fancy Anders Series, Book 1) by Max Allan Collins
Read by Gabrielle de Cuir
The enhanced audiobook production features ambient sound effects and period music
Fancy Anders goes undercover at an aircraft plant to solve the murder of Rosie the Riveter in the first of three thrilling mysteries by Road to Perdition creator Max Allan Collins.
Fall 1942. When her Hollywood private detective daddy is called back to uniform, Fancy Anders is issued orders of her own – answer the phone, make referrals, and keep the place dusted. But the 24-year-old Barnard grad – whose hobbies include shooting, flying and jujitsu – isn't having any.
At Amalgamated Aircraft, a young female worker chosen to pose for patriotic photos and posters has met with a suspicious "accidental death." Fancy takes the victim's place on the swing shift, fitting in well with co-workers very much not from high society circles. With the occasional reluctant help of LAPD homicide cop Rick Hinder, Fancy takes a hammer to the head of a saboteur, sniffs out an enemy within, and sets out to prevent an assassination attempt on President Roosevelt, scheduled to tour the plant and greet the women who work long, hard hours for the war effort.
Portraying the times vividly with his usual historical accuracy, Mystery Writers of America Grand Master Max Allan Collins creates a compelling new series protagonist both indelibly of her time, and far ahead of it.
---
Now check out book two for a brand new mystery with Fancy and the whole crew!
---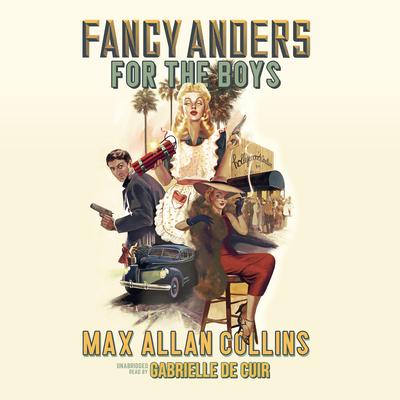 FANCY ANDERS FOR THE BOYS: WHO KILLED THE HOLLYWOOD HOSTESS (The Fancy Anders Series, Book 2) by Max Allan Collins
Read by Gabrielle de Cuir
Fancy Anders returns in Fancy Anders for the Boys, the second of three thrilling mysteries by Road to Perdition creator Max Allan Collins.
Hollywood, 1942. Hedonistic socialite turned undercover detective and poster girl for the war effort, Fancy Anders is back to solve another case. The Hollywood Canteen has just opened as a refuge and nightclub to give enlisted men some nights they will never forget as they prepare to head into war. With Hollywood elite cooking food and tending bar, with beautiful young actresses and starlets serving as hostesses and dance partners, the Canteen is a wonderland indeed. But when a young hostess dies in a car accident, the entire club—and possibly the entire American military service—is in jeopardy.
Lieutenant Rick Hindler, recently divorced, informs Fancy that the dead girl in question is actually the daughter of a member of the German-American Bund and that her crash may not have been an accident—and it might not be the end of their troubles.
Fancy, along with her pals from Amalgamated Aircraft, goes undercover as a hostess to find the potential plot to undermine the war effort. Surrounded by Hollywood royalty and young soldiers, Fancy must use all her discretion and powers of detection to ensure the legitimacy of the Canteen and the safety of her country.
The enhanced audiobook production features ambient sound effects and period music.
Listen to a sample on our SoundCloud!
---
And we are pleased to announce that there is one more FANCY ANDERS adventures to come. The three stand-alone novellas are interwoven, adding up to a sum bigger than its parts. Don't miss the final installments, coming in 2023! 
About the Author: Max Allan Collins is the author of Road to Perdition, the acclaimed graphic novel that inspired the movie, and of the multiple-award-winning Nathan Heller series of historical hardboiled mysteries. One of most prolific and popular authors working in the field today, Max was named a Grand Master by the Mystery Writers of America in 2017. He is also the literary executor of Mickey Spillane.
Purchase your copy of FANCY ANDERS GOES TO WAR and FANCY ANDERS FOR THE BOYS today!
And, don't forget, if you're looking for more pulse-pounding series from Max Allan Collins, the QUARRY series, the MIKE HAMMER series and the NOLAN novels, all narrated by Stefan Rudnicki, are now available on audio. Listen to audiobook samples of all of these titles on Skyboat's Max Allan Collins playlist on SoundCloud!