"I would recommend this to any fans of elves and fantasy; the world this author has whipped up is pretty darn cool." —Nightly Reading Review
Unaware she's been bound from using magic, Frey leads a small, miserable life in the village where she's sent after the death of her mother. But a tiny spark ignites a fury of changes and she's suddenly being hunted by council and forced to rely on strangers for protection. The farther she strays from home, the more her magic and forgotten memories return and she starts to suspect the band of strangers are not what they seem. They help her find her rightful place and destroy the bonds, but securing her future might be more than she can do with magic alone.
What inspired you to start writing the "Frey" Series?

"Loving a good story.  I wrote Frey to entertain myself and a friend, to have a way to include all of the great characters, fantasy men, and magical plots we loved into one narrative.  I didn't start out with the intention of publishing and I think that's made it all more fun."
About the Author: Melissa Wright is the author of more than a dozen YA and fantasy novels, including the Frey Saga, the Descendants Series, and Seven Ways to Kill a King. In addition to be a talented author, she is also a talented artist! Want to stay updated on works in progress? Sign up for Melissa's author newsletter and, in addition to sneak peeks and special deals, you can enjoy free books!
We at Skyboat are huge fantasy fans, so we were elated when Melissa inquired about bringing the Frey Saga to audio. A thrilling series with creative world-building, gripping mysteries, lush language, and a slow-burn romance. What's not to love? And we had just the narrator for the job: Skyboat's

Gabrielle de Cuir

.
An Audie and Earphones Award–winning narrator, Gabrielle has narrated over three hundred titles and specializes in fantasy, humor, and titles requiring extensive foreign language and accent skills, including co-narrating Bethany Adams' The Return of the Elves Series and Lee French's The Spirit Knights Series.
Listen to an audiobook sample on Skyboat's SoundCloud!
---
I stood in the center of a council chamber I had never seen before. A vast library lined the walls, interspersed with decorated frames and ornate mirrors. A great vaulted ceiling rose overhead, embellished with intricate carvings and painted in exquisite detail. Across the empty space before me was an elaborate table that seated six leaders of High Council, my executioners.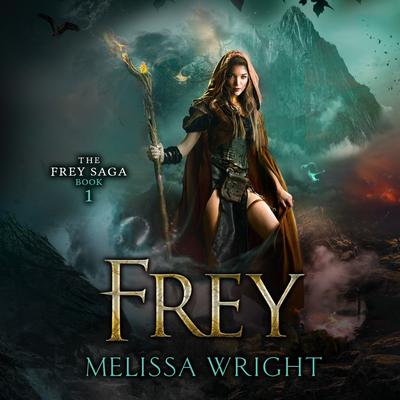 FREY (Frey Saga, Book 1) by Melissa Wright
Read by Gabrielle de Cuir
Nothing is as it seems.
Frey's life is a lie. She doesn't remember being bound from magic. She didn't intend to discover this dangerous secret, to get entangled in Council business. But she did.
And now she's on the run.
With the aid of a stranger, she discovers a world beyond the elves who bound her. But it's a world of shadows and dark magic, a world she's been warned not to trust. The farther she strays, the more she finds a forgotten past. As she fights to reclaim her true identity, Council trackers hunt her down.
If they find her, she will burn.
The stranger offers her a way out, but it's a path of no return. How do you know who to believe when you don't even know who you are?
Purchase your copy of FREY (Frey Saga, Book 1) today — and stay tuned for PIECES OF EIGHT (Frey Saga, Book 2) and RISE OF THE SEVEN (Frey Saga, Book 3) coming to audio soon!