Hip, hip, hooray! We're going back to the WASTELANDS! A little odd how excited we are about Famine, Death, War, and Pestilence and the whole "end of the world" thing, right? Well, when you have a collection like this – ahem, a second collection like this – it's hard not to be giddy.
As you may recall from our previous blog post, we love Mr. John Joseph Adams. He is the series editor of Best American Science Fiction & Fantasy, the editor and publisher-in-chief of the 2014 Hugo Award-winning Lightspeed magazine and its sister magazine Nightmare (for which Skyboat produces monthly short story podcasts), and the co-host of Wired.com's The Geek's Guide to the Galaxy podcast. He is also the bestselling editor of numerous anthologies,  including The Apocalypse Triptych (co-edited by Hugh Howey and consisting of The End is Nigh, The End is Now, and The End Has Come – now available on audio), OPERATION ARCANA, and, of course, WASTELANDS and now WASTELANDS 2.
Famine, Death, War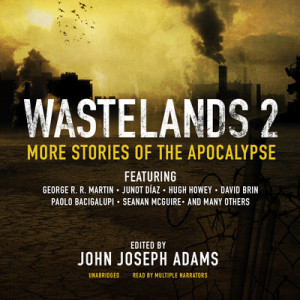 , and Pestilence—the Four Horsemen of the Apocalypse, the harbingers of Armageddon—these are our guides through the Wastelands.
WASTELANDS 2: MORE STORIES OF THE APOCALYPSE is a new anthology of postapocalyptic literature from some of the most renowned authors in the science fiction, fantasy, and horror genres today, including George R. R. Martin, Hugh Howey, Junot Díaz, David Brin, and many more. This eclectic mix of tales explores famine, death, war, pestilence, and harbingers of the biblical apocalypse. –downpour.com
These thirty vivid short stories are brought to life by an equally diverse group of talented narrators. Paul Boehmer, Gabrielle de Cuir, Arthur Morey, Stefan Rudnicki and Judy Young return for Volume 2 and are joined by Cassandra Campbell, Orson Scott Card, Jamye Grant, Taylor Meskimen, and Kristoffer Tabori. Find your full Table of Contents below!
Start your journey into the WASTELANDS and get both anthologies on downpour.com today!