John Joseph Adams is a busy man. Ok, busy might be an understatement. In addition to being the series editor of Best American Science Fiction & Fantasy, John is the editor and publisher-in-chief of the magazines Lightspeed and Nightmare (for which Skyboat produces monthly short story podcasts), and is the co-host of Wired.com's The Geek's Guide to the Galaxy podcast. He is the bestselling editor of numerous anthologies and his recent books include The Apocalypse Triptych (co-edited with Hugh Howey and consisting of The End is Nigh, The End is Now, and The End Has Come), Robot Uprisings, Dead Man's Hand, and Wastelands: Stories of the Apocalypse. Yes, those are just the recent ones!
John has been nominated for numerous Hugo Awards (and Lightspeed is a nominee again this year!) and five World Fantasy Awards. It is no wonder that he has been called "the reigning king of the anthology world" by Barnes & Noble, and his books have been lauded as some of the best anthologies of all time. "Long live the King," we chorused. Though it is a wonder how he fits so much into his schedule. Work, work, work. He only gets 24 hours in a day like the rest of us, right? Time travel?
WASTELANDS: STORIES OF THE APOCALYPSE gathers 22 tales of the best post-apocalyptic literature of the last two decades from many of today's most renowned authors of speculative fiction—including George R. R. Martin, Gene Wolfe, Orson Scott Card, Carol Emshwiller, Jonathan Lethem, Octavia E. Butler, and Stephen King—in an exploration of what it means to remain human in the wake of Armageddon.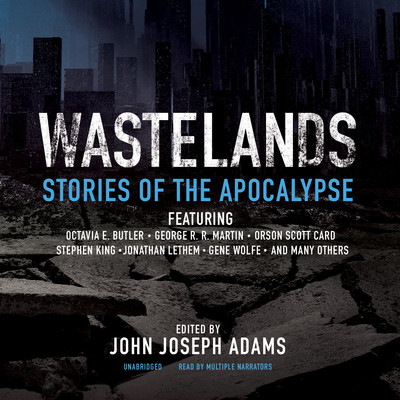 John is a connector: bringing together outstanding stories in singular volumes and sharing these works with his multitude of readers. To adequately capture and convey the voices of such a wide-ranging set of authors, Skyboat connected eleven different narrators to these fabulous stories, including Mr. Harlan Ellison who took on Richard Kadrey's "Still Life with Apocalypse." Our stellar team at 50 Nugget Wash edited, mixed and mastered this beauty. Below is your full Table of Contents with the narrators specified; which we understand is something you appreciate in these days of Amazon listing only "full cast" as the narrator!
Listen to an audiobook sample on Skyboat's SoundCloud! Get the entire anthology on downpour.com today! And if you like what you hear, check out WASTELANDS 2: MORE STORIES OF THE APOCALYPSE and, for you military fantasy fans, OPERATION ARCANA.