"Mr. Sheckley—as might be expected of a writer who can wring praise from as diverse a group of peers as Kingsley Amis, Harlan Ellison®, John le Carré, and J. G. Ballard—has an engagingly madcap manner all his own." —Wall Street Journal, praise for the author
Robert Sheckley (1928–2005) was a Hugo- and Nebula-nominated American author. Born in Brooklyn and raised in New Jersey, Robert Sheckley joined the Army in 1946 after graduating from high school, and served in Korea, and later graduated from New York University. He wrote more than 15 novels and 400 short stories. In 2001, he received the Author Emeritus honor from the Science Fiction and Fantasy Writers of America.
"He was a major force in the development of modern science fiction." —Gerald Jonas, from The New York Times obituary for Sheckley
First published in the science fiction magazines of the 1950s, including Galaxy and the Magazine of Fantasy & Science Fiction, Sheckley's numerous, quick-witted stories and novels were famously unpredictable, absurdist, and broadly comical. (Speaking of magazines, check out these interview excerpts from the Locus magazine, aptly titled "Robert Sheckley: Still Laughing.") His first short story collection published in book form was Untouched By Human Hands (1954).
"In a just world, Sheckley would be recognised as one of the most important American short story writers of the 20th century" —Christopher Priest, from Sheckley's obituary in The Guardian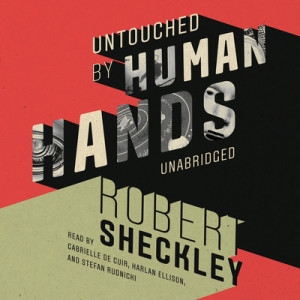 UNTOUCHED BY HUMAN HANDS consists of thirteen stories of beings who dwell on the strange borders of reality. Some of these stories tell of people you know or of events that might happen—but haven't yet. Some will take you to the furthermost reaches of the sky and to planets whose names are unknown this side of Arcturus. And some—perhaps the richest and most memorable of these stories—open into the interior of strange minds to reveal the reflection of ourselves.
Skyboat's Gabrielle de Cuir and Stefan Rudnicki were honored to be joined in the studio by Harlan Ellison®, a longtime personal friend (and huge fan) of Sheckley.
#SkyCast list of stories and narrators:
The Monsters – read by Gabrielle de Cuir
Cost of Living – read by Stefan Rudnicki
Harlan's intro to The Altar – read by Harlan Ellison®
The Altar – read by Harlan Ellison®
Shape – read by Gabrielle de Cuir
The Impacted Man – read by Stefan Rudnicki and Gabrielle de Cuir
Untouched by Human Hands – read by Stefan Rudnicki
The King's Wishes – read by Gabrielle de Cuir
Warm – read by Stefan Rudnicki
The Demons – Stefan Rudnicki
Specialist – read by Gabrielle de Cuir
Seventh Victim – read by Stefan Rudnicki
Ritual – read by Gabrielle de Cuir
Beside Still Waters – read by Stefan Rudnicki
Celebrate the strange and mysterious; support creativity and imagination – buy your copy at downpour.com today.