We know it's coming. You know it's coming. Everyone knew it was coming. Finally, THE END HAS COME. Well, maybe not the end-end. But the audiobook, anyway. The third and final installment of THE APOCALYPSE TRIPTYCH has arrived, brought to you by Skyboat Media and distributed by Audible.
What happens after floods, pestilence, rising oceans, asteroids and warring humanity bring on the end of the world? It's time to find out.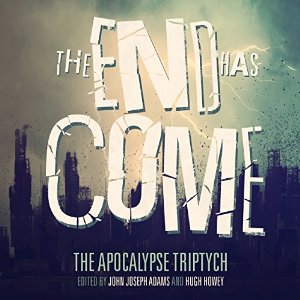 THE END HAS COME (Volume 3 of THE APOCALYPSE TRIPTYCH) is another masterful anthology edited by John Joseph Adams, Lightspeed magazine's Hugo award-winning anthologist, and Hugh Howey, fellow Hugo winner and author of the New York Times blockbuster SILO trilogy. Two titans in the science fiction industry.
The audiobook features 22 brand new science fiction stories from the likes of Carrie Vaughn, Scott Sigler, Sarah Langan, Jonathan Maberry, and many others (see the amazing list of authors below). There's something for everyone. A Deluxe Assortment box of apocalyptic delights. Genetically modified people, alien children, cyborgs, and flesh-eating mold. Yum.
If Hugh Howey was this excited to unbox the second volume, we can only imagine how thrilled he is going to be with the third volume. And that was just the book. Check out these narrators!
Bringing life to these post-apocalyptic tales are the award-winning voices of Justine Eyre, Stefan Rudnicki, Gabrielle de Cuir, Roxanne Hernandez, Emily Rankin, Alex Hyde-White, Judy Young and Vikas Adam. The A-team's on it, folks. Edited by Grammy-winning 50 Nugget Wash. Saving the best production team for last.
Is it the end of the world as we know it? Did only the "fittest" survive? Is the new world better than the old? Does "humanity" still exist?
Listen to THE END HAS COME and find out. Listen to it from beginning to, well, end. Never has the end been so entertaining.
As always, we bring you the full SkyCast list for your edification. Enjoy!