"John Joseph Adams has become one of those editors who I know will put together something I will love to read and know that the book I'm about to purchase isn't going to let me down." –Wil Wheaton
We couldn't ag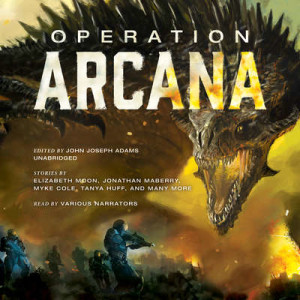 ree more, Wil! So, we're at it again. (WASTELANDS and WASTELANDS 2 too weren't enough.)
Skyboat, with Blackstone Audio, is bringing you another anthology edited by the illustrious John Joseph Adams. Barnes & Noble called John "king of the anthology world" – we say: long may he reign.
OPERATION ARCANA features high fantasy, contemporary and urban fantasy, and fantasy action and adventure all set in a military vein by top authors in the genre, including Jonathan Maberry, Tobias Buckell, Elizabeth Moon, Tanya Huff, Glen Cook, Simon R. Green, Seanan McGuire, and Linda Nagata.
From our favorite audiobook shopping website, www.downpour.com:
"In the realms of fantasy, the battlefield is where heroism comes alive, magic is unleashed, and legends are made and unmade. From the War of the Ring, Tolkien's epic battle of good versus evil, to the Battle of the Blackwater, George R. R. Martin's grim portrait of the horror and futility of war, these fantastical conflicts reflect our highest hopes and darkest fears, bringing us mesmerizing visions of silver spears shining in the sun and vast hordes of savage beasts who threaten to destroy all that we hold dear.
Now acclaimed editor John Joseph Adams is sounding the battle cry and sixteen of today's top authors are reporting for duty, spinning never-before-published, spellbinding tales of military fantasy, including a Black Company story from Glen Cook, a Paksenarrion story from Elizabeth Moon, and a Shadow Ops story by Myke Cole. Within these pages you'll also find World War I trenches cloaked in poison gas and sorcery, modern-day elite special forces battling hosts of the damned, and steampunk soldiers fighting for their lives in a world torn apart by powers that defy imagination. Featuring both grizzled veterans and fresh young recruits alike—including Tanya Huff, Simon R. Green, Carrie Vaughn, Jonathan Maberry, and Seanan McGuire—Operation Arcana is a must for any military buff or fantasy fan. You'll never look at war the same way again." –downpour.com 
Sixteen stories brought to life by six narrators: Paul Boehmer, Gabrielle de Cuir, Richard Gilliland, Sunil Malhotra, Arthur Morey, and Stefan Rudnicki.
Let the battle begin! Head over to downpour.com to purchase your copy today!