As you know from our earlier Author Spotlight, we SkyBoaters have a "brain crush" on Dr. Daniel G. Amen. So when Amen (a physician, psychiatrist, teacher, prolific best-selling author, head of the Amen Clinics AND AudioFile Earphones Award-winning narrator) wanted to record the very personal story himself, Gabrielle jumped at the chance to get back in the director's chair.
WHAT I LEARNED FROM A PENGUIN: A STORY ON HOW TO HELP PEOPLE CHANGE, is about the power of positive reinforcement as a parenting technique and the transformation its application brought to Dr. Amen's relationship with his own son.
"Learning to combat our own negative thinking and finding the positive in situations can change the way our brain functions!…When we transfer our positive thinking and reinforcement to children, you will be amazed to see the child strive to gain more positive reinforcement through positive behavior and actions!" — co-author Dr. Jesse J. Payne
WHAT I LEARNED FROM A PENGUIN: A STORY ON HOW TO HELP PEOPLE CHANGE
Too often we pay attention to negative behavior and ignore the positive. We are rarely taught the benefit of positive reinforcement, and instead focus on the negative and expect automatic change.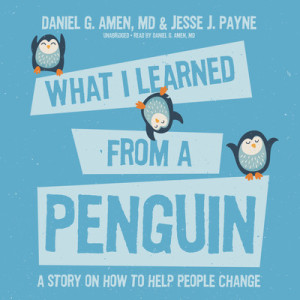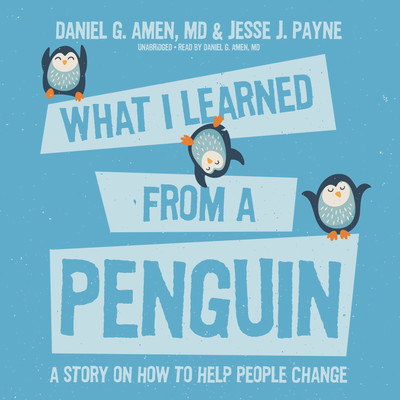 This children's book is based on a true story as experienced by Dr. Amen himself. One day while watching a penguin named Fat Freddy take part in a stunt show at a local amusement park, he is astonished to see the penguin perform so well. Frustrated by his own son's behavior, Dr. Amen decides to talk with the trainer after the show to find out how she got the penguin to follow all of her directions. Through clever rhyme and storytelling, the trainer shares with Dr. Amen the power of positive reinforcement.
Though designed with elementary school students in mind, this story has taught people of all ages a valuable, life-changing lesson. –downpour.com
A short tale chock full of heart, WHAT I LEARNED FROM A PENGUIN is a gentle reminder of the importance of noticing and appreciating the positives and bringing that patience and joy to our most important relationships. Do yourself, and your family, a favor and purchase your copy today.