Gaston Leroux (1868–1927), French novelist, was born in Paris. He earned a law degree in 1889 but turned to journalism in his mid-twenties and later sailed the world as a correspondent, reporting on the Russian Revolution of 1905. In the early 1900s, he began writing novels. He authored dozens of novels and short stories, and is considered one of the preeminent French writers of detective fiction. He left journalism and formed his own film company in 1919, where he adapted much of his work into film.
"Leroux's crime novels are considered the French equivalent of works by England's Sir Arthur Conan Doyle and America's Edgar Allan Poe." —AmericanLiterature.com
While Leroux became best known for The Phantom of the Opera (1910), thanks to Andrew Lloyd Webber's 1986 musical, his novel The Mystery in the Yellow Room (1907) was one of the first locked-room mystery novels and sparked the development of detective fiction as a genre. Agatha Christie (a fellow author featured in Skyboat's Classic Mystery Library) admired Leroux's work, particularly his ability to engage readers' intellect and challenge them to solve seemingly unsolvable crimes. We are proud to welcome Gaston Leroux to Skyboat's Classic Mystery Library.
Skyboat Media is proud to partner with

Blackstone Publishing to produce and publish top-quality audiobooks of classic or little-known texts, ensuring these stories remain accessible to broad audiences.
"I have believed it my duty toward the public, and also to the memory of Theophraste Longuet, to publish in volume the authentic history of the reincarnation of Cartouche, written exclusively from the documents found in the little oaken chest, a plain narrative, unembellished by all that which I, poor journalist, had added for the chance reader of my journal."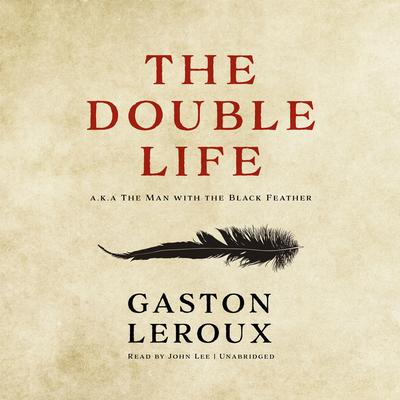 The Double Life: Or, The Man with the Black Feather by Gaston Leroux
Read by John Lee
A man named Adolphe visits Leroux at his office at the Morning Journal and delivers to him a chest that was bequeathed to him by his friend Theophraste Longuet. Leroux begins investigating its contents and relates the very strange experience of Longuet.
While visiting a famous prison, Theophraste Longuet, a retired rubber stamp manufacturer, is possessed by the spirit of Cartouche, a criminal who plagued Paris in the eighteenth century. This wicked spirit overcomes Longuet more and more frequently, and Longuet begins, unwittingly, to commit the crimes for which Cartouche was known in the past.
---
Discover a different side of Gaston Leroux. Listen to an audiobook sample on Skyboat's SoundCloud and purchase your copy of THE DOUBLE LIFE today.