"Onions's best stories are powerfully charged explorations of physical violence, their effects heightened by detailed character study and a preparedness to challenge the accepted." –Mike Ashley
George Oliver Onions (1873 – 1961) was a British writer of short stories and over 40 novels. He wrote under the name Oliver Onions, and his tales of the supernatural are just as unique as his name.
An early writer of psychological horror, Onions's writing is meticulously plotted and delves deep into his characters' psyches and reactions to the paranormal and uncanny goings-on around them.
He originally trained as a commercial artist and a magazine illustrator, and first editions of his novels featured Onions's own full-color illustrations on the dust jackets. Though he is best known for his supernatural fiction, he also wrote detective fiction, social comedy, historical fiction, romance, and science fiction novels.
Gahan Wilson wrote that Onions was "one of the best, if not the best, ghost story writers working in the English language…Mr. Onions did as much as anyone to move phantoms and other haunts from dark, Gothic dungeons to the very room in which you presently sit." 
In WIDDERSHINS, one of his best known collections of short stories, Onions explores the psychological nature of horror and all sorts of paranormal activity, from classic haunted houses to reincarnations of evil spirits to werewolves and black magic.
Algernon Blackwood, author of THE TOUCH OF PAN & OTHER STORIES, a collection of supernatural stories (which just so happens to be narrated by the folks at Skyboat), described "The Beckoning Fair One" as "the most horrible and beautiful ever written on those lines."
Published by Blackstone and produced by Skyboat, the WIDDERSHINS audiobook features Stefan Rudnicki narrating the widely anthologized story "The Beckoning Fair One," with Paul Boehmer, Gabrielle de Cuir, and Rosalyn Landor rounding out the cast.
Listen to an audiobook sample of Stefan Rudnicki narrating "The Beckoning Fair One" on Skyboat's SoundCloud!
But going even beyond this most famous story, Neil Wilson wrote in Shadows in the Attic: A Guide to British supernatural fiction that though "'The Beckoning Fair One' (1911) is regarded by many as one of the greatest English tales of the supernatural but has overshadowed Onions' other work in the genre which some consider of equal, if not greater, importance. In fact, the majority of the author's supernatural fiction is of an extremely high standard and is notable for its originality, subtlety and careful characterizations which lift it well above the average."
So rest assured that WIDDERSHINS is chock-full of some of the finest tales of the supernatural you'll ever have the pleasure of being spooked by!
---
WIDDERSHINS: The First Book of Ghost Stories by Oliver Onions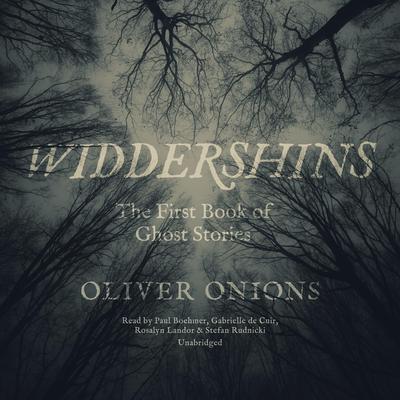 Read by Paul Boehmer, Gabrielle de Cuir, Rosalyn Landor, and Stefan Rudnicki
Oliver Onions has long been acknowledged by aficionados of supernatural writing as a master of the genre. WIDDERSHINS contains some of his finest stories, including the novella "The Beckoning Fair One", which was named one of the greatest ghost stories ever written by a number of horror masters, including Algernon Blackwood and Robert Aickman. His work has also been compared to that of H.P. Lovecraft, though there is some debate amongst bibliophiles about whether Lovecraft himself was a fan of Onions. 
In "The Beckoning Fair One" an unsuccessful writer moves into rooms in an otherwise empty house, in the hope that isolation will help his failing creativity. His sensitivity and imagination are enhanced by his seclusion, but his art, his only friend, and his sanity are all destroyed in the process. In "Rooum," an engineer is pursued by a mysterious entity, while a man ruminates on a ghostly tale from his past in "The Cigarette Case." These eerie and beautifully-crafted stories will be a prized addition to any horror collection.
SkyCast:
"The Beckoning Fair One" read by Stefan Rudnicki
"Phantas" read by Paul Boehmer
"Rooum" read by Stefan Rudnicki
"Benlian" read by Paul Boehmer
"The Accident" read by Gabrielle de Cuir
"The Lost Thyrsus" read by Rosalyn Landor
"Hic Jacet" read by Stefan Rudnicki
"The Cigarette Case" read by Paul Boehmer 
Purchase your copy of WIDDERSHINS today!
Looking for more classic supernatural tales? We suggest three original compilations from Blackstone and Skyboat: Algernon Blackwood's THE TOUCH OF PAN & OTHER STORIES, Arthur Machen's THE SHINING PYRAMID AND THE THREE IMPOSTORS, and CASTING THE RUNES, AND OTHER CLASSIC STORIES OF THE SUPERNATURAL by M.R. James, W.W. Jacobs, Sheridan Le Fanu, F. Marion Crawford & Robert Hichens.