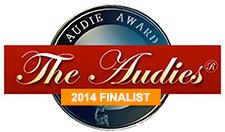 If you haven't heard already, the finalists for the 2014 Audies have been announced, and we are incredibly proud and humbled to have made the list. Our 2013 baby behemoth—ENDER'S GAME ALIVE: THE FULL CAST AUDIOPLAY—is a finalist in two categories: Best Multi-Voiced Performance and Best Original Work. We're endlessly indebted to the writer, the one and only Orson Scott Card, and our incredibly talented cast and crew. Also, we'd like to thank Audio Publishers Association for including us and Audible for publishing this one-of-a-kind project.
In addition, our own Stefan Rudnicki is also a finalist in the category of Fantasy for his narration of WISP OF A THING by Alex Bledsoe for Blackstone Audio. Here's what AudioFile Magazine had to say about his performance in a recent review: "Narrator Stefan Rudnicki creates gentle Appalachian accents for the characters without anything showy in his performance. His deep voice magically transforms into soft, feminine tones for the female characters. There are many songs in this book, and rather than sing them, Rudnicki speaks them in a soft cadence, almost as though he's reciting poetry. It is an effective, gentle performance." Get your own copy here.
Listen to Stefan and Alex Bledsoe as they talk Tufa:
Gabrielle de Cuir is a finalist as well, for her work narrating TRUTH-STAINED LIES by Terri Blackstock in the category of Inspirational/Faith-based Fiction for Zondervan Audio. Blackstock is a New York Times bestselling author, and Gabrielle was thrilled for the opportunity to narrate this suspenseful, female-driven tale of three sisters who band together to clear their brother's name of murder. It's great fun, and with this performance, Gabrielle only solidifies what AudioFile has written about her in the past: "Whether she's in front of the mic as a narrator, or behind the scenes as producer, Gabrielle is responsible for creating some of the most fun, innovative…audio recordings." Hear it in full here.
Exclusive Skype interview with author Terri Blackstock and Gabrielle wherein they discuss audio and social media and a whole lot more!
The 19th Annual Audie Awards Gala will be held in New York on May 29th, 2014. Get the full list of finalists here. We look forward to seeing some of you there!