"Readers looking for an endearing and memorable new heroine, look no further. STELLAR has equal portions of high school intrigue, mounting mystery, and good old-fashioned heroism." –Excerpt from Starling Gray's InD'tale's Review of STELLAR #1
Stellar is a hooded crimefighter who first appeared on the streets of Port Saint Dominic last summer. Since then she has been spotted numerous times by a range of individuals and shopkeepers and other business owners to late-working hospital staff and patrolling police officers. These sightings by the more reputable citizens of PSD corroborate the plethora of statements made by arrested individuals of being set upon by a hooded figure (usually while in the midst of their criminal activities) and lend truth to the idea that that there is someone out there who has taken it upon themselves to defend PSD. But just who is Stellar?
Can't contain your curiosity? Visit www.whoisstellar.com to learn more! And, while you're there, don't forget to sign up for Stellar FANMail to receive exciting news about future releases and a FREE character dossier and exclusive comic book.
While Stellar's identity remains unknown for now, we can identify the dynamic duo behind this action-packed saga. Meet Marc A Hutchins and Ian Graham!
Ian Graham is an award-winning author, screenwriter, and entrepreneur with an interest in politics, history, and religion. The stories and characters he writes about are centered on the explosive conflicts created when the three intersect. He is a firm believer in being yourself … unless you can be Batman. Always be Batman.
Marc A Hutchins is an award-winning filmmaker with accolades for his commercial work, short films, and feature films. He has been recognized for writing, directing, cinematography, location management, and producing, including five independent feature films.
STELLAR has gone through multiple "costume changes," if you will. In 2012, Marc initially wrote STELLAR as a feature film. Then, believing STELLAR would do better through long-form storytelling, he rewrote the feature into a pilot. In 2014, Marc met author Ian Graham, who immediately took to STELLAR and wanted to develop it into a YA novel series. Thus their collaboration was born, and together they have launched Avendale Entertainment.
Blackstone and Skyboat Media are proud to bring STELLAR to the audiobook world. And when it was time to choose a narrator for this brave and adventurous heroine? Well, the one and only Gabrielle de Cuir fit the bill. Gabrielle has narrated a range of YA tales — from Shirley Jackson's nonfiction THE WITCHCRAFT IN SALEM VILLAGE to William Campbell Powell's sci-fi dystopian EXPIRATION DAY (for which she was awarded an AudioFile Earphones Award) to Lee French's magical fantasy, The Spirit Knights Series. Needless to say, when Gabrielle "suited up" and stepped into the recording booth, there could only be one outcome: magic.
Listen to an audiobook sample on Skyboat's SoundCloud!
He'd forgotten his pain. His mind was focused on her. Now that she was still and standing closer he could make out bits of dark red and a symbol that looked like a star. "You… you…"
"… saved me."
Macy Davis smiled as she looked over Patrick Newell's shoulder. He was doing it again. He was daydreaming as he used a red ink pen to shade in a drawing of his crown creation; Stellar, a hooded crime-fighter…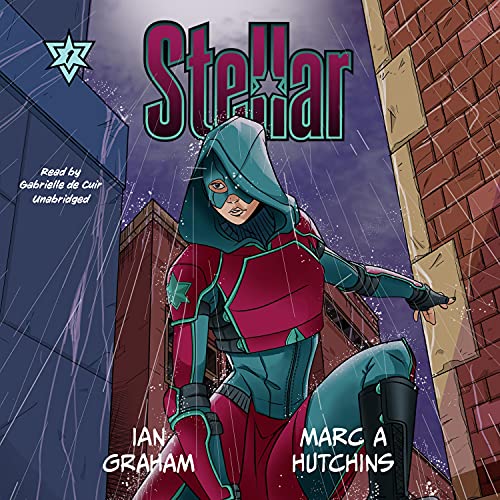 STELLAR #1 by Ian Graham and Marc A Hutchins
Read by Gabrielle de Cuir
Meet Stellar – urban crime-fighter who tackles injustice with swift and decisive action, carrying the burden of freeing society from oppression, fighting for the weak and wounded.
She is brave.
She is beautiful.
She is just a comic book character… or at least she was.
Macy Davis is an athletic high school student with an eye for Patrick Newell, the young artist who created Stellar. When Macy's best friend, Keri Cartwright, discovers Patrick's comic book heroine, she convinces Macy to masquerade as Stellar because to Macy, Stellar is Patrick's perfect girl. But when Macy dons a homemade costume to surprise Patrick at the Halloween Dance, her debut takes an unexpected twist and the reveal is more than anyone, including Macy, could have ever imagined.
Purchase your copy of STELLAR #1 today. And keep an ear out for the next installment — coming to audio soon!