"Jeff Edwards has created a superb thriller that grips the reader from beginning to end. Brilliantly executed." —Clive Cussler, praise for the author
Jeff Edwards is a retired U.S. Navy Chief Petty Officer and an Antisubmarine Warfare Specialist. His naval career spanned more than two decades and half the globe – from chasing Soviet nuclear attack submarines during the Cold War to launching cruise missiles in the Persian Gulf. He lives in San Diego, CA, where he consults for the Department of the Navy.
"Jeff Edwards writes with keen personal experience and passion for his subject matter." –Joe Buff, author of Seas of Crisis, on Steel Wind
Jeff combines his extensive expertise with intricate research, strong character development, and compelling storylines to create thrilling page-turners. Sounds right up our alley. Skyboat is proud to publish THE DAMOCLES AGENDA. (Hop on over to Jeff's website to watch the chilling book trailer!)
THE DAMOCLES AGENDA is narrated by Skyboat's Stefan Rudnicki and Gabrielle de Cuir. Gabrielle praised the book's cinematic nature and characters who actually spoke like real people (and gave her a chance to utilize her accent skills). Her verdict: "So. Much. Fun." Stefan was equally enthused, praising the "excellent science, compelling action, and fun, distinctive characters." This techno-thriller with sci-fi overtones is a rare gem: an audiobook that even the narrators did not want to end!
Listen to an audiobook sample on Skyboat's SoundCloud!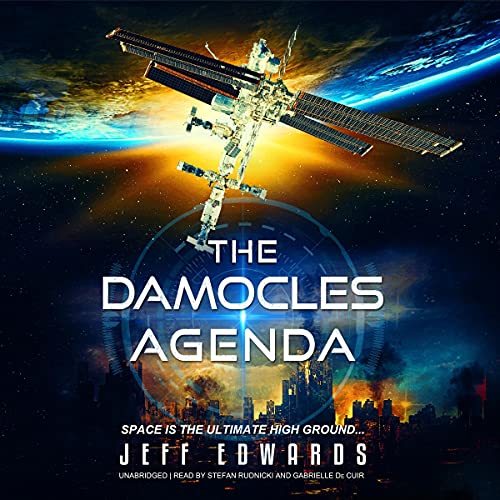 THE DAMOCLES AGENDA by Jeff Edwards
Read by Stefan Rudnicki and Gabrielle de Cuir
Civilization has an off switch….
The Russians call it Lunnaya Pesnya. Moon Song. They bring the device aboard the International Space Station disguised as an experimental electromagnetic propulsion system. Just a harmless EmDrive prototype, ferried into space for testing in microgravity. But the device is not what it appears to be, and it's far from harmless.
When military cosmonauts hijack the ISS, Russia's plans of global conquest are revealed. Moon Song is a game-changing electromagnetic pulse weapon, capable of attacking any location on Earth from orbit.
The first target is Kennedy Space Center. Uncounted kiloteslas of electromagnetic force slash through the atmosphere like an unseen sword – wiping out microchips, transistors, digital storage devices, and electronic circuits of all kinds. In an instant, Cape Canaveral – and the surrounding areas of Cocoa Beach, Rockledge, Titusville, and Patrick Air Force Base – are stripped of every necessity of modern existence.
Throughout the target zone, microchips are fried; credit cards are slicked; hard drives are erased. Electronic systems of all kinds suffer catastrophic failure, taking out cell phones, landlines, radios, vehicles, aircraft, and every electrical component within the footprint of the EMP beam.
A single pulse of energy has driven the US manned space program into the dark ages.
Now, Russia holds the high ground. From orbit, they can detect and neutralize any attempt to attack the ISS. The destruction of Canaveral shows what will happen to any nation that challenges Russian supremacy. With the world literally held hostage, there's no way to fight back.
Or is there?
Purchase your copy of THE DAMOCLES AGENDA today and find out!