"Cory Doctorow is one of our most important science fiction writers, because he's also a public intellectual in the old style:  he brings the news and explains it, making clearer the confusions of our wild current moment.  His fiction is always the heart of his work, and this is his best book yet, describing vividly the revolutionary beginnings of a new way of being.  In a world full of easy dystopias, he writes the hard utopia, and what do you know, his utopia is more thought-provoking and more fun."-Kim Stanley Robinson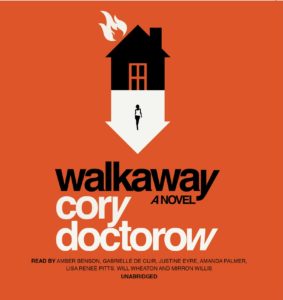 Stefan and Gabrielle worked closely with one of the most dynamic authors in science fiction today, Cory Doctorow, to bring this audiobook to life. You can consider this the "AUTHOR FINAL CUT" version of the audiobook since Cory sat in on most of the recording sessions, from the days with the dynamic energy of Wil Wheaton to the Aussie Skype session with Amanda Palmer. The super-talented and disarmingly charming Amber Benson carried the bulk of the narration. Gabrielle wore two hats: she directed and narrated this time around. The writing is superb and challenging in concept and language. Listen to Wil in this little blooper session clip with Wil Wheaton, Gabrielle and Cory:
It was an honor to have Cory trust Skyboat with this incredible masterpiece. The audiobook was edited mixed and mastered symphonically by John Taylor Williams of Wryneck Studios.
Check out this video of Cory with another one of our favorite authors ("The Collapsing Empire'" audiobook was also produced here at Skyboat) discussing their respective books:
Featuring a stellar SkyCast of today's top audiobook narrators, WALKAWAY tells the story of what would happen in a post-scarcity world.  Once you can use a 3D printer to print the necessities (food, clothing, shelter), there's very little reason to work within the old system (jobs, bills, etc).
What happens when the things we're all worried about (ecological disasters, vast wealth disparities, refugee crises) play out to their logical conclusion?  People rebuild.
Listen to a sample here!
Purchase your copy of WALKAWAY today.
Like what you hear?  Check out these other audio collaborations between Skyboat Media and Cory Doctorow.  Available on downpour.com.
  ABOUT THE AUTHOR
Cory Doctorow (craphound.com) is a science fiction author, activist, journalist and blogger — the co-editor of Boing Boing (boingboing.net) and the author of WALKAWAY, a novel for adults, a YA graphic novel called IN REAL LIFE, the nonfiction business book INFORMATION DOESN'T WANT TO BE FREE, and young adult novels like HOMELAND, PIRATE CINEMA and LITTLE BROTHER and novels for adults like RAPTURE OF THE NERDS and MAKERS. He works for the Electronic Frontier Foundation, is a MIT Media Lab Research Affiliate, is a Visiting Professor of Computer Science at Open University and co-founded the UK Open Rights Group. Born in Toronto, Canada, he now lives in Los Angeles. (Courtesy of the author's website)