COVID-19 UPDATE: All's well here at Skyboat. Both Stefan Rudnicki and Gabrielle de Cuir are recording. Cassandra de Cuir is directing here at this time. We are pleased to offer the Tardis Isolation Booth, a SAG-AFTRA Approved Audiobook Recording Studio: click here to learn more or book a session. If you have any questions, drop us a line at stefan@skyboatmedia.com or gabrielle@skyboatmedia.com.
STAY WELL.
Stefan Rudnicki, Gabrielle de Cuir, and Paul Boehmer bring the heart-stopping, fast-paced, action-packed science fiction series, TANDEMSTAR: THE OUTCAST CYCLE by Gene Doucette to life.
TWO SUNS AT SUNSET (Book 1) features null-grav tech, cursed detectives, murdered monks, TWO suns, and a tangled conspiracy that threatens everyone on the planet Dib. THE MADNESS OF KINGS (Book 2) takes us into the Middle Kingdom, where the adventures (and conspiracies) continue.
To learn more about TANDEMSTAR: THE OUTCAST CYCLE, please click here.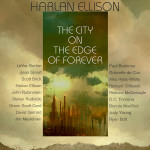 And have you bought your copy of THE CITY ON THE EDGE OF FOREVER yet?
Learn More