COVID-19 UPDATE: Both Stefan Rudnicki and Gabrielle de Cuir are recording at Skyboat. Cassandra de Cuir is directing here at this time. We also have an "isolated talent" recording Tardis booth; click here to book. Drop us a line if you have questions. stefan@skyboatmedia.com or gabrielle@skyboatmedia.com
STAY WELL.

In 1827, a seventeen year old author Jane C. Loudon wrote a 500 page novel called THE MUMMY! A TALE OF THE TWENTY SECOND CENTURY. It is the first known writing of a resuscitated Mummy; it is also science fiction (it is set in 2126 and most innovations are steam powered, evoking a highly steampunk vibe.) Gabrielle narrates the bulk of the book but is joined by a full cast (including Stefan Rudnicki as THE MUMMY) in over 30 dramatized scenes.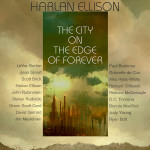 And have you bought your copy of THE CITY ON THE EDGE OF FOREVER yet?
Learn More