Today the zombie runs rampant through our popular culture.  I am honored that I am considered to be the "godfather"of the zombie genre.                                                                  -from George A. Romero's Introduction.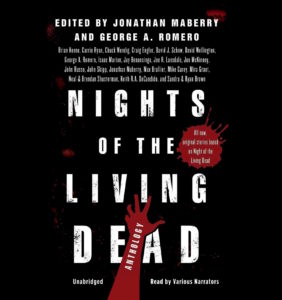 Skyboat Media is honored to be part of Blackstone's audiobook production of NIGHTS OF THE LIVING DEAD: AN ANTHOLOGY.  Edited by Jonathan Maberry and George A. Romero. We have produced all of Jonathan's V-WARS Series, and were delighted when we got the call to help create this delicious zombie anthology. Unfortunately, he wildly original George A. Romero passed away recently. If you don't know who he was, or what he was about, this video will catch you up to date on this remarkable and enthusiastic filmmaker, the Father of the Zombie:
The audiobook sessions were cast and directed by Gabrielle de Cuir. Joe Lansdale's daughter, Kasey, came in to record her father's story. TV celeb Rex Linn came into create a scary Wild West tale for us. The amazing Ken Barton at PhaseShiftAV assembled the final edit. We even had some fun with multi-voice and sound FX  treatments on some of the stories.
Jonathan himself joined us here at Skyboat to record his spine-tingling intro:
You'll want to put this one in the pipeline for your Halloween listens. The original zombie outbreak that began in that remote farmhouse in 1968 continues in this collection of all-new tales by some of today's most legendary authors. Set within 48 hours of that famous outbreak, these stories are brought to life (get it?) by a top-notch group of narrators.
Lock those doors, turn off those lights, and start listening. Purchase your copy today!
About the editors:
Jonathan Maberry is a best-selling author, comic book writer, magazine feature writer, editor, content creator, playwright, and writing teacher/lecturer.  Named one of the Top Ten Horror Writers Alive Today, his books have been sold in more than two dozen countries. He has been the recipient of several Bram Stoker Awards and was even inducted into the International Martial Arts Hall of Fame, largely because of his extensive writings in that field.  He currently resides in Southern California.
George A. Romero is best known for his work on the 1968 horror classic, "Night of the Living Dead."  Written with John A. Russo and directed by Romero himself, the film was produced on a shoestring budget and went on to gross over $30 million worldwide.  In 1999, "Night of the Living Dead" was inducted into the National Film Registry of the Library of Congress of the United States.
Romero went on to write and direct "Dawn of the Dead" and direct "Creepshow," among other Stephen King adaptations.  He passed away on July 16, 2017 at the age of 77.