"When you sell a man a book, you don't sell him just twelve ounces of paper and ink and glue — you sell him a whole new life." –Christopher Morley
In 1917, Christopher Morley published PARNASSUS ON WHEELS, a love letter to the art of book selling. Its suspenseful sequel, THE HAUNTED BOOKSHOP, finds his beloved characters married, living in Brooklyn, and still in love with both mystery and literature.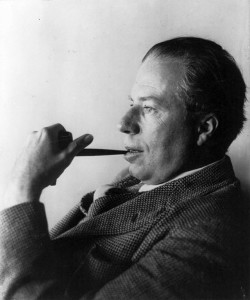 Christopher Darlington Morley (1890–1957), American novelist, journalist, poet, and essayist, is the author of more than 100 novels, books of essays, and volumes of poetry. He was a Rhodes scholar at Oxford, and after returning to America, he was an editor for Ladies' Home Journal and writer for the New York Evening Post and other newspapers. He was one of the founders of the Saturday Review of Literature, and helped to found the "Baker Street Irregulars," a group dedicated to the study of Sir Arthur Conan Doyle's Sherlock Holmes works. He is probably best known for his novel Kitty Foyle, which was an instant bestseller and the basis for a radio serial, a television series, and an Academy Award-winning movie in 1940. (Nominated for five Academy Awards, with a Best Actress win for Ginger Rogers portraying Kitty herself: see the trailer here).
"Christopher Morley's The Haunted Bookshop doubles as a charm manual, and in that field Morley even has masters like F. Scott Fitzgerald – when he was in his early-career short-story mode – and Booth Tarkington beat." —Colin Fleming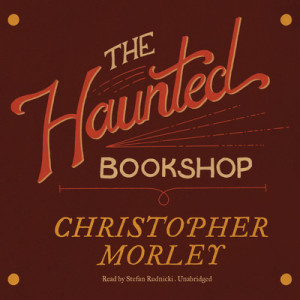 Set in a lovingly evoked Brooklyn just after the end of World War I, THE HAUNTED BOOKSHOP cleverly juxtaposes a pair of middle-aged bookshop owners and two young lovers with a nest of German saboteurs, complete with mysterious clues, red herrings, blushing romance, derring-do, a desperate race to the rescue, and an explosion. More important, the novel is an eloquent hymn to the bookseller's trade and a fervent plea for the revivifying and redemptive power of literature. The unifying thread of this book, and indeed of the life and work of its author, is its passionate avowal: all that the world and everybody in it needs is a good book. — downpour.com
"Malnutrition of the reading faculty is a serious thing. Let us prescribe for you."
With this sequel, Stefan Rudnicki joined a fellow voice talent in bringing Morley's works to audio. PARNASSUS ON WHEELS was voiced by Wanda McCaddon (a.k.a. Nadia May or Donada Peters), who has narrated well over six hundred titles for major audiobook publishers, has earned numerous Earphones Awards, and was named a Golden Voice by AudioFile magazine. Stefan is a fellow Golden Voice and has won multiple Audie awards. Could these works honoring the transformative power of literature and story telling be voiced by two more appropriate narrators? We don't think so!
"There is no one so grateful as the man to whom you have given just the book his soul needed and he never knew it."
Join in this celebration of books (and audiobooks!) – add Morley to your collection today.