Too long to be a short story, too short to be a novel—welcome to the surprisingly potent world of the novelette. The award-winning magazine Orson Scott Card's Intergalactic Medicine Show has been an online haven for this powerful form of storytelling since 2005. Now its editors have selected their all-time favorite science fiction novelettes from the magazine's eight-year history and reprinted them together in one big book of reading (and now listening!) pleasure.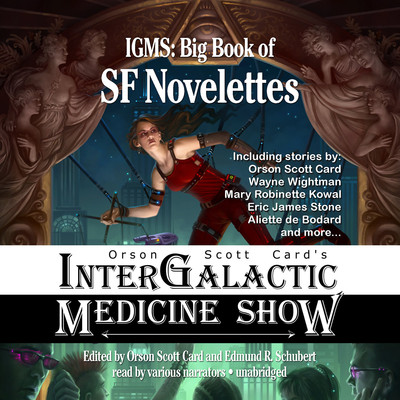 Orson Scott Card has long been famous for his iconic novel ENDER'S GAME, and while he's certainly still committed to Ender and all his endless glory (see: ENDER'S GAME ALIVE), Card also has his golden hands in many other pots. Established in 2005, The InterGalactic Medicine Show is his award-winning online magazine, and it's been a haven for the oft-overlooked "novelette" ever since. Falling somewhere between novel and short story, this unique form of storytelling is particularly powerful, and now the best of the best are available in one place: InterGalactic Medicine Show: Big Book of SF Novelettes.
And to top that, now you can listen to these incredible tales of "futures near and far, artificial intelligence and alien encounters, alternate time-lines and alternate theories about creating universes, planet-eating black holes and lunar race-tracks." With stories from award-winning writers such as Mary Robinette Kowal, Aliette de Bodard, Eric James Stone, Brad Torgersen, and Orson Scott Card himself, plus many more, this anthology is read by a group of incredible award-winning narrators: Stefan Rudnicki (the original voice of Ender), Gabrielle de Cuir, Paul Boehmer, Arthur Morey, Roxanne Hernandez, and Card's daughter, Emily Rankin, all of whom, it should be mentioned, are part of the ENDER'S GAME ALIVE cast. All in all, this is truly an anthology not to be missed.
So often, due to "cover space" that ubiquitous FULL CAST narrates. Let's get specific here, please. Scroll down for a full Table of Contents and click on any author's or narrator's name to find out more about their incredible work. Also, a serious nod to Scott Allen and his magnificent cover art for the project.
And don't forget to buy yourself a copy from Downpour.com today!
 

IGMS: BIG BOOK OF SF NOVELETTES

TABLE OF CONTENTS

Introduction by Edmund R. Schubert, read by Stefan Rudnicki

"Sojourn for Ephah" by Marina J. Lostetter, read by Arthur Morey

"Brutal Interlude" by Wayne Wightman, read by Paul Boehmer

"Under the Shield" by Stephen Kotowych, read by Stefan Rudnicki

"Hologram Bride" by Jackie Gamber, read by Roxanne Hernandez

"The Curse of Sally Tincakes" by Brad R. Torgersen, read by Emily Rankin

"The Absence of Stars" by Greg Siewert, read by Arthur Morey

"Essay: Making Ender Smart" by Orson Scott Card, read by Orson Scott Card

"Mazer in Prison" by Orson Scott Card, read by Stefan Rudnicki

"When I Kissed the Learned Astronomer" by Jamie Todd Rubin, read by Paul Boehmer

"Body Language" by Mary Robinette Kowal, read by Gabrielle de Cuir

"Tabloid Reporter to the Stars" by Eric James Stone, read by Stefan Rudnicki

"On Horizon's Shores" by Aliette de Bodard, read by Emily Rankin

Edited, mixed and mastered by Ted Scott at 50 Nugget Wash