WWWT?!? This is what we were thinking:
Fredric Brown (1906-1972) was an American writer of both science fiction and mystery known for his short works, surprise endings, and sense of humor. Brown has been an absolute favorite of Stefan's for many years, and he's been waiting a long time for the chance to put his voice to his fantastic tales. Now he gets not just a single chance, but three! Oh, we mean four! Wait, better make that five!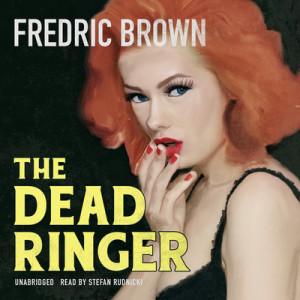 Our latest release by the iconic and prolific mystery writer Fredric Brown, who's been called by io9.com "the best mid-century science fiction writer you don't know you've read" is THE DEAD RINGER. This second "Ed & Am Hunter" story finds Ed and his Uncle Am working in a travelling carnival through the Midwest. The bodies keep piling up, and Ed falls head over heels in love, but soon it's up to him and Uncle Am to find, among the freaks of the carnival, a killer who chooses the victims by their size. Stefan Rudnicki is back to narrate this spine-tingling novel of romance, murder, and mystery. His suspenseful tones perfectly capture the foreboding atmosphere of this thrilling piece of noir fiction. Make sure to pick up the book that the Saturday Review of Literature called a "Bulls eye — if not for the squeamish."
---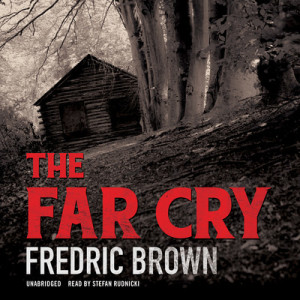 "She was too frightened to scream and anyway there was no one to hear…"
If you're simply not satisfied with one mystery, don't worry, Brown delivers again with THE FAR CRY.
Once upon a time, a girl named Jenny Ames was murdered in a lonely house. No one knew where she had come from, or why she had died, or who killed her.
Years later, a man moved into the same house—and discovered that nothing is more seductive than an unsolved murder. 
The Far Cry is another top FredricBrown job—a most adroit, inventive, and utterly horrifying mystery. 
---
---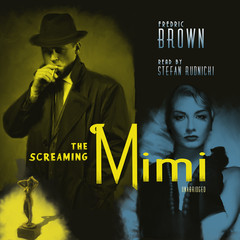 THE SCREAMING MIMI is a touchstone of psychological horror that achieved cult status in its day. From the original publisher: this "beloved, larger-than-life thriller…stars Bill Sweeney, an ace reporter with an otherworldly drinking problem who gets mixed up with a naked woman as the latter is trying to avoid becoming the fourth victim of a local serial killer." Whew. "Rousing himself from his drunken stupor in order to aid the woman, Bill sets out on the killer's trail. As he puts questions and answers together, he finds himself face-to-face with madness and death. In this wild ride from a renowned author, you'll visit an insane asylum, meet a bum named "God," and discover the little statue that ties everything together." It's no wonder Stefan's been wanting to read this thing for years. Get ready for some serious psychological fun. Directed by the lovely and talented Claire Bloom.
---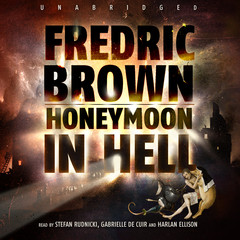 Next is HONEYMOON IN HELL, a sci-fi short story anthology edited by Brown in 1958. "Imagine…ghosts, gods, and devils—heavens and hells—cities in the sky and cities beneath the sea. Time machines, spaceships—certainly you can imagine Martians, but what about interplanetary vampires? Or a mouse that isn't a mouse? HONEYMOON IN HELL proves that Fredric Brown has a special vision, a sight beyond our wildest nightmares, a perception of things we couldn't even begin to imagine." Of course an anthology such as this requires more than one voice, and so Stefan enlisted Skyboat's own Gabrielle de Cuir and the one and only Mr. Harlan Ellison to chime in as well. Directed by Claire Bloom and Cassandra de Cuir, this collection is certain to both frighten and delight.
---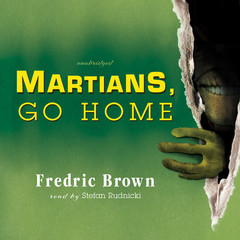 Last but never least, MARTIANS, GO HOME is a comic science fiction novel that tells the story of Luke Devereaux, "a science fiction writer who witnesses an alien invasion of little green men. These Martians haven't come to Earth to harm anyone—just to annoy people. Unable to touch the physical world, or be touched by it, they take great pleasure in walking through walls, spying on the private lives of humans—and revealing their every secret. No one knows how to get rid of these obnoxious little aliens, except perhaps Luke. Unfortunately, Mr. Devereaux is going a little bananas, so it may be difficult for him to try—but not impossible." Stefan narrated this under the watchful ear of Directress Cassandra de Cuir.
Listen to find out why The Boston Herald said "Brown is at his best in this eerie science fiction classic of the invasion of the earth by one billion Martians in the year 1964" and why i09.com declared this book "a hilarious and hysterically mean-spirited romp that turns the genre's conventions on its ear."
All of these productions edited, mixed, mastered and proofed by 50 Nugget Wash's superstars Ted Scott and Heather Scott.