Ellison Webderland is the official Harlan Ellison® homepage. In Skyboat's short film The Delivery, Harlan played, yes, the White Rabbit. With the sponsorship of Josh Stanton and Blackstone Audio, the short was released with an audiobook in what was the very first ever audiobook/film package combination. The book was none other than Alice in Wonderland by Lewis Carroll, read by the velvet-voiced Michael York, and Through The Looking Glass, read by Harlan and directed by Stefan (more info in a previous post). Harlan's exciting reading rightly garnered a Grammy nod in the Spoken Word Category, and our film went on to win Best in Fantasy at the Dragoncon Film Festival.
So, really, can there be a more perfect guide to Wonderland? And not just any Wonderland, Ellison Wonderland?
Harlan didn't think so, either.
In fact, more than half of this new ELLISON WONDERLAND audio edition is a brand new introduction which serves as a memoir.
Harlan Ellison® has written or edited more than seventy books and more than 1,700 stories, essays, and articles, as well as dozens of screenplays and teleplays. He has won numerous awards, including the Edgar Award, Hugo Award, Nebula Award, and an Audie Award for Best Solo Narration. Harlan was named a Grand Master by the Science Fiction and Fantasy Writers of America in 2006.
ELLISON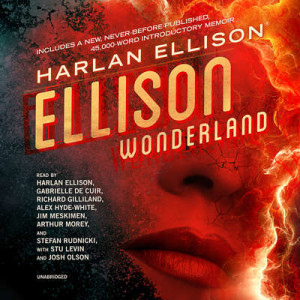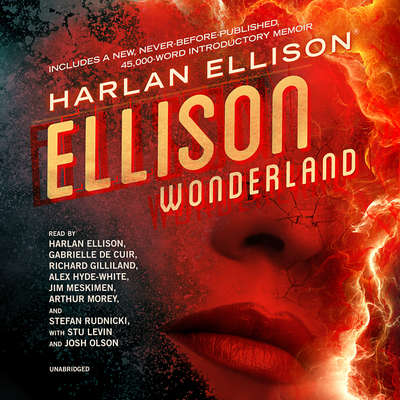 WONDERLAND by Harlan Ellison
Foreword by J. Michael Straczynski
Afterword by Josh Olson
Originally published in 1962 and updated in later decades with a new introduction, Ellison Wonderland contains sixteen masterful stories from the author's early career. This collection shows a vibrant young writer with a wide-ranging imagination, ferocious creative energy, devastating wit, and an eye for the wonderful and terrifying and tragic. Though they stand tall on their own merits, they also point the way to the sublime stories that followed soon after and continue to come even now, more than fifty years later.
Harlan Ellison®, an Audie-winning narrator himself, generously shared these tales and was joined by a stellar cast of narrators, including Gabrielle de Cuir, Richard Gilliland, Alex Hyde-White, Jim Meskimen, Arthur Morey, and Stefan Rudnicki, with Stu Levin, and Josh Olson reading the afterword he penned.
The SkyCast:
Go Thou and Do Likewise: An Appreciation of Harlan Ellison® by J. Michael Straczynski – Stu Levin
Author's Introduction: THE MAN ON THE MUSHROOM (1974/1984) – Harlan Ellison
Author's new Introduction: DON'T LOOK BEHIND YOU: THE LAST DANGEROUS INTRODUCTION TO ELLISON WONDERLAND (2013) – Harlan Ellison
Commuter's Problem – Stefan Rudnicki
Do-It-Yourself (Written in collaboration with Joe L. Hensley) – Gabrielle de Cuir
The Silver Corridor – Arthur Morey
All the Sounds of Fear – Harlan Ellison
Gnomebody – Stefan Rudnicki
The Sky is Burning – Harlan Ellison
Mealtime – Jim Meskimen
The Very Last Day of a Good Woman – Harlan Ellison
Battlefield – Richard Gilliland
Deal from the Bottom – Alex Hyde-White
The Wind Beyond the Mountains – Arthur Morey
Are You Listening? (aka, The Forces that Crush) – Stefan Rudnicki
Nothing for My Noon Meal – Jim Meskimen
Hadj – Richard Gilliland
Rain, Rain, Go Away – Alex Hyde-White
In Lonely Lands – Harlan Ellison
Back to the Drawing Boards – Stefan Rudnicki
Afterword by John Olson – Josh Olson
Follow Ellison into Wonderland today.
But wait, that's not all! We have also published two of Ellison's early novellas: WEB OF THE CITY and SPIDER KISS.
"[Ellison has] the spellbinding quality of a great nonstop talker, with a cultural warehouse for a mind." —New York Times Book Review, praise for the author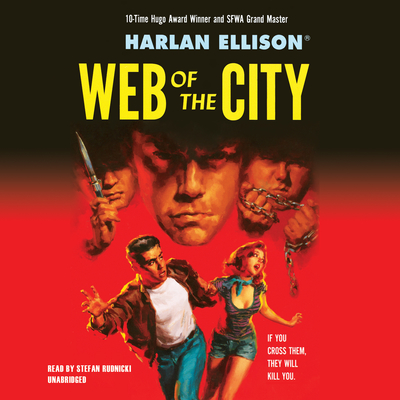 WEB OF THE CITY by Harlan Ellison
Read by Stefan Rudnicki; Introduction read by Harlan Ellison
Directed by Claire Bloom

"Get it straight right now: these aren't kids playing games of war. They mean business. They are junior-grade killers and public enemies one through five thousand."
In Rusty Santoro's neighborhood, the kids carry knives, chains, bricks, and broken glass. And when they fight, they fight dirty, leaving the streets littered with bodies. Rusty wants out—but you can't just walk away from a New York street gang. And his decision may leave his family to pay a terrible price.
First published more than half a century ago and inspired by the author's real-life experience going undercover inside a street gang, Web of the City was Harlan Ellison's first novel. Appearing here with the short story "No Game for Children," which Ellison wrote for the pulp magazines of the 1950s, Web of the City offers both a snapshot of a lost era and a portrait of violence and grief as timely as today's most brutal headlines. 
---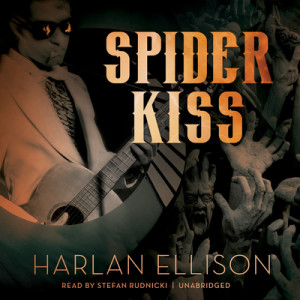 SPIDER KISS by Harlan Ellison
Read by Stefan Rudnicki; Author's note read by Harlan Ellison 
Directed by Claire Bloom
From one of the most highly celebrated and dynamic American writers of our time, comes Spider Kiss, Harlan Ellison's electrifying novel of the early years of rock and roll.
If you think the only thing Ellison writes is speculative fiction, this dynamite novel of the emergent days of rock and roll will turn you around at least three times. No spaceships, no robots, just a nice kid from Louisville named Stag Preston with a voice like an angel, seductive moves like the devil, and an invisible monkey named Success riding him straight to hell. 
Purchase your copies of ELLISON WONDERLAND, WEB OF THE CITY, and SPIDER KISS today.