Fantasy is wonderful, isn't it? Especially twists on fairy tales? We think so. And we think you will, too in this marvelous series by A.W. Exley.
"No simpering princesses here.

ELLA, THE SLAYER

by A.W. Exley was a refreshing twist on the traditional Cinderella fairy tale and the zombie craze set in the time of Downton Abbey."

–Second Run Reviews 
"Narrator Gabrielle de Cuir's smoky voice fits Ella's practicality, toughness, and good humor in the face of horror. De Cuir portrays Ella's wicked stepmother as a velvety-smooth villain, while the stepsisters are daft twits with upper-class accents. Seth, the duke (think Prince Charming), sounds well bred and calm. De Cuir's excellent narration makes listening to this 'fairy tale with a scary twist' a fun diversion." —AudioFile Magazine Review
Ella copes as best as she can; caring for her war-injured father, scrubbing the floors, and slaying the undead that attack the locals.  When Ella meets Seth deMage, she glimpses a world she never dreamed was possible.
Listen to a sample on Skyboat's SoundCloud!
In the companion (prequel) novella,

HENRY, THE GAOLER

, we learn more about the quiet man who we first met in ELLA, THE SLAYER. Award-winning narrator

Stefan Rudnicki

gives Henry his voice.
Imagine if Rapunzel's parents were Edwardian preppers…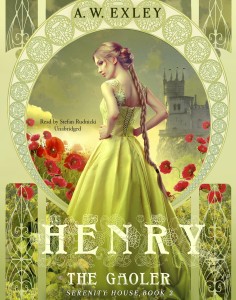 Hazel's parents saw the 1912 sinking of the Titanic as a portent of doom and locked their daughter away. Isolated and alone, each birthday she wishes to be free, whatever the risk. If only her childhood friend Henry would return and breach the high walls.
On the frontlines of the Great War, Henry kept a token of happier times – a worn photograph of a young girl with long blonde plaits. He returns from war damaged and vowing to do one brave thing to make up for his cowardice – release Hazel from her prison. But is it safe with the pandemic and its horrific aftermath?
How can Henry reconcile protecting Hazel with setting her free? Or perhaps the sheltered young woman will teach the soldier a lesson about life, and liberate him from a tower of his own construction. 
Listen to a sample on Skyboat's SoundCloud!
Purchase your copy of ELLA, THE SLAYER and HENRY, THE GAOLER today!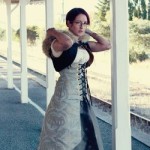 About the author: Books and writing have always been an enormous part of Anita's life. She survived school by hiding out in the library, with several thousand fictional characters for company. At university, she overcame the boredom of studying accountancy by squeezing in Egyptology papers and learning to read hieroglyphics.
Today, Anita writes fantasy historical novels with heart from her home in rural New Zealand. Learn more on her fabulous website!