Need to get caught up? Check out our blog post featuring THE LONG LIST ANTHOLOGY.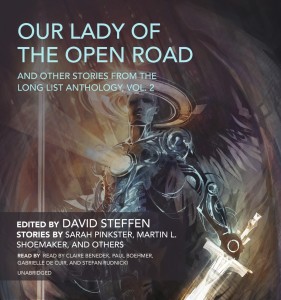 The Hugo Awards are the most prestigious awards for science fiction and fantasy. Each year, the members of the World Science Fiction Convention (Worldcon) meet in a different city. The convention members nominate up to five people in each of 15 categories. Then, a final ballot goes out with the five finalists in each category.
Of course, not every story can make the final ballot. And that's where David Steffen comes in.
After the huge success of his Kickstarter campaign for THE LONG LIST ANTHOLOGY, David Steffen decided to do another. We're very glad he did. 371 generous backers have pledged over $7,000 to bring this project to life.
"Great narrators, great stories. The works are set in the not-so-distant future, when cars drive themselves and androids have replaced people in many jobs. All the narrators are equally skilled in presenting the stories from the points of view of the main characters…. The very brevity of the pieces–each is about an hour–adds to their quality, leaving the listener wishing for more." –Excerpt from

AudioFile Magazine Review
Listen to an audiobook sample of Gabrielle de Cuir reading Sarah Pinsker's title story on Skyboat's SoundCloud.
About the editor:
David
Steffen
is
a writer, editor, and web developer living in Minnesota. He runs the
Submission Grinder
, a free web tool for writers to track their submissions and find new markets for their work. He edits the zine
Diabolical Plots
which began publishing fiction in 2015.