"Each person's journey from diagnosis onward takes a distinct, individual path. Ups, downs, curves, detours, straight-lines-yes, it's different for each of us. But, even if I couldn't discern what someone's life would be, I did know one thing: Without faith, we cannot possibly get through it all."–Maureen Pratt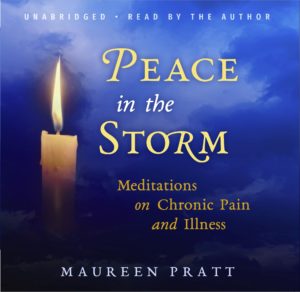 Skyboat Media and author Maureen Pratt are proud to present PEACE IN THE STORM: MEDITATIONS ON CHRONIC PAIN AND ILLNESS, available as an audiobook for the first time. Read by the author. Featuring original music by Ken Joseph.
"Pratt has done a masterful job of turning her own personal painful experience into a work that brings hope, comfort, and inspiration." —
Rabbi Levi Meier, PhD, chaplain and clinical psychologist
Millions of people experience pain every day with their conditions unalleviated by the treatments available to them.
PEACE IN THE STORM  explores the challenges of living with these conditions and provides practical and uplifting ideas for how to deal with them.
How do you handle the loneliness and isolation?  What if you're unable to work?  What about dealing with the financial burden?  Why did this happen to you? How do you define faith?
Maureen Pratt offers advice for all of these scenarios with honesty and humor.  From childhood, she has suffered serious illnesses and chronic pain.  Drawing from these experiences, as well as her adult diagnosis of lupus, she teaches people how to live well and on a spiritual path despite these special burdens.
"Find a way that you can reach out and bring light to other people, no matter how tired, isolated, or pained you are. This is our ministry-in-illness, our portion-in-pain. And this is our very special way to take what we've learned and believe and help others to hope and heal."–Maureen Pratt
If you or someone you love suffers from chronic pain and illness or is simply having a difficult time, listening to this audiobook may provide some guidance and comfort to get through it.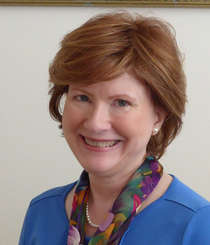 About the author: Maureen Pratt is a popular speaker, an award-winning, bestselling author of 7 books and a nationally syndicated columnist for Catholic News Service. She has presented workshops and in-service seminars for medical professionals, religious education instructors, patients, businesses, parishes and patient advocacy organizations throughout the United States and in Canada. She is currently working on a resource for church communities that wish to better understand and welcome into the "family" the faithful with special needs. (Biography courtesy of author website)