"In the kitchen he rooted around on his hands and knees with an old toothbrush. Confident the hidden dirt had been exposed, he swept and mopped again. He scrubbed every dish to a shine. He rubbed the silverware down with an expensive metal cleaner. He packed his wife's remains into a large garbage bag. He cleaned the windows."-from "Darling."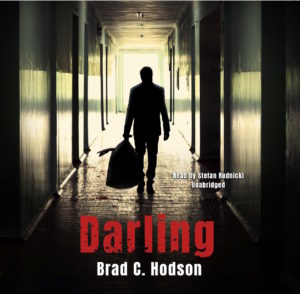 In DARLING, author Brad C. Hodson and narrator Stefan Rudnicki take us into the darkness.
There's just something off about Raynham Place. It has a weird effect on people.  
Maybe it's because it used to be a Civil War battlefield. Then a tuberculosis hospital.  
Now, it's an apartment complex, but somehow, that doesn't seem to make what goes on there less benign.  This goes beyond the local legends.
The grounds of this place have always been awash in blood and instability.  Raynham gets inside of everyone whoever lives here.
When two friends move into Raynham Place together, a wound they share opens wide and threatens their sanity.  What lies behind the madness is finally revealed.
In this interview, Brad C. Hodson called DARLING, his debut novel, a love letter to Shirley Jackson, Stephen King, and Richard Matheson.
Prepare to be very afraid.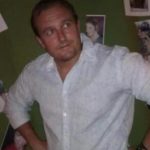 About the author:  Brad C. Hodson began his creative career doing improv and stand-up comedy.  After moving to California from Tennessee, he began focusing on writing.  His short stories have appeared alongside such luminaries as George R. R. Martin and Chuck Palahniuk and his non-fiction has been published by magazines nationwide.  When he's not writing, he occupies some of his time as the Administrator for the Horror Writers Association.  "Darling" is his first novel.