A WHISPER IN THE DARK: TURBULENT TALES FROM LOUISA MAY ALCOTT represents the best of Alcott's adult oeuvre.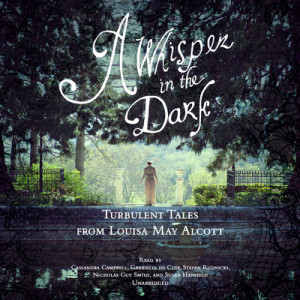 The stories in this volume display dramatic intensity and thrilling, suspenseful plots that show Alcott to be a complex and passionate writer. Listeners will discover within this maelstrom of murder, deceit, obsessive desire, treachery, duplicity, and betrayal that love and honor can still conquer all.
The book takes its title from the tale "A Whisper in the Dark," arguably Alcott's gothic masterpiece, a story of imperiled innocence. Alcott's variety of strong, witty characters throughout these pages lent itself perfectly to a multi-reader format, allowing us to showcase the talents of some Skyboat's outstanding narrators in A WHISPER IN THE DARK.
"There are fates more terrible than death; weapons more keen than poniards, more noiseless than pistols. Women use such, and work out a subtler vengeance than men can conceive." – Louisa May Alcott, Pauline's Passion and Punishment
Hmm, doesn't sound like your typical Alcott quote, does it? Louisa May Alcott (1832-1888) is, of course, best known for her beloved classic Little Women, which chronicles the lives of four sisters as they traverse the boundary from childhood to womanhood. (And it's certainly beloved – Alcott's home, where Little Women was written and set, is even on Twitter!)
So imagine our surprise when we began traversing her short stories, many of which were published under pseudonyms such as A.M. Barnard, and found tales of revenge, murder, wily women, and drugged sweets. This collection exposes the beloved author's dark side through a set of shocking, humorous, and utterly clever tales about characters that, let's face it, the charming girls from Little Women would be horrified to meet, and quite frankly we might be a bit scared ourselves: check out this video of some of the characters you'll find within the audiobooks.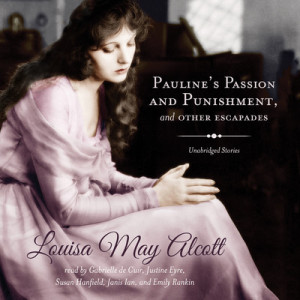 PAULINE'S PASSION AND PUNISHMENT, AND OTHER ESCAPADES
Writing under the pseudonym A. M. Barnard, Louisa May Alcott wrote a series of what she termed "blood and thunder" thrillers for a weekly pulp magazine. Pauline's Passion and Punishment, and Other Escapades brings together five of these wicked tales.
In "Pauline's Passion and Punishment," narrated by Emily Rankin, Alcott explores the unfair roles of men and women, as well as the societal expectations and forbidden desires in this story of love and vengeance.
Set in Victorian Britain, in "Behind a Mask; or, A Woman's Power," narrated by Gabrielle de Cuir, a new governess, Jean Muir, arrives to serve the wealthy Coventry family, but is she really who she says she is? As she works her way into the hearts and minds of the Coventrys, will her true intentions be revealed?
"Marion Earle; or, Only an Actress," narrated by Susan Hanfield, brings sexual betrayal and abandonment to center stage, following the life of an actress and her scandalous profession.
Virginie Varens is a femme fatale in "V. V.; or, Plots and Counterplots," narrated by Justine Eyre, which tells the tale of Alcott's most devious heroine caught up in misdirected passion and jealousy.
In "A Perilous Play," narrated by Janis Ian, a group of women have a picnic on the banks of a harbor island. What sounds like an idyllic and innocent activity becomes the center of drama, romance, and scandalous events involving hashish-laced sweets. –downpour.com
Purchase your copies today and discover Alcott's thrilling dark side for yourself. We think Jo would love these – let us know if you agree!