As I am sure you know by now, we Skyboaters are huge fans of Max Allan Collins. Max is the author of Road to Perdition, the acclaimed graphic novel that inspired the movie, and of the multiple-award-winning Nathan Heller series of historical hardboiled mysteries. One of most prolific and popular authors working in the field today, Max was named a Grand Master by the Mystery Writers of America in 2017. He is also the literary executor of Mickey Spillane.
Stefan Rudnicki has voiced nine novels in the QUARRY series; two novels in the MIKE HAMMER series by Mickey Spillane and Max Allan Collins; and the AudioFile Earphones Award-winning SCARFACE AND THE UNTOUCHABLE: AL CAPONE, ELIOT NESS, AND THE BATTLE FOR CHICAGO by Max Allan Collins and A. Brad Schwartz. And he is thrilled to add the Nolan series to this impressive lineup.
"The Nolan novels are some of the best pulp fiction ever written," said Hard Case Crime founder and editor Charles Ardai. "Smart, hard-boiled, emotionally satisfying, funny—they're just great, great reads. We're thrilled to be bringing them back for a new generation of readers to discover." –Criminal Element's Skim Deep blog post
When Charles Ardai at Hard Case Crime offered to republish all of the NOLAN series (two books to a volume) with "spiffy retro covers" if Max would write a new Nolan novel, it was an offer Max couldn't refuse.
Max brought Nolan, the professional thief, back for Nolan's first new novel in 33 years!
"What was most interesting to me was that despite the many decades gone by, when I sat down to write about Nolan and Jon, bing! There they were. Waiting for me to check back in with them… So now Nolan has come full circle, and maybe so have I, and like Nolan, I have no intention of dying on the last page." –Excerpt from Max Allan Collins' blog post on the return of Nolan
And Nolan is not the only one back in action! Just as Max returned to the writing desk, Stefan happily returned to the recording booth. Max was equally enthusiastic, sharing the Nolan news in his blog and adding, "There will also be audios of them read by the great Stefan Rudnicki."
---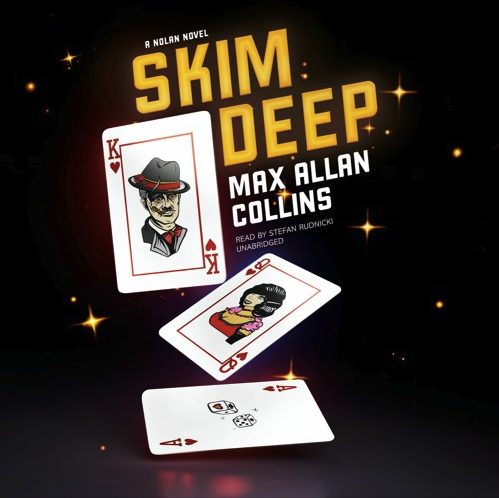 SKIM DEEP: A Nolan Novel (Nolan, Book 9) by Max Allan Collins
Read by Stefan Rudnicki
The first new Nolan novel in 33 years from one of the masters of the genre, Max Allan Collins, award-winning author of Road to Perdition.
The onetime world-class thief Nolan – now happily gone straight with his own restaurant/nightclub – whisks his longtime lover Sherry off to Vegas for a trip to a wedding chapel and a honeymoon stay. But an eye-in-the-sky security cam at a casino spots Nolan, whose past catches up with him when he's thought to be casing the joint. An old "friend" sees Nolan as the perfect patsy for a scheme to heist the weekly skim haul, and when the former thief's young frequent accomplice, Jon – a musician in the casino's house band – finds the couple mysteriously, suspiciously missing, it's up to Nolan's Best Man to keep wedding bells from tolling a funeral march.
---
---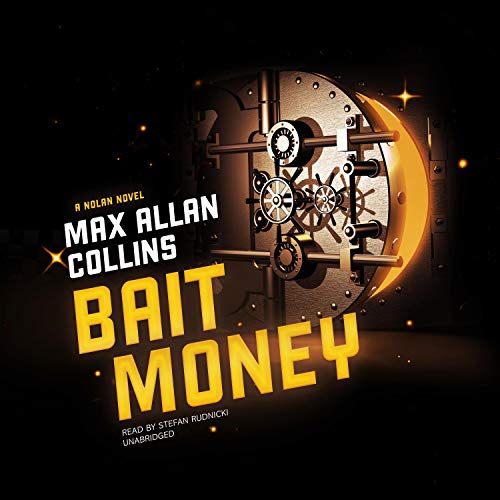 BAIT MONEY: A Nolan Novel (Nolan, Book 1) by Max Allan Collins
Read by Stefan Rudnicki
The mob couldn't kill him, the cops couldn't catch him, and even time wouldn't slow him down.
His name's Nolan…a shrewd, restless tough guy with a talent for theft. With a lifetime of heists under his belt and a bullet in his side, he's ready to retire. And the Mafia's eager to help him along…permanently. They think he's got a debt to pay – with his life. But after all these years, they might be willing to settle for 100 grand instead.
Nolan's got to pull a bank job to try to save his ass. Trouble is, the only people willing to help him are a kid whose idea of danger comes out of comic books, a punk as green as the grass he smokes, and a sweet young thing who gets her kicks playing one man off another…and another….
It's a desperate gamble – for the highest stakes – and Nolan's down to his last chip….
---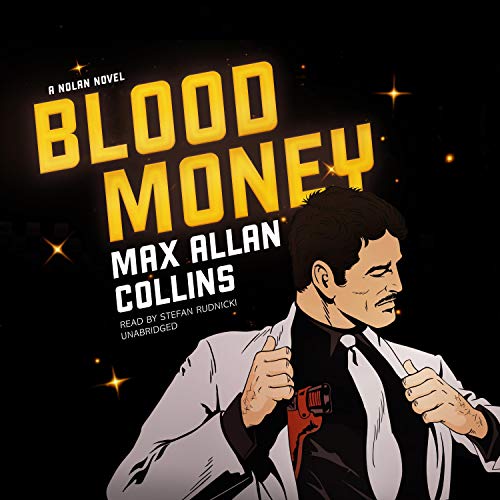 BLOOD MONEY: A Nolan Novel (Nolan, Book 2) by Max Allan Collins
Read by Stefan Rudnicki
Playing dirty isn't Nolan's style…until he's taken to the cleaners.
Nolan was still alive; his wounds healed and his money was safe – all $800,000 of it. It was Nolan's birthday, and he was sitting happy. 
Until Planner was killed. Planner was an eccentric antique dealer; Planner had the $800,000 in his safe. But now he was dead, and the money was gone. 
Caught up in the sizzling crossfire of double-dealing, danger, and death, Nolan was up against the "Family" again. There was only one way out…Blood Money!
---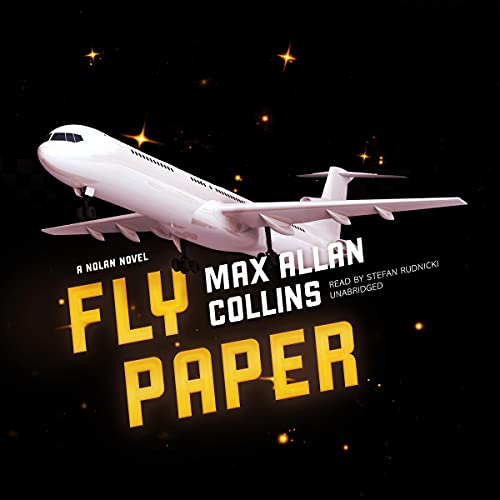 FLY PAPER: A Nolan Novel (Nolan, Book 3) by Max Allan Collins
Read by Stefan Rudnicki
Making a score and settling one at the same time is a rare opportunity, enough to bring Nolan out of criminal retirement…but he didn't count on the hillbillies or the skyjacker….
Nolan is a pro, a veteran of mob vendettas and decades of high-tension heists. All he wants in his advancing middle age is his slice of the American pie – a way to make capitalism pay without having to drag guns into it. But a bullet-scarred life does not come without its bad karma, and Nolan – and his young cohort Jon, whose own dream is to confine the violence to the comics he draws – often find themselves facing old enemies and new temptations.
---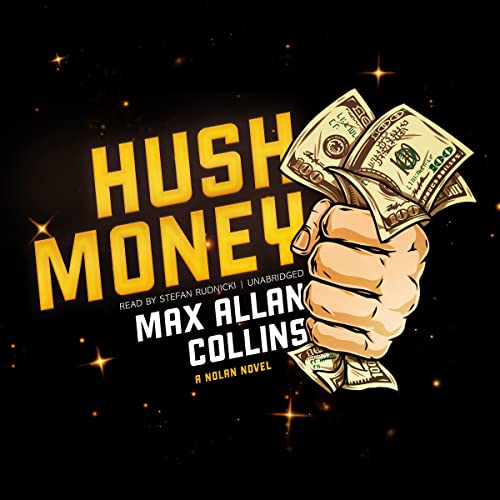 HUSH MONEY: A Nolan Novel (Nolan, Book 4) by Max Allan Collins
Read by Stefan Rudnicki
A family affair
Just when Nolan's looking for a way out of his dead-end job, trouble comes knocking, and he's back in business. Someone harboring an old grudge has just picked off Joey DiPreta, a crooked businessman with ties to the mob, and the guy's family is out to get whoever's responsible. So is Nolan's family – in Chicago – and they offer him big bucks and a piece of a swank hotel if he'll protect their interests.
Only this time Nolan's gotten into more than he bargained for. The hit man turns out to be a Vietnam vet convinced he's launched a holy war against vice and corruption – and the son of one of Nolan's friends. The melodramatic bastard's got hard evidence of graft in high places, and he's set himself up as some kind of avenging angel. His master plan calls for more hits, and there's no telling when he'll stop.
Meanwhile, Nolan's pal Jon is courting disaster in a motel room, and a couple of innocents are kidnapped as a ploy to lure the hit man into the open. Somehow Nolan's got to untangle the whole mess – and see that no one gets hurt. But with both sides out for blood, there's no room for heroes, and he'll have to be damned careful – and lucky – not to get nailed in the crossfire.
---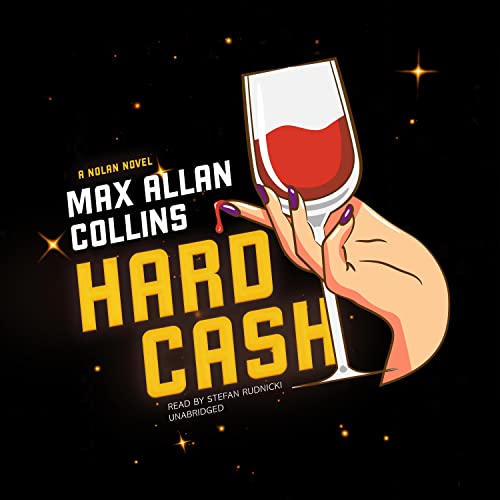 HARD CASH: A Nolan Novel (Nolan, Book 5) by Max Allan Collins
Read by Stefan Rudnicki
Heist-man Nolan is enjoying his retirement from crime, running his own restaurant, when the president of a bank he robbed two years ago shows up with a blackmail demand.
All Nolan has to do is rob the bank again — and play patsy to a sexy girlfriend's murder scheme.
---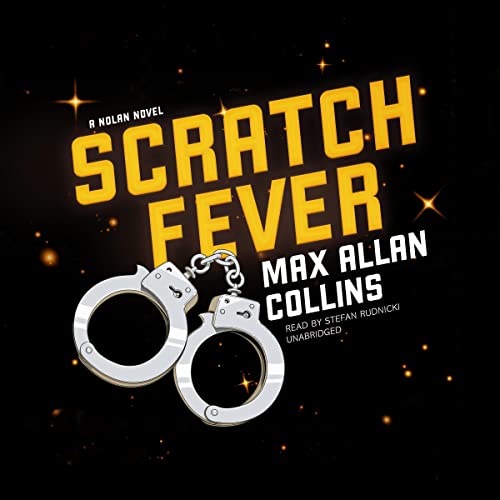 SCRATCH FEVER: A Nolan Novel (Nolan, Book 6) by Max Allan Collins
Read by Stefan Rudnicki
Return of a femme fatale
Beautiful, homicidal Julie has one lethal solution for every problem. And now Nolan and his sometime sidekick Jon have gotten on Julie's "problem" list.
If a pair of out-of-town hitmen can't do the job, Julie will do it herself.
---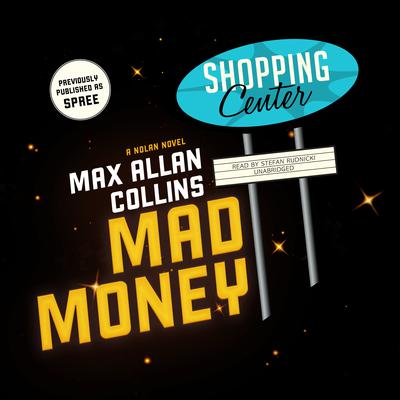 MAD MONEY: A Nolan Novel(Nolan, Book 7) by Max Allan Collins
Read by Stefan Rudnicki
Nolan must rob every store in a mall in one night—or his girlfriend dies.
Nolan and Jon have put their lives of crime behind them—but when a cruel adversary from their past resurfaces, they're forced back into the heist game with a brutal ultimatum: pull off an insanely ambitious overnight robbery or Nolan's kidnapped lover won't live to see the morning.
Appearing in bookstores for the first time in thirty-five years (originally published under the title Spree) and on audio for the first time, Mad Moneyis Nolan's biggest and deadliest job.
---
You can learn more about the genesis of BAIT MONEY from the author himself and don't forget to purchase your copies of SKIM DEEP, BAIT MONEY, BLOOD MONEY, FLY PAPER, HUSH MONEY, HARD CASH, SCRATCH FEVER, and MAD MONEY today!