"A compelling voice, lucid prose . . . a luminous testimony to the heroism and humanity of one remarkable person."—San Francisco Chronicle
Skyboat Media and Blackstone Publishing are proud to publish ALICIA: MY STORY by Alicia Appleman-Jurman.
Alicia Appleman-Jurman (1930-2017) was an author, lecturer, and Holocaust survivor. ALICIA: MY STORY is her autobiography about surviving the Holocaust.
"Alicia Appleman-Jurman writes of her own experiences as a very young girl. A child of eleven when the Germans first entered her city in eastern Poland and she lost her father. A girl of fifteen, orphaned and alone when Germany was finally defeated. She writes of the post-war years, of her work with other orphans and as a guide to survivors who had to be smuggled out of Eastern Europe. Finally, after a stay in a Russian prison, a serious illness, convalescence at a United Nations refugee camp and later a Jewish Agency school, at the age of seventeen, she dared the Mediterranean Sea and the British Navy to reach the shores of Israel…. Alicia is an autobiography that reads like a novel. It is not a story about concentration camps, but tells of people who fought to survive through the war years and who did their best to resist, virtually alone." —Excerpt from book review by Gabriel Appleman, Alicia's husband
"This memoir is heartbreaking. I hope it will be read by Jews and non-Jews alike."—Elie Wiesel, author of Night
Alicia passed away in 2017. Her children, and administrators of her estate, contacted Skyboat about creating an audiobook of her widely-taught book. In adherence to Alicia's wishes, the estate's goal is to ensure that Alicia's testimony is widely accessible. Skyboat's partnership with Blackstone Publishing ensures that the audiobook has a wide reach and is available on digital platforms and in libraries.
Alicia spent years lecturing at schools around the country, sharing her story and preserving the legacy of the Jews, Gypsies, and other "undesirables" massacred in the Holocaust. As Alicia explained, "Some educators may hesitate to bring the horrors of the Holocaust into the classroom because it would sadden the students. But students have the right to know. To build a secure future, they must learn what happened in the past. The history of the Holocaust includes stories of heroism and self-sacrifice, and insights into human responses to hardship, which can inspire students." There is no going forward without looking back.
The audiobook includes audio of Alicia's visit to a middle school and her inspiring conversation with the school children. As the estate acknowledges, "Most readers love her at the end of the story, so her voice is our gift to them." Any funds generated will go to Alicia's trust which she has directed to be used for causes dear to her heart.
Despite witnessing the horrors of mass genocide and the deaths of her family members, Alicia reminds us, "My story is not only about tragedy."
Skyboat's Gabrielle de Cuir was honored to narrate Alicia's powerful story. Listen to a sample on Skyboat's SoundCloud.
---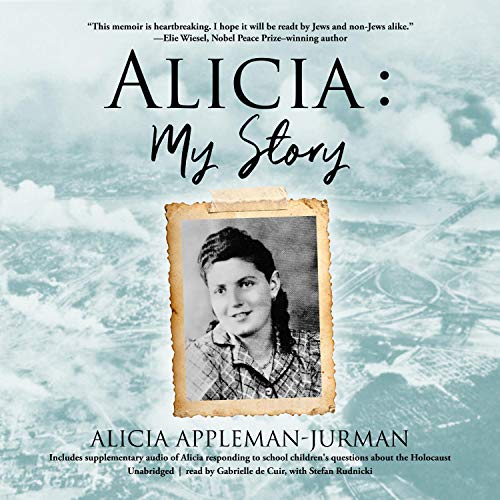 ALICIA: MY STORY by Alicia Appleman-Jurman
Read by Gabrielle de Cuir with Stefan Rudnicki; Includes supplementary audio of Alicia responding to school children's questions about the Holocaust
Here is a thrilling, uplifting story of true-life heroism unequaled since the publication of Anne Frank's diary – a story that the young must hear and their elders must remember. Take Alicia's hand – and follow.
Her name is Alicia. She was 13 when she began saving the lives of people she did not know – while fleeing the Nazis through war-ravaged Poland. 
Her family cruelly wrenched from her, Alicia rescued other Jews from the Gestapo, led them to safe hideouts, and lent them her courage and hope. Even the sight of her mother's brutal murder could not quash this remarkable child's faith in human goodness – or her determination to prevail against overwhelming odds. 
After the war, Alicia continued to risk her life, leading Polish Jews on an underground route to freedom in Palestine. She swore on her brother's grave that if she survived, she would speak for her silenced family. This book is the eloquent fulfillment of that oath.
---
Alicia touched many lives and had profound faith in the future generations. As Alicia gently reminds us the Alicia: My Story website, "We reach out to each other with love and trust. I want my readers to know that they too possess strength within themselves to use in time of need."
Listen to her story. Purchase your copy today.