"Mike Hammer is an icon of our culture." —New York Times
Mickey Spillane's Mike Hammer is a no-holds-barred private investigator who carries a gun and has no qualms about using it. Hammer inspired a crime drama TV show in the 1980s with Stacy Keach in the title role as well as three TV movies.
Dying of pancreatic cancer, Mickey Spillane asked lifelong fan, fellow author, and fellow Grand Master Max Allan Collins to complete his final Mike Hammer novel for him. While Mickey left unfinished materials for other novels, MASQUERADE FOR MURDER and MURDER, MY LOVE were the first times Max had little or no Spillane prose to incorporate, instead working from synopses. As Max explains in a Mystery Fanfare blog post, "The idea is not to continue, but to complete. To make sure that there is genuine Spillane content and contribution to each of these books." He remains committed to his promise to Mickey. And has garnered praise from fans, new and old alike. 
"Spillane fans will be pleased to see how well Collins captures the brash tone but everyman personality of the latter-day Hammer without trying to imitate the character's infamous vigilante crusades of earlier years. Spillane would be proud of how well Collins has maintained his legacy." —Publishers Weekly
Mickey Spillane (1918–2006) was one of the most popular authors of all time, with millions of copies of his books in print worldwide. He introduced Mike Hammer to readers in 1947 with I, the Jury. He was named a Grand Master in 1995 by the Mystery Writers of America.
Max Allan Collins is the author of Road to Perdition, the acclaimed graphic novel that inspired the movie, and of the multiple-award-winning Nathan Heller series of historical hardboiled mysteries. One of most prolific and popular authors working in the field today, he was named a Grand Master by the Mystery Writers of America in 2017 (watch the tribute here). He is also the literary executor of Mickey Spillane.
Speaking of partnerships, Skyboat's Stefan Rudnicki is a mystery fan and has built a relationship with Max over the years, narrating over a half dozen titles in Max Allan Collins' QUARRY series (for more QUARRY, visit our blog post and view behind-the-scenes footage of Stefan recording QUARRY'S CHOICE.) Stefan was honored to take up the mantle and narrate the new Mike Hammer audiobooks.
"Mickey Spillane mysteries are classics, and this audiobook–written by Collins, who has taken over the character–is as entertaining as any. Narrator Stefan Rudnicki's gruff voice provides an ideal complement to the latest novel featuring Mike Hammer, a PI whose techniques and style break the mold." —AudioFile Magazine Review of MASQUERADE FOR MURDER
Listen to samples of MASQUERADE FOR MURDER,  MURDER, MY LOVE, and KILL ME IF YOU CAN on Skyboat's SoundCloud.
---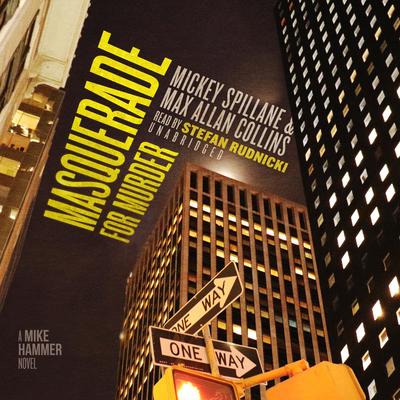 MASQUERADE FOR MURDER: A Mike Hammer Novel 
By Mickey Spillane and Max Allan Collins
Read by Stefan Rudnicki
Mike Hammer, the iconic PI created by hardboiled crime master Mickey Spillane and written by New York Times bestselling author Max Allan Collins, returns in Masquerade for Murder.
Hammer is at a high society party when a wealthy and well-respected man, Colby, is hit by a car and badly injured. When all he expected was a night on the town, Mike is hired to find out who was driving the car. His search leads him on a trail of murders, the victims often exhibiting the same kind of strangulation as the cause of death. How are they connected to an accident involving Corby, and why is the man himself acting so strangely?
For more hardboiled crime fiction featuring New York's most extreme private eye, check out Murder, My Love, the latest pulse-pounding mystery in the Mike Hammer series.
---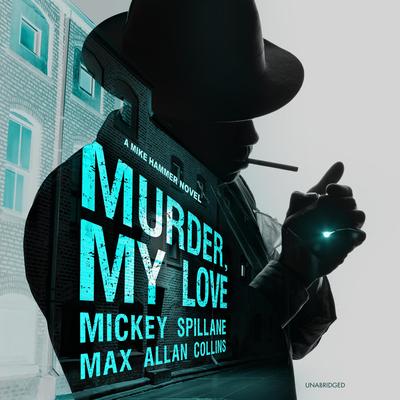 MURDER, MY LOVE: A Mike Hammer Novel
By Mickey Spillane and Max Allan Collins
Read by Stefan Rudnicki
Mike Hammer is summoned to a meeting with Jamie Winters, a United States senator from New York, and Jamie's lovely, very smart wife, Nicole, considered by many to be the power behind the throne. Winters is being blackmailed, and Hammer is given a list of suspects who may be behind the threats to the senator's career. But when the suspects begin to drop like flies, Hammer realizes there is more to this case than just a salacious tape.
---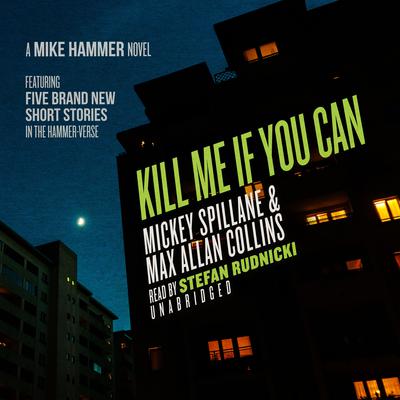 KILL ME IF YOU CAN: A Mike Hammer Novel
By Mickey Spillane and Max Allan Collins
Read by Stefan Rudnicki
Mike Hammer hits his seventy-fifth anniversary hard, after the disappearance of Velda, in this brand new case between Kiss Me, Deadly and The Girl Hunters, based on an unproduced screenplay from Mickey Spillane's archives.
Mike Hammer is on the case, this time hunting the murderer of his old friend and bootlegger-turned-legit-businessman Packy Paragon. Already torn up by the disappearance of Velda, his beloved secretary, Mike Hammer carves a brutal path for vengeance. Drinking heavily, his relationships fraying, his behavior self-destructive, Hammer has to track down Paragon's black book, with the names of every corrupt official in town. With deception everywhere, and a whole host of reasons to want the ledger, Hammer has to pull himself together and solve the case before all hell breaks loose.
Celebrating the seventy-fifth anniversary of Mike Hammer, and including five brand new short stories, hear the lost story of Velda's disappearance after Kiss Me, Deadly. A thrilling ride for fans new and old.
---
Jump into the Mike Hammer series and purchase your copies of MASQUERADE FOR MURDER, MURDER, MY LOVE, and KILL ME IF YOU CAN today! And if you're looking for more Max Allan Collins on audio, you're in luck! The QUARRY series are available now (visit our QUARRY blog post here!) and the NOLAN novels are available now.