"[Hamilton's] stories are as compelling, and probably as close to the sordid truth of espionage, as any now being told." —New York Times, praise for the series
Feeling "fly" and looking "fresh"? Welcome to the '80s. The era that set off the explosion of music videos (MTV launched in 1981); witnessed the burgeoning technology of cell phones (see: Michael Douglas' iconic Gordon Gekko in 1987's Wall Street); and grappled with the rise of the AIDS epidemic and the Cold War.
So where exactly does that leave Matt Helm, the U.S. government's favorite counter-agent? Matt Helm got his start in 1960's DEATH OF A CITIZEN (check out our audiobook trailer) quickly followed by 11 more installments in the 1960s. THE POISONERS (Book 13) took us into the 1970s and we last left Helm trying to piece together his memories after surviving a nasty plane crash in THE TERRORIZERS (Book 18). (See our previous blog post for more details!)
Skyboat's own award-winning narrator Stefan Rudnicki returns as Matt Helm in Donald Hamilton's acclaimed Matt Helm series. And the '80s present a unique challenge: a longer running time. While the previous 18 Matt Helm installments average 5-7 hours, THE REVENGERS clocks in at just over 12 hours. ("Wicked," right?!) As publishing standards evolved and the length of the "typical" thriller changed, Matt Helm does what he does best…adapted to the situation at hand and found a way to make the circumstances work in his favor. Upon completion of recording, Stefan declared that, in terms of action and story integrity, Helm didn't miss a beat. Now there is just more to savor.
May we present…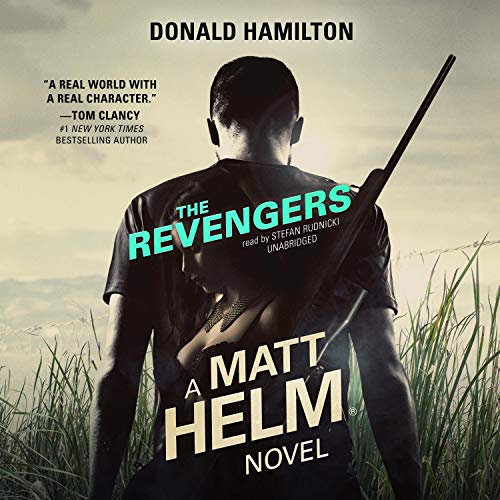 THE REVENGERS (The Matt Helm Series, Book 19) by Donald Hamilton
Read by Stefan Rudnicki
At a funeral of an old friend, Matt Helm takes a trip down memory lane and sparks a romance that he thought was safely locked in the past.
But with old feelings resurfacing, other things Helm thought were buried are coming back to haunt him – a small-time hood in Mexico, a dirty drug deal, and a string of women that lead him into dangerous territory.
---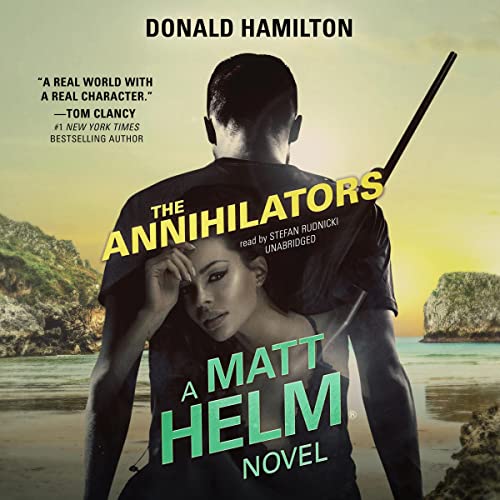 THE ANNIHILATORS (The Matt Helm Series, Book 20) by Donald Hamilton
Read by Stefan Rudnicki
Matt Helm has got a good thing going with Elly. So an outfit of terrorists really have picked the wrong woman when they kidnap her in order to leverage Matt into carrying out an assassination.
Now, Helm finds himself in Costa Verde with one thing on his mind: revenge…
---

THE INFILTRATORS (The Matt Helm Series, Book 21) by Donald Hamilton
Read by Stefan Rudnicki
Beautiful, intelligent, fresh out of prison—Madeleine Ellershaw is Matt Helm's latest case. Madeleine may have been imprisoned as a spy, but Helm soon realizes that her story isn't so simple. He's got to figure out why she took the rap for her husband nine years ago, what secrets are hiding in her past, and, most difficult of all: keep her alive.
---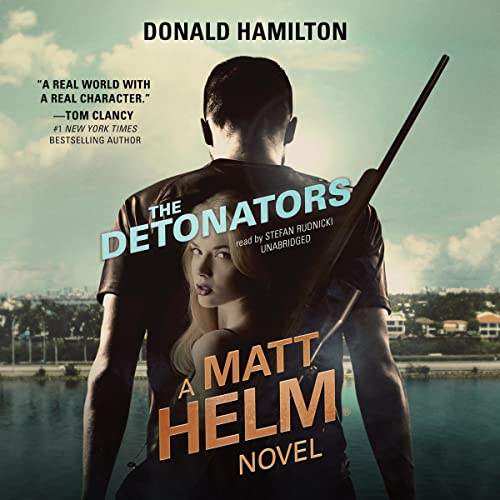 THE DETONATORS (The Matt Helm Series, Book 22) by Donald Hamilton
Read by Stefan Rudnicki
A prim young lady needs a favor: help her father beat a bum drug rap. But when Dad's boat detonates outside Miami Harbor, Matt discovers that young Amy isn't as innocent as she looks. Lured to the Bahamas, he will discover an unlikely pack of fanatics hatching an explosive plan, and that daddy's little girl is surprisingly deadly.
---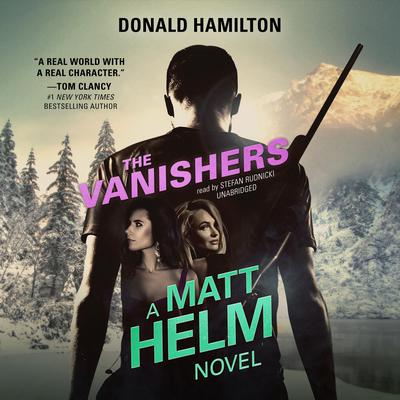 THE VANISHERS (The Matt Helm Series, Books 23) by Donald Hamilton
Read by Stefan Rudnicki
People are vanishing without a trace. And the disappearances are getting closer to home—the next likely target is Mac, Matt Helm's shrewd old boss. To get to the bottom of the mystery, Helm follows two beguiling and treacherous women, who lead him all the way to his ancestral home—Scandinavia. With a coup from within the agency, and a terrorist threat from without, it's clear that nobody can be trusted.
---
---
About the author: Donald Hamilton began his writing career in 1946 by writing short stories for fiction magazines. In 1947, he published Date With Darkness, his first novel. Over the course of his career, he would go on to publish a total of 38 novels in the suspense, spy, and western genres. Between 1960 and 1993, Hamilton wrote 27 books in the Matt Helm series. They've sold over 20 million copies worldwide.