"Donald Hamilton has brought to the spy novel the authentic hard realism of Dashiell Hammett; and his stories are as compelling, and probably as close to the sordid truth of espionage, as any now being told." –Anthony Boucher
Donald Hamilton (1916-2006) was born in Uppsala, Sweden, attended the University of Chicago, and served in the U.S. Naval Reserve. In the 1940s he began writing short stories and his first novel was published in 1947. He published 38 novels and is best known for his long-running Matt Helm spy fiction series. In 27 books, published over 30 plus years (1960-1993), readers have followed the adventures of Matt Helm, an undercover assassin working for a secret American government agency.
Columbia Pictures, in the midst of the James Bond craze of the 1960s, adapted a few titles into four films starring Mr. Dean Martin, but fans of the novels will tell you that those films simply don't do this intense character justice. As Christopher Mills, via Thrilling Detective, put it: "Though the general public may associate the name Matt Helm with the Dean Martin spoofs, the novels should not be dismissed. Suspenseful, fast-moving, with a decidedly dark sense of humor, the Matt Helm series is notable not only for its exceptional quality but its unusual longevity." (full article here)
Under our SkyBooks imprint, we are only publishing material about which we are passionate. This is wonderful writing, and the thought of a whole series, narrated by Stefan, was something we went after with intent and determination. We were fortunate that the folks at the Donald Hamilton Estate trusted us with their elegant and dynamic trademarked character.
So, how to revive a beloved character that inspires such fan love (cue: the Donald Hamilton Worship Page) into a brand new format? We think it's all about the voice. Fresh off his 2014 Audie win for Alex Bledsoe's Wisp of a Thing, Skyboat's own Stefan Rudnicki decided to Helm these himself (get it?!). Bringing his love of riveting first person narrative together with his skills at magnifying the tension through pacing, Stefan's narration is one not to be missed – by fans and novices alike.
"It was all shot to hell now, and I didn't care. I was through being a model citizen. I was myself again."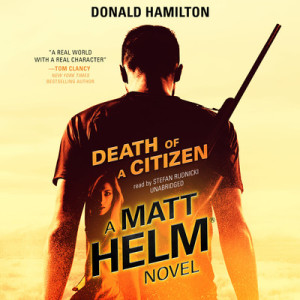 DEATH OF A CITIZEN (The Matt Helm Series, Book 1) 
Matt Helm, one-time special agent for the American government during the Second World War, has left behind his violent past to raise a family in Santa Fe, New Mexico. When a former colleague turns rogue and kidnaps his daughter, Helm is forced to return to his former life as a deadly and relentless assassin.
Originally released in the era of the James Bond novels, the Matt Helm novels were considered grittier and more realistic than Bond, garnering them critical praise and an ardent audience. 
 "It was an elite organization, the wrecking crew. When they came up against someone too tough for them to handle, they called on us."
THE WRECKING CREW (Th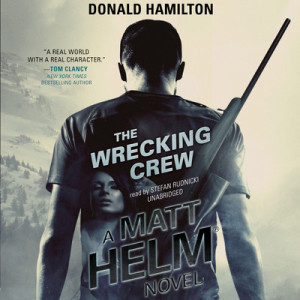 e Matt Helm Series, Book 2) 
Matt Helm, code name Eric, has been recently reactivated as an operative for a secret American government organization after fifteen years as a sedentary photographer and family man in Santa Fe, New Mexico. In his first assignment after returning to the service, he is sent to Sweden to eliminate Caselius, a long-time enemy agent. In order to do so, he must leave a trail of bodies in his wake. 
Discover what Book Week calls the "top ranking American secret agent fare" and purchase your copies today!