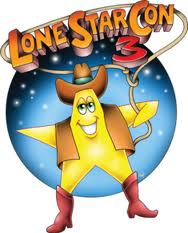 You already know that the Skyboat team is super excited to be headed to LoneStarCon3 next week.  Not only are we thrilled to rub elbows with the best sci-fi and fantasy writers—not to mention fans—in the whole galaxy, but Gabrielle's film is in the festival, Stefan is a Hugo Award finalist, and both Gabrielle and Stefan have been asked to be part of some panels and other events alongside some incredible guests.  Here are some details on that:
THE PANELS
Gabrielle will moderate HOW TO BUILD A SUCCESSFUL BOOK LAUNCH CAMPAIGN alongside Lou Antonelli, the double-hitting Texas journalist and sci-fi/fantasy short story writer; Gail Carriger, NY Times best-selling steampunk and all-around hilarious author; Gini Koch, the insanely prolific sci-fi, fantasy, and horror writer best known for the "Katherine 'Kitty' Katt" series; and Thomas Olde Heuvelt, the award-winning Dutch author who published his first book at the wise old age of 19.  Well, heck yes.  If you're attending the convention, this panel will take place at 8pm on Friday, August 30th.
Stefan will step up to the mic for STEAMPUNK: THE PRESENT AND THE FUTURE with Elektra Hammond, copyeditor, proofreader, fiction anthologist and editor, and all-around steampunker; Phil Foglio, the Hugo Award winning comic book artist known for the steampunk series, Girl Genius; and Takayuki Tatsumi, Japanese scholar, professor, and expert of all thinks pop and punk in America and Japan.  Catch this panel on Saturday, August 31st at 11AM.
Gabrielle will also chime in on the panel HOW TO EXTEND YOUR BOOK BEYOND THE PAGE INTO SOCIAL MEDIA with the following experts in all things online: Jaime Lee Moyer, poet, short story writer, and novelist extraordinaire whose first novel, Delia's Shadow, is the first of a trilogy; Lee Harris, Senior Editor at the fabulous Angry Robot Books and the publisher behind short-fiction eZine Hub; Karen Anderson, Seattle-based writer, editor, blogger, and genius social media consultant.  This panel will convene on Sunday, September 1st at 5pm.
As mentioned, Stefan is a Hugo finalist this year, so it's a perfect fit for him to join the panel, CREATING A MEMORABLE PODCAST with the following podcast heavyweights: David Farnell, message board manager and podcast contributor to the online sci-fi, fantasy, horror, and gaming magazine www.revolutionsf.com; Julia Rios, Boston-based writer, editor, narrator, and podcaster (not to mention Hugo finalist); Patrick Hester, sci-fi/fantasy author, blogger, and Hugo/Parsec nominated podcast producer; Catherynne M. Valente, NY Times best-selling novelist who's also been finalist for the Hugo, Nebula, and World Fantasy Awards.  Catch this panel on the morning of Monday, September 2nd, at 10am.
THE AUTOGRAPH SESSIONS
On Monday at 10AM, Gabrielle will be practicing her cursive alongside Eileen Gunn, Seattle-based short story writer whose work has won the Nebula Award; Elizabeth Bear, an award-winning writer of speculative fiction who's won several Hugo Awards; and John A. Pitts, an urban fantasy writer who has published several series, the latest through TOR Books.
Just a few hours later, catch Stefan and his John Hancock at 2pm on Monday alongside Larry Friesen, the NASA-employed physics and astronomy prof turned sci-fi author; Jason Hough, a former 3D Artist and Game Designer turned writer of The Dire Earth Cycle trilogy; and Chuck Wendig, a prolific novelist and short story writer, screenwriter, and video game writer/designer.
THE READINGS
Gabrielle will be reading at Noon on Friday, August 30th and Stefan will be reading on Sunday at 1PM, both amidst very good company.  It's likely that you've been listening to both of these silky pipes for years now; this is your chance to come hear them in person.  What are they reading?  It's a surprise!
THE KAFFEEKLATSCH (THE HUH?)
According to Webster's, a kaffeeklatsch is a German word that means an informal gathering for coffee and conversation.  Join Gabrielle for some caffeine and conversation on Saturday at Noon alongside David Liss, San Antonio-based, award-winning novelist of historical fiction; and Julia Rios, a Boston-based writer, editor, podcaster, and narrator.
THE HUGOS
The Hugo Awards are 8PM on Sunday night.  And we know we've told you before, but Stefan is a finalist!  (Sorry, we're excited.)  We're thrilled to attend the gala, but we're also looking forward to attending the Hugo's Losers Party (as winners, we hope!).
And if you won't be down in San Antonio this weekend, don't fret!  Follow us on Twitter @SkyboatMedia as Gabrielle will be live-tweeting throughout the convention.  She'll also be blogging here.  Exciting!