Two heads are better than one, right? Skyboat shines the publishing spotlight on the amazing writing talents of this fabulous duo. Henry Kuttner and C. L. Moore are enjoying a resurgence in popularity and we at Skyboat couldn't be happier about it. In fact, we decided to hop on the bandwagon. (Hop.) From the successful Kickstarter campaign for the creation of The Hogben Chronicles of Henry Kuttner (started by none other than Neil Gaiman, F. Paul Wilson, Pierce Watters, Thomas F. Monteleone, and Alan Moore) to newly released e-books, Kuttner and Moore are slowly being rediscovered by today's readers and, thanks to Skyboat, listeners too!
It seems these two fabulous writers wrote in extreme collaboration, oftentimes switching places at the typewriter mid-sentence. At various times, they declared they were unable to remember who wrote what! Outstanding individual writers, and an unbeatable duo when working together.
Henry Kuttner (1915–1958) was an American author of science fiction, fantasy, and horror. He grew up in Los Angeles, and started writing pulp science fiction and horror in the late 1930s. He made his first sale to Weird Tales in 1936 and began publishing science fiction stories the following year. He began a correspondence with H.P. Lovecraft and it was through this correspondence that he met C. L. Moore.
Catherine Lucille Moore (1911–1987), an influential science fiction and fantasy writer, was one of the first women to write in either genre. Her acclaimed Jirel of Joiry stories first appeared in pulp magazines in the 1930s. She and Kuttner married in 1940, and collaborated on numerous projects together – hat tip to Galactic Central for Bud Webster's aptly titled article: A Kuttner Above the Rest (But Wait, There's Moore!).
Kuttner was the author of Fury, Mutant, the Baldy series, and the Hogpen series, among numerous other novels and short stories. Moore was the author of Beyond Earth's Gates and Black God's Kiss, among others. Two of the greatest writers of the first half of the 20th century, they published under their own names and three joint pseudonyms: C. H. Liddell, Lawrence O'Donnell, and Lewis Padgett. Ray Bradbury dedicated his first collection (Dark Carnival) to Kuttner. Richard Matheson (The Incredible Shrinking Man) dedicated his novel, I Am Legend, to Kuttner. Moore was inducted into the Science Fiction and Fantasy Hall of Fame in 1998.
And who better to take on this wonderfully creative, imaginative partnership than Skyboat's own fabulous duo: Stefan Rudnicki and Gabrielle de Cuir? Maybe we should've recorded the books the way these two wrote: one paragraph for Stefan, one for Gabrielle? Well, we didn't; don't be scared.
"Kuttner's 1947 sci-fi work about a vengeful son deserves a strong voice to project the story's fury. The prolific Stefan Rudnicki's enthusiasm for performing this tale of revenge on Venus is evident from the beginning. Rudnicki boasts a deep, powerful voice…The action and strong emotions present in the story are made more resonant by his commanding voice." —AudioFile Magazine Review
FURY by Henry Kuttner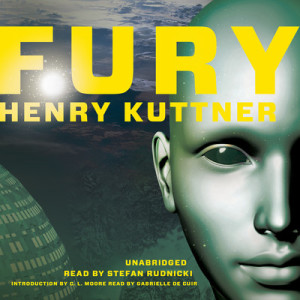 Narrated by Stefan Rudnicki
Introduction by C. L. Moore read by Gabrielle de Cuir
Beneath the rolling seas and deadly atmosphere of Venus are the Keeps—fully enclosed cities that house descendants of the survivors who first harbored atomic energy to escape a dying earth. In massive superstructures built beneath the Venusian seas, a complex feudal society devoted simply to decadence has evolved. Presiding over that society are Immortals—genetic throwbacks to the mutant atomic survivors. While the society is stable, the stability will only lead to its destruction, and the harsh environment outside the Keeps is malevolent and encroaching.
Born into it all is Sam Harker, son of an Immortal and the object of his father's disdain after his mother perished during childbirth. Sam is subjected to treatments which stunt his growth and leave him hairless, and he is exiled from the society of the Immortals and set on the tumultuous path of a rebel's life—one inspired by hatred and a desire for vengeance on the society.
Sam's search for revenge and his great abilities make him more powerful than the more decadent residents of the Keeps … and perhaps even more powerful than the Immortals themselves. He seeks mass appeal as a politician in a campaign that assaults society. It is not until everything is destroyed—that is, in the aftermath of destruction—that the reclamation of human destiny is even a remote possibility. 
---
"For those who have never read the wondrous adventures of the First Lady of Sword-and-Sorcery… oh, gods, how I envy the dark pleasures before them." —Black Gate
BLACK GOD'S KISS by C. L. Moore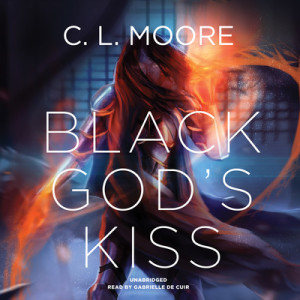 Narrated by Gabrielle de Cuir
First published in the pages of Weird Tales in 1934, C. L. Moore's Jirel of Joiry is the first significant female sword-and-sorcery protagonist and one of the most exciting and evocative characters the genre has ever known. Published alongside seminal works by H. P. Lovecraft and Robert E. Howard, the five classic fantasy tales included in this volume easily stand the test of time and often overshadow the storytelling power and emotional impact of stories by Moore's more famous contemporaries.
A seminal work from one of fantasy's most important authors, Black God's Kiss is an essential addition to any fantasy library. 
Listen to an audiobook sample on Skyboat's SoundCloud!
Whether you are a seasoned science fiction fan or a newcomer to the genre, you cannot go wrong with these classic stories. Purchase your copies of FURY and BLACK GOD'S KISS today!