What Were We Thinking ?!?!  "What Were We Thinking," you ask, by including the World's Most Famous Brain Doctor in our SkyBook imprint? A Brain Doctor? We're darn lucky, that's what we're thinking. Well, Gabrielle's known to be a smart cookie, so listen to her tell you about her wonderful on-going "brain crush" on Doctor Daniel G. Amen and his masterful work at Amen Clinics. (Also, get a gander at her brain on a SPECT scan.  That's gotta be a first in audiobooks!)
Skyboat in conjunction with the very brainy Blackstone Publishing, has the honor of publishing three of Doctor Amen's books. Our own sapient Stefan is narrating all three audiobooks. The good Doctor himself is an AMAZING reader. He garnered an Earphones Awards from AudioFile Magazine when working with Gabrielle at Random House. He's a busy, busy, busy man. Listen to Doctor Amen tell you why these three books are so important to him:
The first offering is NEW SKILLS FOR FRAZZLED PARENTS: THE INSTRUCTION MANUAL THAT SHOULD HAVE COME WITH YOUR CHILD, an upbeat, helpful, and incredibly practical parenting manual that we believe every parent on Earth should own. This program is designed to give you the best parenting skills in a fun and practical way. It will give you clear, quick, and lasting results. Dr. Amen has taught this parenting course for many years. It is by far one of the most effective tools for helping kids who struggle. As we recall, no owners manual came with our Golden Girl Cassandra. Lucky thing she turned out perfect, right?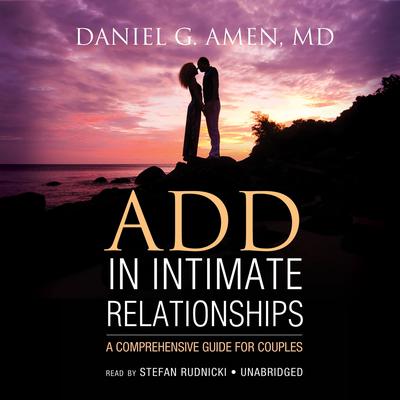 The second book is ADD IN INTIMATE RELATIONSHIPS: A COMPREHENSIVE GUIDE FOR COUPLES. More than half of Doctor Amen's practice surrounds the treatment of people with ADD. Men and women who truly desire a close relationship often find that their day-to-day behaviors interfere with the very intimacy they seek. Understanding ADD can provide hope. In this book Dr. Amen shares both a professional and personal knowledge of the disorder. He addresses the issues that can arise in relationships and goes a long way in easing the way for ADD couples.
And last, but not least, the incredibly straight-forward guide on HOW TO GET OUT OF YOUR OWN WAY. Tired of losing—and suspecting you are your own worst enemy? This is the book you've been looking for! Full of expert, pragmatic advice for unraveling and breaking through self-defeating behavior, it uses a combination of interactive questionnaires and exercises to help you turn around your career, your relationships, and even your very own personality. This audio program shows you twenty-seven self-sabotaging characteristics, how your family background affects your career, how to escape negative patterns of the past, how to form positive personal and business relationships, the nine rules for defining success, and the importance of "imagineering."
The Washington Post called Dr. Daniel G. Amen "the most popular psychiatrist in America," and boy is that true. Dr. Amen, a physician, psychiatrist, teacher, and New York Times bestselling author, is one of the world's foremost experts on applying brain imaging science to everyday clinical practice. Not sure what brain imaging science is? Might we prescribe a little TED Talk to clear up your confusion?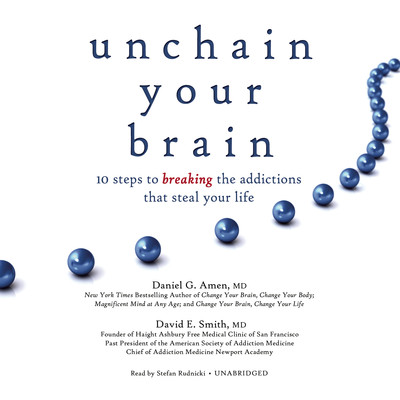 And there was simply too much wisdom to fit into three audiobooks, so we've added a fourth: UNCHAIN YOUR BRAIN: 10 STEPS TO BREAKING THE ADDICTIONS THAT STEAL YOUR LIFE by Daniel G. Amen, MD and David E. Smith, MD. Are you chained to your addiction to smoking? Drinking? Sugar? Drugs? Food? Prescription painkillers? Caffeine? Internet porn? Gambling? Sex? When you are chained by an addiction, it can ruin your life, devastate your family, destroy your relationships, derail your career, lower your grades, and make you physically ill. Unchain Your Brain: 10 Steps to Breaking the Addictions That Steal Your Life is a practical, easy-to-follow step-by-step program that shows you how to boost your brain so you can kick your bad habits.
No excuses, now. Wise up. Sharpen your wits. You're no slouch. Do something nice for your brain today, and listen to Doctor Amen's advice and wisdom. We do. (And it's never too early to learn healthy habits! Check out our spotlight blog post on the children's book WHAT I LEARNED FROM A PENGUIN: A STORY ON HOW TO HELP PEOPLE CHANGE.)