"Benford is a rarity: a scientist who writes with verve and insight not only about black holes and cosmic strings, but about human desires and fears." —New York Times Book Review
Oh Gregory Benford. You may recall us proclaiming our love for this marvelous science fiction author (in our previous post about his anthology FAR FUTURES, complete with video trailer) and we are at it again, with more books this time! Benford, a professor of Physics at University of California, Irvine, is a prolific author of over twenty short story collections, novelettes, and novels (including 2 Nebula winners), a TV host and scriptwriter, and an ardent anthologist. And we have an out-of-this-world love for his work – one that carried us all the way to Mars…and Pluto.
THE MARTIAN RACE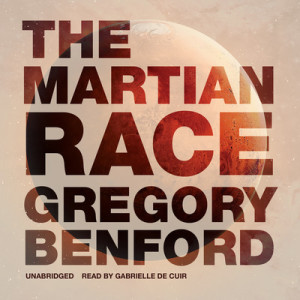 When the U.S. decides to step away from its planned mission to Mars, tycoon John Axelrod takes matters into his own hands. He assembles a consortium to fund the project, and he expects to net billions. But a European-Asian airbus will make a similar expedition. Now, the race is on to get to the Red Planet first. Nominated for both the Locus Award (2000) and the Prometheus Award for Best Novel (2000), THE MARTIAN RACE required a narrator with just the right combination of clever know-how and adventurous spunk, and Gabrielle hits it out of the park. And we're not the only ones who think so!
"Narrator Gabrielle de Cuir takes listeners inside an exhilarating competition to explore Mars in this lively science-fiction production…De Cuir skillfully brings to life [Julia Barth] the multifaceted Aussie biologist and her international crewmates, with a multitude of authentic accents. She also keeps the necessary flashbacks of backstory wonderfully animated. The result is one satisfying Martian journey." —

AudioFile Magazine review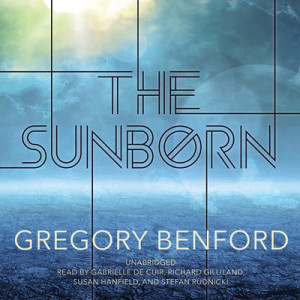 Gabrielle returns in THE SUNBORN, this time joined by Richard Gilliland, Susan Hanfield, and Stefan Rudnicki.
Their historic mission to Mars made Julia and Victor the most famous astronauts of all time. Now, decades later, they rendezvous on Pluto with a starship led by Captain Shanna Axelrod. Here, on the frozen ammonia shore of Pluto's methane sea, Shanna has discovered intelligent creatures thriving in -300° degree temperatures. The two crews must overcome their intense rivalry to work together, for the most remote reaches of the solar system are filled with unimaginable wonders … and countless forces that will crush all human life. –downpour.com
SkyCast:
Julia – Gabrielle de Cuir
Shanna – Susan Hanfield
John Axelrod – Richard Gilliland
Narrator – Stefan Rudnicki 
And the space adventures continue in HEART OF THE COMET by Gregory Benford and David Brin. First published in 1986, it tells the story of an ambitious manned mission to visit Halley's Comet…hop to our other blog post for more info.