What do you get when one terrific author teams up with another terrific author? Something out of this world. Literally. Well, it helps when the two authors just happen to be scientists.
Born in California, David Brin graduated with a Bachelor of Science in Astrophysics from Caltech in 1973. He earned his Masters in Electrical Engineering and his PhD in Space Physics from University of California, San Diego. He is a scientist, best-selling (and Nebula, Hugo and Locus Award-winning) author and tech-futurist. His novels include Earth, The Postman (filmed in 1997) and Hugo Award winners Startide Rising and The Uplift War.
Gregory Benford, a professor of Physics at University of California, Irvine, is a prolific author of over twenty short story collections, novelettes, and novels (including 2 Nebula winners), a TV host and scriptwriter, and an ardent anthologist. (And this isn't the first of his books we've been privileged to put on audio – check out his FAR FUTURES anthology and additional space adventures in THE MARTIAN RACE and THE SUNBORN.)
No wonder the Los Angeles Times declared their partnership "a literary conjunction of two of the brightest stars in the science-fiction firmament."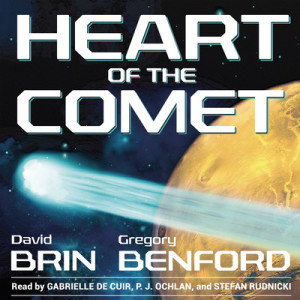 HEART OF THE COMET
First published in 1986 and coinciding with the last return visit of Comet Halley to Earth, HEART OF THE COMET tells the story of an ambitious manned mission to visit Halley's Comet. And, lucky for us, Benford and Brin recently decided to revise and re-issue their bold novel. (Check out Brin's HEART OF THE COMET page – complete with a video interview of the authors discussing their collaboration).
And we are thrilled to bring their work to a new frontier – audio! Skyboat's Gabrielle de Cuir and Stefan Rudnicki were joined by fellow AudioFile Earphones Award winner P.J. Ochlan.
SkyCast List:
Virginia – Gabrielle de Cuir
Carl – P.J. Ochlan
Saul – Stefan Rudnicki
Purchase your copy today – and check out some of Skyboat's additional Benford audiobooks while you're at it!