Alex Bledsoe is the author of the Eddie LaCrosse novels, the novels of the Memphis Vampires and the Tufa novels. He has been a reporter, editor, photographer, and door-to-door vacuum cleaner salesman (we're not making this up, people!). Additionally, he has written numerous short stories, including the Firefly Witch short story chapbooks, and, since that's just not enough writing, he maintains a blog on his awesome website.
The Tufa novels explore the world of the Tufa people, who live in the Appalachian backwoods of East Tennessee. No one knows where the Tufa came from, or how they ended up there. Dark-haired and enigmatic, they live quietly in the hills and valleys of Cloud County, their origins lost to history. But there are clues in their music, hidden in the songs they have passed down for generations.
"Bledsoe brings a real warmth and a messy humanity to his modern-day fairy story, with strong characterization and a passionate love of music." —Publishers Weekly
Alex Bledsoe weaves together a rich world of  magic, poetry, and song. A multi-talented writer, it is easy to see why Skyboat's Stefan Rudnicki is such a big fan of Bledsoe. And their fruitful partnership has been a boon for audiobook fans. Stefan has voiced SIX Tufa novels and garnered an Audie Award for his narration of WISP OF A THING (The Tufa Novels, Book 2).
Let Stefan be your guide through Alex Bledsoe's magical, lyrical world of the Tufa…
---
"This powerful, character-driven drama, set forth in superbly lucid prose, occurs against an utterly convincing backdrop and owns complications enough to keep everybody compulsively turning the pages. A sheer delight." —Kirkus Reviews (starred review) 
THE HUM AND TH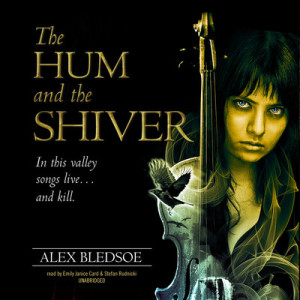 E SHIVER (The Tufa Novels, Book 1) by Alex Bledsoe
Read by Emily Janice Card and Stefan Rudnicki
Named One of the 2011 Kirkus Reviews' Best Books: Science Fiction and Fantasy
No one knows where the Tufa came from or how they ended up in the mountains of east Tennessee. When the first Europeans came to the Smoky Mountains, the Tufa were already there. Dark-haired and enigmatic, they live quietly in the hills and valleys of Cloud County, their origins lost to history. But there are clues in their music, hidden in the songs they have passed down for generations.
Private Bronwyn Hyatt, a true daughter of the Tufa, has returned from Iraq, wounded in body and spirit, but her troubles are far from over. Cryptic omens warn of impending tragedy, while a restless "haint" has followed her home from the war. Worse yet, Bronwyn has lost touch with herself and with the music that was once a part of her life. With death stalking her family, will she ever again join in the song of her people and let it lift her onto the night winds?
---
"Narrator Stefan Rudnicki creates gentle Appalachian accents for the characters without anything showy…. There are many songs in this book, and rather than sing them, Rudnicki speaks them in a soft cadence, almost as though he's reciting poetry. It is an effective, gentle performance."

—

Excerpt from

AudioFile Review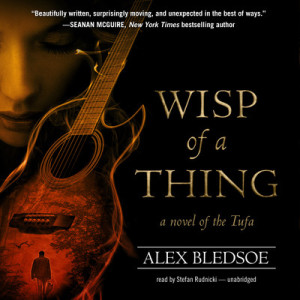 WISP OF A THING (The Tufa Novels, Book 2) by Alex Bledsoe
Read by Stefan Rudnicki
Winner of the 2014 Audie Award for Fantasy
"Set in the same world as The Hum and the Shiver, Bledsoe's latest fantasy captures the allure and the sometimes sinister beauty of the Appalachian backwoods, filled with myths, haunted by ghosts, and touched, always, by death. The author of the Eddie LaCrosse urban fantasy series proves his versatility with a hauntingly beautiful tale of love lost and hope rediscovered."–Library Journal (starred review)
Stefan's fine narration earned him an Audie Award in the Fantasy category. Check out our Audies Countdown video here: 
---
"The core concept is solid and fascinating; the execution strikes just the right tone between fantastic and tragic. Bledsoe plays with lyrics and atmosphere, incorporates folklore and superstition to good effect, and even toys with alternate history for further resonance." —Publishers Weekly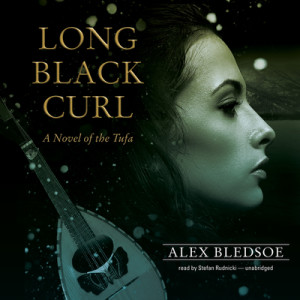 LONG BLACK CURL (The Tufa Novels, Book 3) by Alex Bledsoe
Read by Stefan Rudnicki
In all the time the Tufa have existed, only two have ever been exiled: Bo-Kate Wisby and her lover, Jefferson Powell. They were cast out, stripped of their ability to make music, and cursed to never be able to find their way back to Needsville. Their crime? A love that crossed the boundary of the two Tufa tribes, resulting in the death of several people.
Somehow Bo-Kate has found her way back. She intends to take over both tribes, which means eliminating both Rockhouse Hicks and Mandalay Harris. Bo-Kate has a secret weapon: Byron Harley, a rockabilly singer known as the "Hillbilly Hercules" for his immense size and strength, and who has passed the last sixty years trapped in a bubble of faery time. He's ready to take revenge on any Tufa he finds. The only one who can stop Bo-Kate? Jefferson Powell. 
---
"The lure of magical realism, the sensual mysticism of Appalachia and the thrill of a New York theater production synchronize together to give Bledsoe's fourth Tufa novel a well-choreographed peek at both worlds." —RT Book Reviews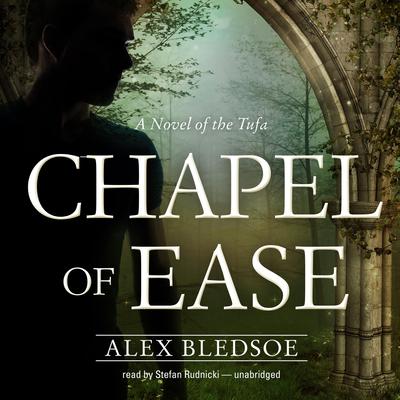 CHAPEL OF EASE (The Tufa Novels, Book 4) by Alex Bledsoe
Read by Stefan Rudnicki
When Matt Johansson, a young New York actor, auditions for Chapel of Ease, an off-Broadway musical, he is instantly charmed by Ray Parrish, the show's writer and composer. As their friendship deepens, Matt learns that Ray's people call themselves the Tufa and that the musical is based on the history of his isolated hometown. But there is one question in the show's script that Ray refuses to answer: What is buried in the ruins of the chapel of ease?
As opening night approaches, strange things begin to happen. Then, as the rave reviews arrive, Ray dies in his sleep. Matt volunteers to take Ray's ashes back to Needsville, where he hopes to understand more about the play and uncover the secret that Ray took to his grave.
---
"A must-read for fantasy or literary-fiction fans and also a perfect fit for a mystery lover seeking something a little different." —Booklist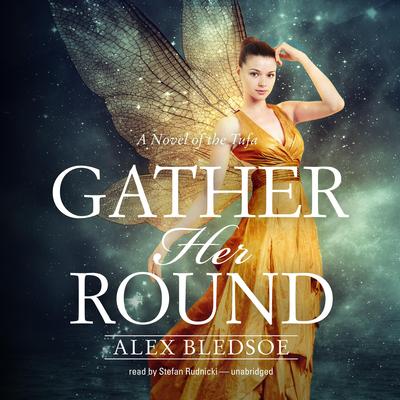 GATHER HER ROUND (The Tufa Novels, Book 5) by Alex Bledsoe
Read by Stefan Rudnicki
Love and tragedy are not strange bedfellows among the Tufa. Young Kera Rogers disappears while hiking in the woods by Needsville. When her half-eaten remains are discovered, the blame falls upon a herd of wild hogs, a serious threat in this rural community. Kara's boyfriend Duncan Gowen mourns her death, until he finds evidence she cheated on him with his best friend, Adam Procure. Seeking revenge, Duncan entices Adam to participate in their own boar hunt. 
Determined hunters pursue the ravenous horde through the Appalachians as other Tufa seek their own answers. Between literal beasts in the woods and figurative wolves in sheep's clothing, what truths will arise come spring?
---
"Bledsoe infuses his setting with a rich sense of location, atmosphere, and history, underscored by folk music…[The] series continues to enthrall with complex and nuanced stories." —Publishers Weekly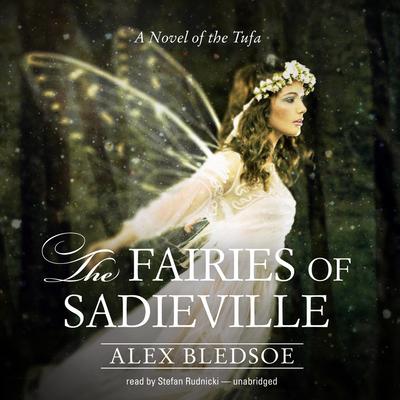 THE FAIRES OF SADIEVILLE (The Tufa Novels, Book 6) by Alex Bledsoe
Read by Stefan Rudnicki
Charming and lyrical, The Fairies of Sadieville concludes Alex Bledsoe's widely-praised contemporary fantasy series about the fairy descendants of Appalachia.
"This is real." Graduate students Justin and Veronica discover a long-lost silent movie with startlingly realistic footage of a young girl transforming into a winged being. Looking for proof behind this claim, they travel to the rural foothills of Tennessee to find Sadieville, where it had been filmed.
When the two students unearth a secret long hidden, everyone in the Tufa community must answer the most important question of their entire lives―what would they be willing to sacrifice in order to return to their fabled homeland of Tír na nÓg?
---
Purchase your audiobook copies at downpour.com & begin your Appalachian adventure today.