At Skyboat we like three things: murderous mysteries, exultant endings, and amusing alliterations. Lucky for us, Edie Claire provides all three and then some!
Novelist and playwright Edie Claire is a veterinarian, a childbirth educator, and a mother of three who delights in writing the Leigh Koslow cozy mystery series, classic and young adult romance novels, and stage comedies.
Looking for a book that's both suspenseful and satisfying? Look no farther; the Leigh Koslow series are for you! First published in 1999, Claire has revived the series following the life of protagonist, Leigh Koslow. Now, ten years later, Koslow is a mother and proud dog owner of her Corgi, Chewie. Though she has every intention of putting her days of sleuthing behind her, Koslow is inevitably sucked back into the world of crime, murder, and mysterious occurrences. Unlike other gory crime novels, Claire's books are warmly described as cozies–a subgenre where violence is downplayed, humor is key, and happy endings are guaranteed.
Fellow mystery series author Carolyn Hart had this to say about Claire's first Koslow novel: "A funny, fast-paced, clever, and unusual mystery that will have readers clamoring for more. Edie Claire writes with style and dash. Sheer delight."
So get those headphones ready because you do not want to miss Skyboat's own Gabrielle de Cuir bringing these books to life with her pitch-perfect timing and subtle humor. Gabrielle is thrilled to jump right into the series (at book 6!) and has been amazed by Edie Claire's hands-on attention to our audio endeavor. It has been a true collaboration.
The best part? Skyboat is thrilled to record not one, not two, but THREE exciting books from the series.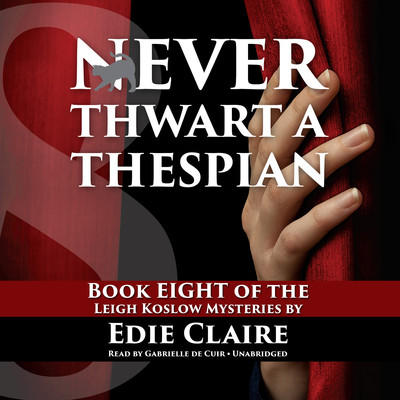 NEVER THWART A THESPIAN (The Leigh Koslow Mysteries, Book 8) by Edie Claire
Read by Gabrielle de Cuir 
This curtain is going up … no matter what else goes down. Leigh's intrepid Aunt Bess has decided that an abandoned building in the small Pittsburgh borough of West View would make the perfect theater for her troupe of local thespians. With her friend Detective Maura Polanski expecting and stuck on bed rest, Leigh scrambles to unravel the link between the murders of the past and the growing threats of the present—before this theater's opening becomes someone's end!
Since one is simply never enough, check out the previous installments!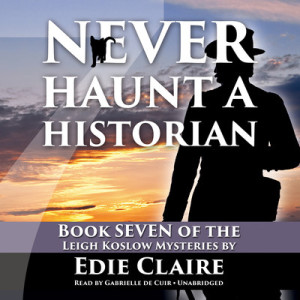 NEVER HAUNT A HISTORIAN (The Leigh Koslow Mysteries, Book 7) by Edie Claire
Read by Gabrielle de Cuir 
Leigh Koslow doesn't care who claims to see the specter of a Civil War soldier skulking around her neighbor's farm; she does not believe in ghosts. When neighbor Archie Pratt, beloved captain of a local unit of reenactors, vanishes from the farmhouse without a trace, Leigh is certain there is a rational explanation. But when her children discover an aged map of the neighborhood that seems to point to hidden treasure, the local Civil War buffs think otherwise. Did Union Private Theodore Carr leave Cemetery Hill in 1863 with a little…souvenir?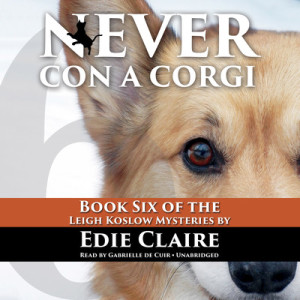 NEVER CON A CORGI (The Leigh Koslow Mysteries, Book 6) by Edie Claire
Read by Gabrielle de Cuir 
Ten years after the release of the last Leigh Koslow book, Edie Claire returned with the sixth book in the Leigh Koslow Mystery Series. When a walk in the woods with her dog turns up a corpse, Leigh Koslow, now a middle-aged mom, begins to get worried. It's bad enough that the victim is a client of her agency and the same unscrupulous real estate developer who's been conniving to bulldoze her aunt Bess' homestead. But fate is what it is, and as Leigh's beleaguered friend, Detective Maura Polanski, sets out once again to save the Koslow clan from self-destruction, the women face their toughest battle yet.
Humor, a dose of romance, suspense and a happy ending are all mentioned on Edie Claire's list of 5 things readers are guaranteed to find in her books. Well, we at Skyboat have found a 6th thing: a great listening experience. So purchase your copies today!