"Dunsany stands dedicated to strange and lovely worlds of fantastic beauty. To the truly imaginative he is a talisman and a key unlocking rich store houses of dreams." —H. P. Lovecraft
Edward John Moreton Drax Plunkett, Eighteenth Baron of Dunsany, known as Lord Dunsany (1878–1957) was an Anglo-Irish writer and dramatist best known for his fantasy works. He published over eighty books as well as hundreds of short stories and many successful plays and essays. (In fact, he was such a popular poet in the 1920s that a line of his is quoted in F. Scott Fitzgerald's debut novel This Side of Paradise.)
Lord Dunsany lived most of his life in Ireland at Dunsany Castle and he received an honorary doctorate from Trinity College. He was also an avid chess player, and even invented an asymmetric chess variant called "Dunsany's Chess."
Lord Dunsany is considered a major influence on the work of J. R. R. Tolkien, H. P. Lovecraft, Ursula K. Le Guin, and others.
"Dunsany's best stories remain unique; nobody has ever been able to capture his visions or imitate his half-archaic half-straightforward style, though ghastly attempts have been made. He had a wonderful ear, as well as an accurate eye." —Ursula K. Le Guin
Skyboat's Stefan Rudnicki counts himself among Lord Dunsany's fans. Upon exiting the recording booth, he proclaimed THE KING OF ELFLAND'S DAUGHTER "one of the most beautiful stories I've ever read" and praised Dunsany's ability to sustain the fairy tale tone, repeating phrases ("the fields we know" or "the palace that may be told of only in song") so brilliantly that neither the reader nor listener tires of them. Blackstone Publishing and Skyboat Media are proud to bring this elegant classic, which continues to resonate, to audio.
Listen to an audiobook sample on Skyboat's SoundCloud.
"Go forth," he said, "before these days of mine are over, and therefore go in haste, and go from here eastwards and pass the fields we know, till you see the lands that clearly pertain to faery; and cross their boundary, which is made of twilight, and come to that palace that is only told of in song."

"What do you bid me do," said the son, "when I come to that palace?"

And his father said: "To wed the King of Elfland's daughter."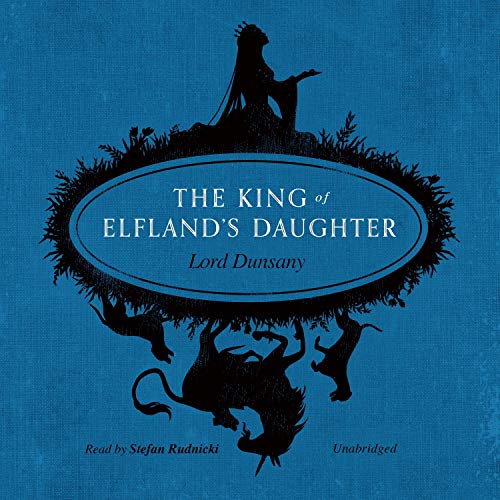 THE KING OF ELFLAND'S DAUGHTER by Lord Dunsany
Read by Stefan Rudnicki
A masterpiece of fantasy literature that shaped the high fantasy genre and influenced such authors as J. R. R. Tolkien and H. P. Lovecraft
After 700 years of being ruled by man, the Parliament of Erl is ready to be ruled by a magical lord. Obeying the immemorial custom, the lord of Erl sends his son Alveric to fetch the King of Elfland's daughter, Lirazel, to be his bride. Alveric makes his way to Elfland, where time passes at a rate far slower than the real world, wins her hand, and they return to Erl together.
Alveric and Lirazel marry and have a son, but marriage between a mortal and a fairy princess is never simple. Lirazel struggles to adapt to the customs of humans. Torn between two worlds, Lirazel must decide whether to return to her home and live forever, or remain in Erl with her husband and son, doomed to die a mortal death. Meanwhile, the King of Elfland, missing his daughter greatly and fearing her demise, must utilize his limited sources of magic in order to get her back.
The King of Elfland's Daughter is a love story for the ages and a fairy tale in the truest sense of the word. First published in 1924, it remains one of the most beloved novels of the genre. 
---
"No amount of mere description can convey more than a fraction of Lord Dunsany's pervasive charm." —H. P. Lovecraft
Explore Lord Dunsany's "pervasive charm" and purchase your copy today. And we are delighted to announce that that Skyboat will be bringing more of Lord Dunsany's poetic prose to audio in 2021. Stay tuned!