In this original audiobook compilation from Blackstone Publishing and Skyboat Media, Arthur Machen's The Shining Pyramid is paired with The Three Impostors, a masterpiece of gothic horror and suspense that inspired such writers as H. P. Lovecraft.
Arthur Machen (1863-1947), was the pen name of Arthur Llewellyn Jones, a Welsh author and mystic known best for his supernatural, fantasy, and horror fiction. Machen's work has influenced writers for generations including H.P. Lovecraft, William Butler Yeats, Arthur Conan Doyle and Stephen King. In fact, Stephen King has said that Machen's 1894 novella "The Great God Pan" is "one of the best horror stories ever written. Maybe the best in the English language."
Growing up in Wales, Machen was intrigued by the findings of pagan sculptures and inscribed stones from the Roman era by local archaeologists. His grandfather found such carvings in his very own churchyard, and this tangible presence of ancient strangeness influenced much of Machen's writing.
After his first (anonymous) publication Eleusinia, he pursued a career in journalism and moved to London. He continued to write fiction during this time, but in the 1890s his writing took a drastic turn from the seventeenth century style for which he had become known and drew closer to the horror stories he is known for today. After publishing "The Great God Pan," Machen wrote The Three Impostors, and the short story "The Shining Pyramid," both included in an original audiobook compilation from Skyboat and Blackstone Publishing.
"Every branch of human knowledge, if traced up to its source and final principles, vanishes into mystery."
― The Shining Pyramid,
In "The Shining Pyramid," a classic of supernatural fiction, a young man discovers stones miraculously arranging themselves on his land. But when he and his friends attempt to discern the meaning behind this, they discover a sinister force behind the strange symbols and structure.
The Three Impostors; or, The Transmutations is an experimental tale of vengeance and the occult, weaving together five stories that culminate in a deadly horror. Of two of these interwoven tales, H.P. Lovecraft wrote in his survey on Supernatural Horror in Literature, that they "perhaps represent the highwater mark of Machen's skill as a terror-weaver."
At the time, Machen's work was seen as decadent and degenerate, but in the early twentieth century public opinion was quite changed. He became a household name on both sides of the Atlantic, and while at home in Britain his gothic and terrifying tales began to fall out of fashion, American academics lauded his work as an avant-garde marvel. Today, he is recognized for his groundbreaking influence on supernatural and horror fiction.
Such an impressive author demands an equally impressive narrator and we knew just who fit the bill: Audie Award-winning narrator and longtime friend of Skyboat, Kristoffer Tabori. Kristoffer made his screen debut when he was six years old and appeared on Broadway for the first time at age sixteen. He has garnered numerous honors for his stage, screen, television, and radio acting and directing, including an Emmy and three Earphones Awards. Kristoffer masterfully applies his brilliant sense of character to the first person narratives as they interweave themselves throughout the text.
Listen to an audiobook sample on Skyboat's SoundCloud!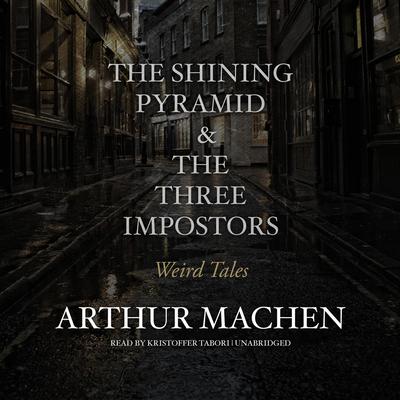 THE SHINING PYRAMID & THE THREE IMPOSTORS: Weird Tales by Arthur Machen
Read by Kristoffer Tabori
In the remote hills of old England, Vaughn discovers a mysterious arrangement of stones on his doorstep in The Shining Pyramid. With the help of his old friend and investigator Dyson, they work to unravel the mysterious truth about the changing symbols and discover underground dwellers best left untouched. 
The Three Impostors is Machen's famous collection of "weird tales"—a string of shocking short stories woven together with a fine narrative thread. The three impostors of the title are members of a secret society devoted to debauched pagan rites who weave a web of deception in the streets of London as they search for a missing Roman coin commemorating an infamous orgy by the Emperor Tiberius and close in on their prey: "the young man with spectacles." Rich with terror, adventure, satire, deception, and dreamlike fantasy, it is a classic of occult literature written by a stylistic master.
Contents:
I. The Shining Pyramid
II. The Three Impostors
Novel of the Dark Valley
Novel of the Black Seal
Novel of the Iron Maid
Novel of the White Powder
History of the Young Man with Spectacles 
Purchase your copy of THE SHINING PYRAMID & THE THREE IMPOSTORS today!
Looking for more classic weird tales? We suggest Oliver Onion's WIDDERSHINS: The First Book of Ghost Stories; Gaston Leroux's THE DOUBLE LIFE; and, two more original compilations from Blackstone and Skyboat, Algernon Blackwood's THE TOUCH OF PAN & OTHER STORIES and CASTING THE RUNES, AND OTHER CLASSIC STORIES OF THE SUPERNATURAL by M.R. James, W.W. Jacobs, Sheridan Le Fanu, F. Marion Crawford & Robert Hichens.