"My fundamental interest, I suppose, is signs and proofs of other powers that lie hidden in us all; the extension, in other words, of human faculty. So many of my stories, therefore, deal with extension of consciousness; speculative and imaginative treatment of possibilities outside our normal range of consciousness. … Also, all that happens in our universe is natural; under Law; but an extension of our so limited normal consciousness can reveal new, extra-ordinary powers etc., and the word 'supernatural' seems the best word for treating these in fiction. I believe it possible for our consciousness to change and grow, and that with this change we may become aware of a new universe." —Algernon Blackwood, as quoted in Peter Penzoldt's The Supernatural in Fiction (1952)
Storyteller, mystic, adventurer, and radio and television personality, Algernon Blackwood (1869–1951) led a rich and varied life. Born into a well-to-do Kentish family, Blackwood became fascinated by hypnotism and the supernatural and, on leaving university, studied Hindu philosophy and occultism. The Empty House and Other Ghost Stories, published in 1906, was followed by a series of psychic detective stories. His reputation as one of the greatest exponents of supernatural fiction began to grow.
While he is best remembered for his two superlative horror stories, "The Willows" and "The Wendigo," he wrote over 150 stories, at least a dozen novels, two plays, and quite a few children's books. His A Prisoner in Fairyland was adapted into the play (later the musical), Starlight Express. Later in life, Blackwood turned to writing radio plays, and in 1947 he began a new career on BBC TV telling ghost stories. He received a knighthood in 1949. By the time of his death, Blackwood had become one of the greatest writers of supernatural fiction in the twentieth century.
"Of the quality of Mr. Blackwood's genius there can be no dispute; for no one has even approached the skill, seriousness, and minute fidelity with which he records the overtones of strangeness in ordinary things and experiences, or the preternatural insight with which he builds up detail by detail the complete sensations and perceptions leading from reality into supernormal life or vision." –Excerpt from H.P. Lovecraft's essay, "Supernatural Horror in Literature"
In his "Supernatural Horror in Literature" essay, H.P. Lovecraft names as the four "modern masters" of horror: Algernon Blackwood, Lord Dunsany, M. R. James, and Arthur Machen. We are extremely proud that we at Skyboat, together with Blackstone Publishing, have brought works from ALL four of these authors to audio, both as new narration of classic texts and as original audiobook compilations never seen (or heard) anywhere else before! These compilations represent the core of Skyboat's mission — to apply our talents in story selection, interpretation, casting, and producing to forgotten or undiscovered gems.
H.P. Lovecraft wrote, "Without notable command of the poetic witchery of mere words, he is the one absolute and unquestioned master of weird atmosphere; and can evoke what amounts almost to a story from a simple fragment of humourless psychological description." While Blackwood may not have had "notable command of the poetic witchery of mere words," our narrators sure do! Skyboat's Stefan Rudnicki and Gabrielle de Cuir were joined by Paul Boehmer, Justine Eyre, and Kate Orsini to work their magic and conjure these tales to new life on audio.
Listen to an audiobook sample on Skyboat's SoundCloud.
"When common objects in this way be come charged with the suggestion of horror, they stimulate the imagination far more than things of unusual appearance; and these bushes, crowding huddled about us, assumed for me in the darkness a bizarre grotesquerie of appearance that lent to them somehow the aspect of purposeful and living creatures. Their very ordinariness, I felt, masked what was malignant and hostile to us." –Excerpt from "The Willows" by Algernon Blackwood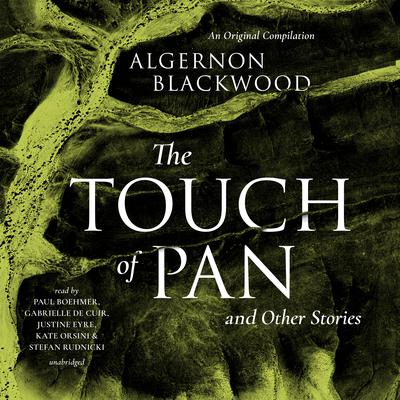 THE TOUCH OF PAN & OTHER STORIES: An Original Compilation by Algernon Blackwood
Read by Paul Boehmer, Gabrielle de Cuir, Justine Eyre, Kate Orsini, and Stefan Rudnicki
Compiled and produced by Stefan Rudnicki at Skyboat Media
Algernon Blackwood, a journalist and broadcast narrator, was one of the most prolific writers of ghost stories in the history of the genre. The title story, "The Touch of Pan," explores the lingering presence of myth in everyday life. In "The Glamour of the Snow," Blackwood winds a tale about a man's infatuation with a supernatural winter beauty. In "The Attic," the ghost of an usurer haunts the old Chateaux and, on the anniversary of a young boy's death, the boy's cat brings the family together. "The Willows" follows two campers who are on a canoe trip down the Danube, with the sense of a looming threat following them. When darkness falls, they pick the wrong place to sleep for the night—a place where another dimension impinges on our own. American horror author H. P. Lovecraft considered "The Willows" to be the finest supernatural tale in English literature.
Full contents:
"The Touch of Pan" read by Stefan Rudnicki
"The Transfer" read by Justine Eyre
"The Occupant of the Room" read by Paul Boehmer
"The Valley of the Beasts" read by Stefan Rudnicki
"The Glamour of the Snow" read by Paul Boehmer
"The Pikestaff Case" read by Kate Orsini
"The Tryst" read by Paul Boehmer
"Wayfarers" read by Stefan Rudnicki
"The House of the Past" read by Paul Boehmer
"Initiation" read by Stefan Rudnicki
"The Wings of Horus" read by Gabrielle de Cuir
"The Attic" read by Paul Boehmer
"The Willows" read by Stefan Rudnicki
Looking for more supernatural tales? We suggest Oliver Onion's WIDDERSHINS: The First Book of Ghost Stories; Gaston Leroux's THE DOUBLE LIFE; and, two more original compilations from Blackstone and Skyboat, Arthur Machen's THE SHINING PYRAMID & THE THREE IMPOSTORS and CASTING THE RUNES, AND OTHER CLASSIC STORIES OF THE SUPERNATURAL by M.R. James, W.W. Jacobs, Sheridan Le Fanu, F. Marion Crawford & Robert Hichens.