"In this heartfelt, clearly labor-of-love work, he chronicles both his vast personal changes as well as the enormous transformation that the city of Tokyo has undergone since the early 1960s…Throughout the book, the author delivers consistently entertaining details about nearly all aspects of Japanese daily life and culture, creating a priceless document of the rise of one of the world's great cities. A delightful memoir of the author's five-decade love affair with a city that 'hypnotized' him and never let go." —Kirkus Starred Review
Robert Whiting is a journalist and author who has lived in Tokyo on and off for more than half a century. Topics he has written on include sports, Tokyo nightlife, and crime. He is the author of such titles as The Chrysanthemum and the Bat, You Gotta Have Wa, and Tokyo Underworld.
"The late Anthony Bourdain, renowned celebrity chef and globetrotter, in an interview with Maxim in 2017, named Tokyo as his favorite city in the world and said, 'If I had to agree to live in one country, or even one city, for the rest of my life, never leaving it, I'd pick Tokyo in a second.' … I understood what he was saying because I had felt the same way when I first came to the city over five decades ago in 1962 as a raw nineteen-year-old GI from small-town America." –Excerpt from Tokyo Junkie's Preface
Skyboat is proud to produce the TOKYO JUNKIE audiobook, in partnership with Stone Bridge Press and Blackstone Publishing. Stone Bridge Press was established in Berkeley, California, in 1989. They now have some 150 titles in print, covering such Japan-related areas as language, business, literature, manga, design, and culture. (Talk about a range of expertise — and the perfect home for Whiting's genre-defying memoir.) And our friends at Blackstone Publishing shared our enthusiasm for the project! Skyboat's Stefan Rudnicki stepped into the booth to narrate, with the reliable Claire Bloom directing.
Listen to an audiobook sample on Skyboat's SoundCloud!
"This is a delightful book, a wry, vivid, and illuminating account of a country, a culture, and a keenly observant character through five dramatic decades." —James Fallows, The Atlantic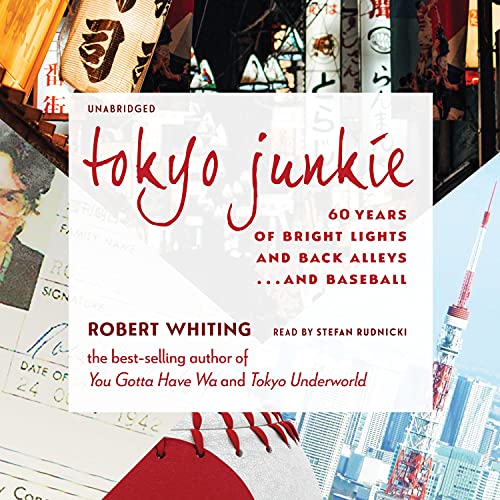 TOKYO JUNKIE: 60 YEARS OF BRIGHT LIGHTS AND BACK ALLEYS . . . AND BASEBALL by Robert Whiting
Read by Stefan Rudnicki
Tokyo Junkie is a memoir that plays out over the dramatic 60-year growth of the megacity Tokyo, once a dark, fetid backwater and now the most populous, sophisticated, and safe urban capital in the world.
Follow author Robert Whiting as he watches Tokyo transform during the 1964 Olympics, rubs shoulders with the Yakuza and comes face to face with the city's dark underbelly, interviews Japan's baseball elite after publishing his first best-selling book on the subject, and learns how politics and sports collide to produce a cultural landscape unlike any other, even as a new Olympics is postponed and the COVID virus ravages the nation.
A colorful social history of what Anthony Bourdain dubbed, "the greatest city in the world," Tokyo Junkie is a revealing account by an accomplished journalist who witnessed it all firsthand and, in the process, had his own dramatic personal transformation.