A chill is in the air. Maybe even a Cupid in a Santa outfit is upon us. Hmm, sounds like the perfect time to let a little romance into your life.
"Jennifer DeCuir's writing is as warm and cozy as snuggling up to a crackling fire on a cold winter's day!" –Laura Marie Altom, author of The SEAL's Christmas Twins on Drawn to Jonah
Jennifer DeCuir writes small town contemporary romances while wrangling two kids, a husband who acts like a big kid and three neurotic pets.
Jennifer's series Scallop Shores, published by Crimson Romance, is based on her hometown of York, Maine. In fact, as she mentioned in her guest post on fellow author Melia Alexander's blog, "The best part about writing my Scallop Shores series is that I get to blend in all the favorite things I loved about growing up in a small town with new and interesting places I've discovered over the years." And the inspiration just keeps coming, with four Scallop shores novels out now (including the most recent TRAPPED IN TOURIST TOWN), and more on the way!
"The characters in DeCuir's book have drawn me in…Heartwarming, sexy, and a dash of magical realism makes this book a must-buy." –Brooke Moss, author of Baby Bump on Drawn to Jonah
And it's really all about the characters. So when the idea for an audiobook edition came up, Gabrielle de Cuir knew she wanted to keep it close…
WYNTER'S JOURNEY: A Scallop Shores Novel by Jennifer DeCuir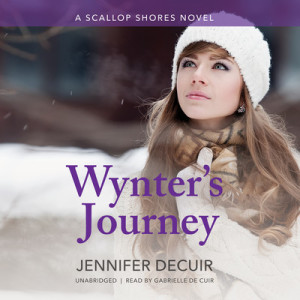 The Scallop Shores Series, Book 3
Before Sam could tell Wynter how he felt about her, tragedy tore them apart. Twelve years later fate drops Wynter on Sam's doorstep. She's widowed, desperately broke, and very pregnant. Sam has spent his entire adult life trying to forget Wynter, and here she was, ready to collect on a promise he'd made when he was young and in love. Now the one person he wanted to leave behind is the one person he can't let go.
Delivering Wynter's baby at home during a fierce snow storm forces Sam to fill in as temporary dad. It's a role he'd gladly make permanent, but the one place Wynter is determined to raise her daughter is the one place Sam swore he'd never set foot in again. Has he been given a second chance to tell her he loves her only to lose her again? Or is this time for keeps?
So put down your ever-expanding To Do List, slip on some headphones (listen to an audiobook sample on Skyboat's SoundCloud!) and let Gabrielle take you away to Jennifer's magical Scallop Shores, available at downpour.com now!