"She was my first love, and I loved her as only a boy loves." – James Weldon Johnson
Remember the new girl in school who caught everyone's attention? So does author W. DeLaney. That memory inspired him to write his first novel: THE TEN-CENT BOY AND THE BROOKLYN DIME.
The story, set in the 1990's, centers around Ken Martin, the poor kid from an abusive home and Blanche Bianco, the feisty new girl from Brooklyn. Blanche's parents sent her to live with relatives in order to escape some bad influences. She and Ken meet at school and begin a relationship that will affect the rest of their lives. Will their love remain strong? Even when Hollywood gets involved?
"What is a Brooklyn Dime?" you ask. According to author W. DeLaney, the term originated with the film "10" starring Dudley Moore and Bo Derek. The "10" of course becoming a term for feminine beauty.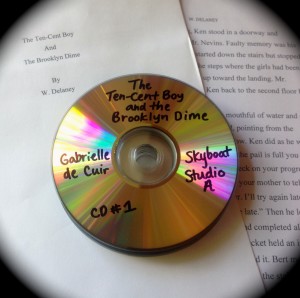 "In Brooklyn, the marvelous native humor and spin converted the '10' to Brooklyn Dime," says DeLaney in the Author's Note. "In this story I believe the lovers Ken and Blanche added character to the scale and should be upgraded to Brooklyn Quarter and Twenty Five-Cent Boy."
Skyboat's Gabrielle de Cuir gets in touch with her inner Brooklyn Dime to bring this sweet love story to life. Recording this was a delight given the number of characters, ages, and accents involved. It's a joy for any narrator and any listener. Do Ken and Blanche live happily ever after? You'll have to listen and find out! Purchase your copy today!