"Dr. Wilson takes us on an emotional and fascinating journey into the life of this genius and shows how even one person's passion can make a difference in bringing back the lost treasures of the past." –Vivica Genaux, world-acclaimed mezzo soprano
As a recognized expert in 18th century music, Dr. David Wilson has conducted hundreds of works of Bach, Handel and their contemporaries. Today, Dr. Wilson is Professor Emeritus of the Thornton School of Music at the University of Southern California as well as the Artistic Director/Conductor Emeritus of the Long Beach Bach Festival and the Camerata Singers of Long Beach.
In April 2015, Dr. Wilson was honored as a featured author at the 2015 Los Angeles Times Festival of Books. And it was at the Festival that Dr. Wilson met Skyboat's Stefan Rudnicki.
In addition to Stefan's sizeable vocal talents as a narrator, his early singing career included choral and solo concerts at Carnegie Hall, Judson Hall and Lincoln Center.
Needless to say, this project piqued Stefan's interest at once.
Both agreed that an audiobook would be the ideal format: mixing Dr. Wilson's compelling narrative with actual samples of the extraordinary music he discovered on his journey!
"David Wilson has produced a revelatory work of refined scholarship that will deepen our knowledge of this important yet oft-neglected Baroque composer." –Morten Lauridsen, Distinguished Professor Composition at USC Thornton School of Music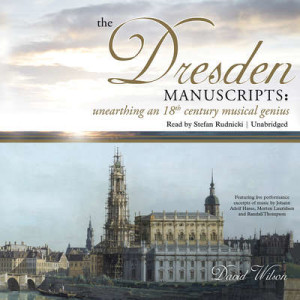 THE DRESDEN MANUSCRIPTS: UNEARTHING AN 18TH CENTURY MUSICAL GENIUS
A fascinating journey to rediscover the music of a composer who was lauded in his day yet forgotten soon after, The Dresden Manuscripts chronicles David Wilson's thirty-year quest to locate, reconstruct, and perform the music of Johann Adolf Hasse, a composer who, along with his equally famous wife, mezzo-soprano Faustina Bordoni, had close personal associations with Bach, Handel, Mozart, Haydn, and Gluck. –downpour.com
Listen to a sample here!
Join the journey and purchase your copy today!