"Anyone interested in reading about American culture after the World War II will enjoy Having the Time of My Life. It represents an important perspective and a piece of national heritage that will one day disappear. Readers will undoubtedly recognize the wisdom Chapel gracefully shares through his words." –Lee Gooden, ForeWord Clarion Review
Peter Chapel was born in Manitoba, Canada, in 1919 and moved to New York City at age eighteen. He served in the US Army during World War II, including two years overseas in the Persian Gulf Transport Command, and attended UCLA under the GI Bill of Rights. Since 1951, he has lived in Santa Monica, California. Home improvement and landscaping have been his main hobbies, and he has been happily married for many years.
Stefan and Gabrielle had the pleasure of meeting Peter Chapel at a Writers' Conference and knew immediately that his story offered something special.
"Life is a mystery. Just when you think you have the answer, something turns up to make you think otherwise." –Peter Chapel
HAVING THE TIME OF MY LIFE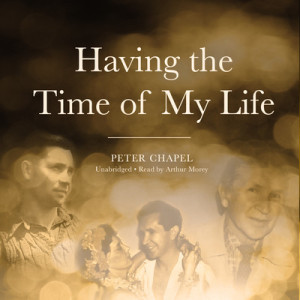 is a rich account of Peter Chapel's life.
Chapel shares the quality of the family bonding he and his siblings experienced growing up. In the first chapters, he features his mother's letter to him that recounts her personal experiences and remembrances. With vivid detail Chapel reveals his first love, describing their acquaintance, secret dates, and the sad goodbye. He recalls his pursuit of the girl known by the name Patricia Smith and shares his discovery of her true identity: Lucille Ann Collier, whose stage name was Ann Miller—the actress, dancer, and singer. At fifty-four, Chapel finally met Patricia Mergens, his future wife. He portrays the unique bond they shared and how their honest relationship came about.
Chapel had some difficult years, uncomfortable moments, and heartrending times, but thanks to the strangers who became friends, the friends who made a difference, and the family who loves him, his life has been a happy one. –downpour.com
For this memoir, lovingly-crafted over decades, we brought in the talented Arthur Morey, with Claire Bloom and Cassandra de Cuir in the director's chair. In addition having taught literature and writing at Northwestern University and winning awards for his own fiction and drama, Arthur has received three AudioFile Earphones Awards and an Audie nomination. He was just the man to voice to Chapel's story.
Hear it for yourself – purchase your copy today!