Jeffrey A. Carver is the creator of The Chaos Chronicles, the Star Rigger Universe (including the Nebula Award finalist Eternity's End), and other science fiction worlds. He has written more than a dozen novels, including his critically acclaimed novelization of Battlestar Galactica. He lives in Arlington, Massachusetts, and you can keep up with his adventures (literary and otherwise) on his website, where you can follow his blog and sign up for his occasional newsletter.
A science fiction enthusiast since he was a child, Carver believes that science fiction is "a high dive into a world of infinite possibilities, a ticket to the best ride in the best amusement park in the universe." And Jeff's legion of fans, from dipping-a-toe in the water science fiction fans to hard scifi enthusiasts – including such fellow authors as Gregory Benford, Greg Bear, and Jack McDevitt – agree that Jeff Carver delivers … and then some. In fact, the Library Journal praised his "exuberant storytelling."
"Carver is at his rousing best in this wild ride into the heart of an enigmatic world beyond the Milky Way. This is science fiction out at the frontier. Maybe beyond the frontier." —Jack McDevitt
Skyboat's Stefan Rudnicki was delighted to take on the audio frontier. He has boldly steps into the recording booth and brings these otherworldly adventures to a new legion of fans.
Here's a behind-the-scenes sneak peek of Stefan Rudnicki in action:
Author Jeffrey Carver on his collaboration with Stefan Rudnicki:
"Working with Stefan has been a great pleasure, and a creative collaboration. He's enthusiastic about the books. He has his own artistic interpretations of some of the passages, and sometimes we disagree. So we talk it out and settle on an approach that satisfies both of us. And he works with a great director and engineering team.

The result?

You can now listen to what I consider my best work, read by someone I consider the best narrator in the business!"
"Jeff Carver is a hard sf writer who gets it right—his science and his people are equally convincing.

Neptune Crossing 

combines his strengths, from a chilling look at alien machine intelligence, to cutting-edge chaos theory, to the pangs of finite humans in the face of the infinite. If you like intriguing ideas delivered in an exciting plot, this is your meat." 

—

Gregory Benford, astrophysicist and Nebula Award–winning author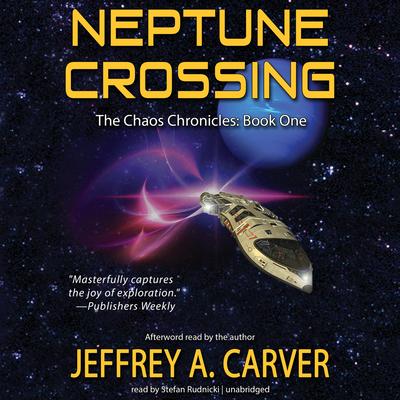 NEPTUNE CROSSING (The Chaos Chronicles, Book 1) by Jeffrey A. Carver
Read by Stefan Rudnicki; Afterword read by Jeffrey A. Carver
When John Bandicut sets out across the surface of Triton, he's hardly ready for the storm of chaos that's about to blow through his life. The alien Quarx that soon inhabits his mind is humanity's first contact with an alien life. The Quarx, part of an ancient galactic civilization that manipulates chaos theory to predict catastrophic events, seeks to prevent a cometary collision that could destroy the Earth. But it must have help. If Bandicut chooses to trust the Quarx, he must break all the rules—indeed, sacrifice his life as he knows it—to prevent humanity's greatest cataclysm.
Leaving friends and lover behind, hurtling across the solar system in a stolen spaceship, Bandicut can only pray that his actions will save the Earth—even if he doesn't live to see it again.
---
"Carver's latest novel showcases his own fertile imagination and his talent for creating a host of engagingly sympathetic characters." —Library Journal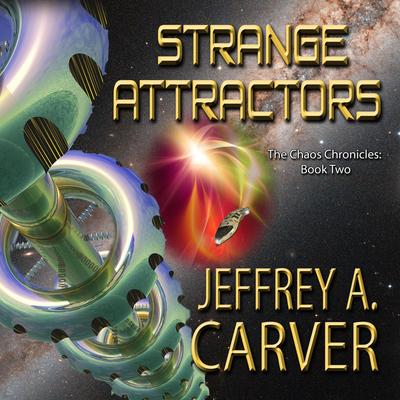 STRANGE ATTRACTORS (The Chaos Chronicles, Book 2) by Jeffrey A. Carver
Read by Stefan Rudnicki
For John Bandicut, Earth is but a memory. Stranded at the edge of the galaxy in a structure populated with beings from a thousand worlds, Bandicut finds unexpected friends—only to be caught up in a cascade of forces that threaten the Shipworld itself. Confronting an entity known as the boojum, Bandicut discovers greater peril than ever in his journey into the unknown. 
---
"An absolutely terrific book. Carver is heir apparent to Larry Niven as the king of hard SF: his stories revolve around ideas that are every bit as big as Niven's, and his aliens are every bit as fascinating. Chaos theory says outcomes are unpredictable, but here's one that's a sure thing: if you start reading The Infinite Sea, you won't be able to put it down until the very last page." —Robert J. Sawyer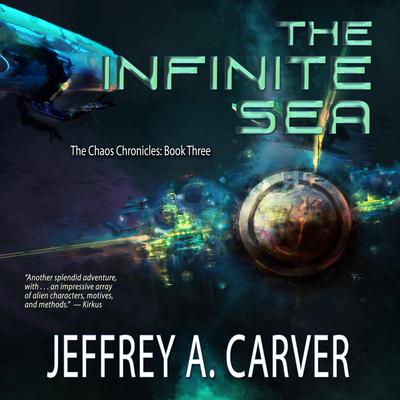 THE INFINITE SEA (The Chaos Chronicles, Book 3) by Jeffrey A. Carver
Read by Stefan Rudnicki
INTO AN ALIEN SEA!
John Bandicut and his company have been rewarded for their heroism in saving Shipworld. The prize: to be flung back into inhabited space—not to their home planets, as they had hoped, but to the bottom of an alien ocean. Helpless and sinking, they are rescued by strange mer-creatures and brought to an undersea city, where a race of sea-people known as the Neri live in perpetual twilight. The Neri are well adapted to their world, but their survival is in jeopardy. They face danger from a warlike surface people called the landers, from a failure of their irreplaceable deep-sea factories, and from a terrifyingly powerful entity called the Maw, stirring to life in the abyss beneath their cities.
Was the company brought here to help the Neri, as alien powers once came to the aid of Earth? What help could they, or perhaps their translator-stones, offer these imperiled sea-folk? For Bandicut, the discovery of the true nature of Maw of the Abyss is the beginning—but only the beginning—of an answer.
---
"Ensures [Carver's] place among the most inventive of contemporary authors of hard sf… Filled with startling ideas and ingenious plot twists, this sf adventure (along with its series predecessors) belongs in most sf collections." —Library Journal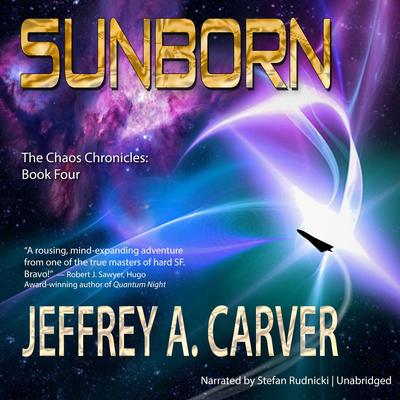 SUNBORN (The Chaos Chronicles, Book 4) by Jeffrey A. Carver
Read by Stefan Rudnicki
Stars are dying.
John Bandicut and his companions are summoned to a star-cloud called Starmaker, known to humans as the Orion Nebula, to discover what force threatens newborn stars—and possibly every world within a thousand light-years. Their journey takes them not just into the perils of a stellar nursery, but into confrontation with the Mindaru, a billion-year-old AI and adversary of life as they know it. The task is daunting. But with the aid of Deep and Dark, sentient clouds and perhaps the strangest beings they have met in their exceedingly strange journey, there may be hope.
Back on Triton, Julie Stone—briefly Bandicut's lover before he was transported away to a new life at the edge of the galaxy—encounters the enigmatic translator, the alien entity that first drew Bandicut into his extraordinary adventures. Julie must face her own life-or-death decision in defense of the Earth—while for Bandicut and company, whatever chance they have of stopping the terrifying Mindaru will be found only in the fiery heart of an intelligent sun.
---
"Jeffrey A. Carver's remarkable long-awaited duology The Reefs of Time / Crucible of Time is a welcome addition to The Chaos Chronicles, certifying his continuing mastery of action and adventure at the boundaries of space opera and hard SF." —Steve Miller, co-author of The Liaden Universe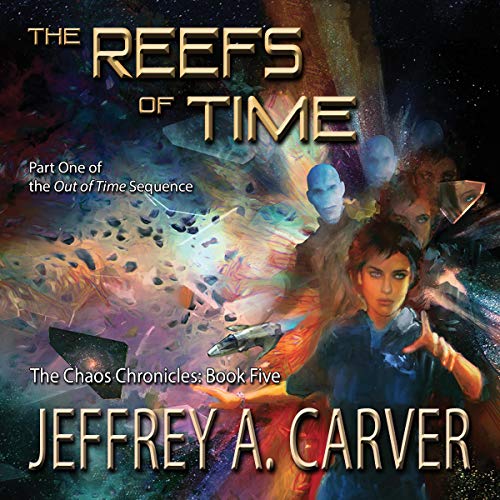 THE REEFS OF TIME: Part One of the "Out of Time" Sequence (The Chaos Chronicles, Book 5) by Jeffrey A. Carver
Read by Stefan Rudnicki
The starstream is beautiful. But beauty turns deadly when an ancient AI bent on destruction uses it to travel up time, to humanity's future.
The Mindaru are dead. Or so exiled Earthman John Bandicut and his alien companions believe, after their intervention to save the Orion Nebula and surrounding worlds. But now a part of this ancient and malicious AI colony is swarming toward the present from its birthplace deep in the past. Their opening: a temporal disturbance in the starstream, a hyperspatial thoroughfare used by myriad civilizations. The disturbance emanates from the planetary defenses of nearby Karellia, whose people know nothing of the starstream or the galaxy-threatening Mindaru.
Only Bandicut and his friends have the knowledge and experience to act. But when several of the company go missing, he and Li-Jared must team with the pandimensional Ruall and her gokat – the oddest aliens Bandicut has met since the shadow-people – and journey to Karellia to find a way to cut off the timestream.
Meanwhile, on Shipworld, the "missing" Ik meets another human of Earth – a former lover of Bandicut's – and embarks with her on a perilous mission far back into deep time, seeking a way to stop the Mindaru at their source.
---
"Underpins its stunning science fiction and character-driven narrative with a strong theme of 'coming home'… As narratives intertwine at separate ends of the timescale, Carver's talent for weaving incredible technology and worldbuilding with meaningful character moments is a standout." —Terence MacManus, Aurealis Magazine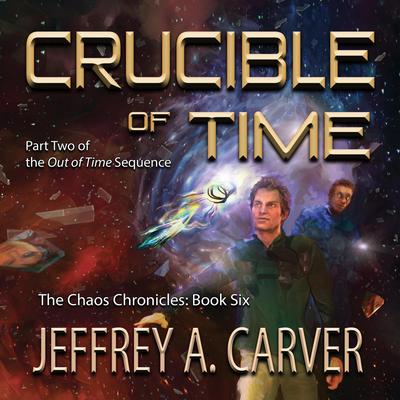 THE CRUCIBLE OF TIME: Part Two of the "Out of Time" Sequence (The Chaos Chronicles, Book 6) by Jeffrey A. Carver
Read by Stefan Rudnicki
The story begun in The Reefs of Time continues. The time-tides caused by Karellia's defenses have brought the malicious Mindaru AI out of the deep past into the present, threatening Bandicut and Li-Jared, who have arrived at the backwater planet—Li-Jared's homeworld—to find it on the brink of interplanetary war. Somehow they must forge a peace between Karellia and its neighboring world if the Mindaru threat is to be broken.
Back on Shipworld, Ik and Julie Stone risk their lives a second time to stop the Mindaru at their source: a planet near the galactic core, a billion years in the past. Can Antares, the beautiful humanoid who also loves Bandicut, help them? What of Bria the gokat? And Amaduse, the most influential librarian in Shipworld?
And in the deep time of the galaxy's early history, by the light of a million suns, the Mindaru do hideous things to an innocent species. The Mindaru plan for the altered creatures bears momentous possibilities even the deadly AI cannot predict.
Time is critical. Time is elastic. And time is running out.
---