"Her fan base began with the eccentrics at society's lower end and went all the way up to Queen Victoria. Corelli was the monarch's favorite author, and if you think about it this makes perfect sense: her books are high flown, aspirational, unsubtle, workmanlike, idealistic, rich in pseudo-Shakespearean ruminations, pleasurable in an instructive way, siding with the virtuous but fully understanding – and reveling in – the value of a good villain: perfect bedtime reading for English queens." —Lili Loofbourow, LA Review of Books
In Victorian England, many critics ignored and looked down their noses at the novels of Marie Corelli, yet she was one of the best-selling and most widely read novelists in her day, and at one time she was the most highly paid author in all of England. In fact, her novels sold more copies than the combined sales of many popular contemporaries, including Arthur Conan Doyle, H. G. Wells, and Rudyard Kipling.
So how could this be? What did her readers, from England to the colonies, from all social classes, see that critics did not?
Well, to start, what critics may have viewed as sensationalist and overly dramatic readers saw as exciting and romantic, as exalting tales that took them out of the cynicism of everyday society. The rich worlds of Corelli's novels did not just enchant and entice the reader with a sense of exoticism and fantasy, did not just thrill and tantalize them with romance and scandal, but also examined and ruminated over religion and philosophy and science. Perhaps critics did not have appreciate the mixing of seemingly "masculine" subjects with the "femininity" of her subject matter, but clearly Corelli did not mind — she may have even made a sport of it.
And her commercial success had to have been helped by Corelli's own mysterious background. Born Mary Elizabeth Mills, or Mary Elizabeth Mackay, Marie Corelli's early life was a shroud of obscurity (even now there is still some question as to her past), but the story she presented to the world was as romantic and melodramatic as any of her novels. Allegedly, Corelli is the illegitimate daughter of Charles Mackay, a colleague of Charles Dickens, and she changed her name in order to distance herself from the circumstance of her birth. So when her first novel, The Romance of Two Worlds, was published in 1886, Marie Corelli was introduced to the world.
Corelli quickly gained popular and commercial success with her novels. Her Faustian tale THE SORROWS OF SATAN (1895) became one of the first best-sellers published in a single volume and helped shape the format of the modern novel.
Before her death, Corelli moved to Stratford-upon-Avon with her companion, Bertha Vyer, and she worked tirelessly for the preservation of the works and legacy of William Shakespeare. Her manner did not always lead to her being well liked and the male-dominated town did not look favorably on her, despite her charitable donations and work to conserve of the town's heritage. But when she died in 1924, crowds of people gathered outside her home, in celebration of her life and her indelible mark on English literature.
In recent years, Corelli's novels have fallen into the background but Skyboat and Blackstone Publishing are here correct that! We are committed to rediscovering hidden classics and producing top-quality audiobooks to share these oft-forgotten stories with today's listeners. We are proud to welcome Marie Corelli to the Skyboat family.
Listen to an audiobook sample on Skyboat's SoundCloud!
"Wealth acts merely as a kind of mirror to show you human nature at its worst."

–Marie Corelli, The Sorrows of Satan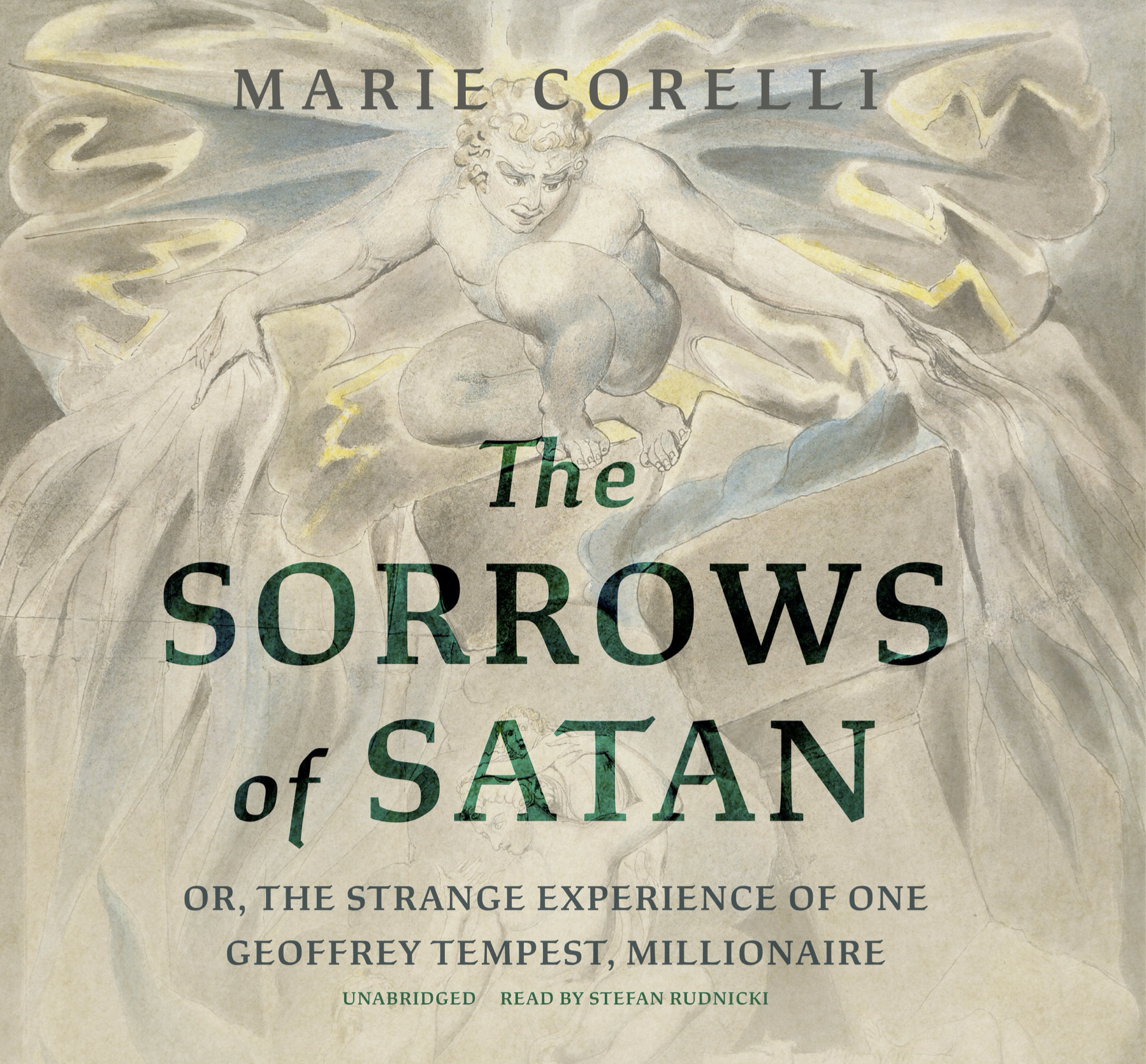 THE SORROWS OF SATAN: OR, THE STRANGE EXPERIENCE OF ONE GEOFFREY TEMPEST, MILLIONAIRE by Marie Corelli
Read by Stefan Rudnicki
The Devil arrives in fin de siècle London
The setting is London, 1895, and the Devil is on the loose, in the guise of the handsome and charming Prince Lucio Rimânez. He is searching for someone morally strong enough to resist temptation, but there seems little chance he will succeed. Britain is all but totally corrupt. The aristocracy is financially and spiritually bankrupt; church leaders no longer believe in God; Victorian idealism has been banished from literature and life; and sexual morality is being undermined by the pernicious doctrines of the "New Woman."
Lucio sets his sights on Geoffrey Tempest, a starving novelist who has just inherited a fortune, and promises to show Geoffrey how best to invest his newfound wealth. As the tragic story of Geoffrey's meteoric rise and fall unfolds, Marie Corelli exposes the hypocrisy and immorality of modern life in this Faustian novel and bestseller of its time.
---
And if you loved SORROWS OF SATAN as much as we did, check out VENDETTA! At once a confession of his crimes and a cursing of the forces Fabio believes drove him to his dark deeds, VENDETTA shows, once again, Corelli's unique ability to tantalize and moralize in equal measures to create some of the most popular works of the period.
Marie Corelli's 1886 novel, VENDETTA: A STORY OF ONE FORGOTTEN, originally published in three volumes, is both a tale of vengeance and a character study of a twisted man. When Count Fabio rises from a death-like coma, he discovers his wife has already ceased her mourning and taken up with his lifelong friend. Having been proclaimed legally dead, Fabio uses the opportunity to take on a new identity and seek his revenge.
VENDETTA originally bore the title Buried Alive, but George Bentley (who published her debut novel, The Romance of Two Worlds) suggested the title Vendetta and it was published only a year after Romance. Corelli continued to publish novels in quick succession to the delight of her readers… and in spite of dismissive critics. In fact, the Prince of Wales, who would later become Edward VII, requested a copy of VENDETTA for himself. Yet another Royal entranced by Corelli's gripping works!
Listen to an audiobook sample on Skyboat's SoundCloud!
"And thus—whether right or wrong—it often happens that strange and awful deeds are perpetrated—deeds of which the world in general hears nothing, and which, when brought to light at last, are received with surprise and incredulity. Yet the romances planned by the brain of the novelist or dramatist are poor in comparison with the romances of real life–life wrongly termed commonplace, but which, in fact, teems with tragedies as great and dark and soul-torturing as any devised by Sophocles or Shakespeare. Nothing is more strange than truth—nothing, at times, more terrible!"

–Marie Corelli, Vendetta: A Story of One Forgotten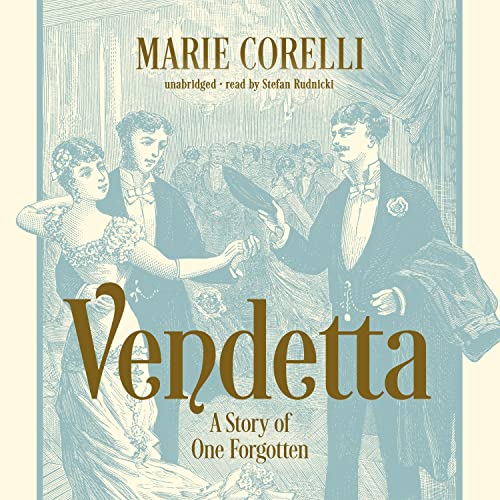 VENDETTA: A STORY OF ONE FORGOTTEN by Marie Corelli
Read by Stefan Rudnicki
"I, who write this, am a dead man. Dead legally—dead by absolute proofs—dead and buried! Ask for me in my native city and they will tell you I was one of the victims of the cholera that ravaged Naples in 1884, and that my mortal remains lie moldering in the funeral vault of my ancestors. Yet—I live!… I, Fabio Romani, lately deceased, am about to chronicle the events of one short year…"
In the cholera-ridden Naples of 1884, Fabio Romani is prematurely buried and awakes to find himself in a coffin. After managing to free himself, Fabio rushes home to reassure his wife and child. While he expected to find his family deep in mourning, he instead discovers that his wife has been unfaithful to him and is having an affair with his best friend.
Utilizing a disguise and adopting a new identity, Fabio slowly works his way back into the trust, and home, of those who betrayed him, culminating in a frightful finale of revenge.
---
And now Skyboat is so pleased to bring Corelli's first novel to audio!
At first critics received A ROMANCE OF TWO WORLDS with skepticism and thought the novel overly dramatic and un-serious, but the public could not have disagreed more heartily. And neither could some of the other great writers of the day. Within six months of its publication, letters from readers who loved the novel were pouring in, and some were even included in the appendix of the second edition. 
One such important letter came from none other than Oscar Wilde himself: He wrote to Corelli that "I have read the book over again… you certainly tell of marvelous things in a marvelous way." We here at Skyboat are inclined to agree!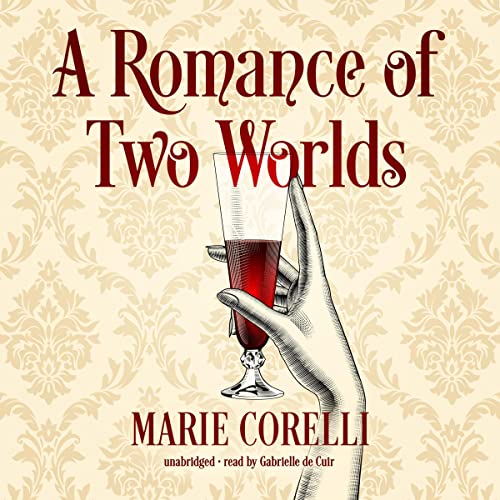 A ROMANCE OF TWO WORLDS by Marie Corelli
Read by Gabrielle de Cuir
"No one is contented in this world, I believe. There is always something left to desire, and the last thing longed for always seems the most necessary to happiness."
Known as the queen of bestsellers, Corelli's career began with A Romance of Two Worlds, which addressed the contemporary debate between creationism and evolution. The debut novel even developed a cult following of its own, garnering a group of devotees to her passage regarding "The Electric Principle of Christianity" that they believed was born of her own supernatural experiences (a belief from which she did not try to dissuade them).
In A Romance of Two Worlds, a young musician in England who has been suffering from depression and a nervous ailment goes on holiday in order to recuperate. While abroad, she meets an Italian artist, Cellini, who gives her a special draught for relaxation. The young woman has divine visions under the influence of the strange potion which she longs to have again. Cellini takes her to Dr. Casimir, also known as Heliobas, for further treatment of her nervous disposition. The doctor describes himself as an "electric physician," and with his help she is able to experience more visions, as well as some relief from her anxiety. With each vision she learns more about religion and the destiny of mankind, but it is not enough. She is always yearning to learn more, to be closer to the divine.